(Imagine what it was like traversing Alabama alone when it was a wilderness. You can hear the tension in Richard Breckenridge's words as he writes about his days spent searching for a place to settle in Alabama.  There seems to be a fear of getting lost. Richard Breckenridge's biography is also on the website. Find it by inserting the word Breckenridge in the search box.)
DIARY OF RICHARD BRECKENRIDGE
(1781-1840)
ALABAMA PIONEER
August 7, 1816 to my last night's camp; expect to go up the river in the morning to see if I can find inhabitants or a place to cross. I saw no good land to-day except some in the swamp. The country is very broken. I have seen neither Indians nor white men since the day I left Mr. McMilen's.1
August the 8th. I took up the river this morning, and had a tolerable good road. About 11 o'clock, I crossed a very large creek somewhat in appearance like Big Shoal Creek and nearly as wide as Elk. There was some very good land in this creek bottom, and I suppose water might be tolerably convenient, but the country is as broken as it is on Elk. I saw this day on a creek west of this large one as beautiful a site for a mill as I ever did see—fine bluffs on both sides and a [a few words here illegible]. I have not since 12 o'clock come across one acre of tillable land, but the most broken mountainous country I ever was in. The mare is almost done, cut with bushes, briers and thorns. I intend to push in the morning to find a path to some inhabitants. I think it cannot be far from the road that leads down to the Falls from Ditto's Landing.2
Tennessee River, Ditto's Landing, Huntsville, Alabama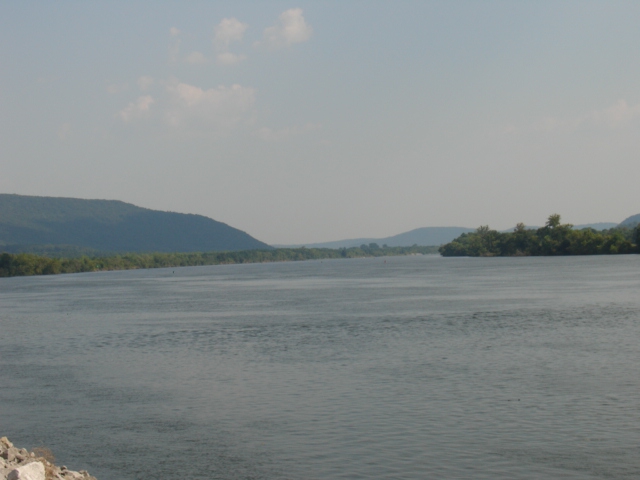 August the 9th. I started this morning a southeast course. About 12 o'clock, I came to a creek, which runs nearly my course. From its looks, its swamp appears almost impassable. I have been going down it all evening and have seen no place to cross. I am in great anxiety, having spent ten days and done nothing. This is the fifth day that I have seen neither Indian nor white man.
I now repent that I did not go to Colbert at the Cotton Gin34 and make the necessary inquiries. I had a very heavy rain today and it is yet cloudy. I had a extensive prospect to-day from the top of a very high knob, and from the appearance I have a large creek or river yet to course. Deer are plenty in the woods, but very wild.
I am now apprehensive
August the 10th. At noon. I started this morning down the creek that I lay on last night, but finding that it turned a southwestern course, I resolved to cross it, which I did without much difficulty. It is a large creek and the swamp is nearly half a mile wide. I am now apprehensive that the creek and river I mentioned on the [date illegible] is no part of the Black Warrior, but makes into the Tombigbee west of the Black Warrior, and if so, it may be a great ways to the Black Warrior; yet on the creek I came down yesterday, there is some level land, but it is thin.
Alabama Red Oak
I am in hopes I am not far from the river.
The growth is red oak, post oak, dogwood, pine and chestnut. There are some good springs, but off from the creek. The land is hilly and broken. As the ground is getting more rocky than it was for some distance back, I am in hopes that I am not far from the river. I continue a southeast course, though slow, for I can hardly get my mare along, her legs are so sore and her back is also hurt. Agreeably to my suspicion at noon, I came in the evening to a large creek, but it does not afford much water now. In about two miles I came to a smaller one, but it did not run. I am now camped on the east or rather south of the latter, and I believe on as good up land as I saw since I left Tennessee valley or rather better. I intend, if nothing prevents, to continue my course in the morning in order to strike the road from Ditto's Landing to the Falls, if these water courses do run into the Black Warrior, otherwise, to strike that river.
August the 11th. Noon. I crossed another large creek this morning. These all fun [word illegible]. I then crossed over some very high knobs or mountains. I then came to a branch running nearly south. I came down it so far I expect from the appearance that I have another creek to cross shortly. I have seen no good land since morning, except in the creek bottom, where I had to cut my way with my tomahawk through a canebrake. I continued down the branch to a creek where I had to cut my way through another cane brake, in doing which I narrowly escaped being bit by a large rattlesnake. I then with difficulty got to the top of a very high knob and went a mile and then camped. I saw no good land except in the swamp and that overflows in high waters.
Alabama timber rattler
August the 12th. I came over some broken ground and high knobs. I came through some pretty good land, if it was level and had water, but springs are scarce—in fact, I saw none. I mean to take a more south course this evening in order to get out of the hills. I came over some high knobs a south course and am camped on a branch that runs south. I expect to keep down to the mouth, in case it keeps that course. I am considerably uneasy on account of some bad looking sores that have been coming on my crippled foot for several days past. There is scarcely any getting out of these branches. The hills are steep and high. I had a rain to-day and it is yet cloudy. I fear there will be more to-night. I wish it might be clear to-morrow, otherwise I doubt I shall stear badly.
I have some times been afraid that I and the mare both would slip and tumble to the bottom.
August the 13th. I started this morning a south course in order to avoid some hills. I have crossed one stout creek twice to-day. It runs nearly south, I intend now to leave it to the right, and bear a little east of south. I have seen no good land to-day that was tendable. I saw some good springs, but the land about them was poor. I kept nearly a south course till late in the evening when I was obliged to turn eastwardly to avoid some impassable bluffs. I saw no good land this evening except one small spot. The ground on it was black oak, chestnut, pine and some poplar. I have gone up some very steep bluffs or knobs and gone down as many. They are here chiefly confined to the water courses and are so steep that I have frequently to put down my hands to assist myself up. I have to wet the soles of my shoes before I attempt to go either up or down, for I have to walk and lead the mare. I have some times been afraid that I and the mare both would slip and tumble to the bottom.
My foot continues to be very sore. I have made a very sorry out this evening at travelling
August the 14th. I have been obliged to keep considerably to the east this day on account of some very high bluffs and have just crossed a large creek that runs a little to the west of south. There is some good land in the bottom which appears tolerably extensive in some places. I came down it some distance, but saw no chance for water; but the creek is also confined by very high bluffs. I was obliged to rest several times in coming up. I also got some falls. It is very tedious travelling here, for I cannot keep the creek bottom for the cane or bluffs putting in, nor can I keep down the creek or the hills, for the drains or branches that put in on each side are as difficult to pass as the creek.
There is but one way to go with any kind of ease, and that is to keep the dividing ridge between the water courses when they run the course you want to go. This way is also attended with difficulties, for if I do not exactly keep the right ridge, I am then involved in drains and bluffs. My foot continues to be very sore. I have made a very sorry out this evening at travelling. In attempting to go more, lost, I got involved in an old hurricane, that has not been burned these several years, and it was so thick with bushes, vines and briers that I was obliged to resume my south course again which led me across another creek that runs into the one I crossed in the forenoon.
I am now camped on the bank of this large creek.The bed of this creek appears to be about thirty yards wide, but it does not run enough at this time to drive a grist mill. The bottom above here is not so wide as it was. There might, I think, be got one or two springs in the bank of the creek that makes in above here, but the bottom at this place is rather too narrow for a plantation. I killed another large rattlesnake to-day—ticks of all kinds wonderful here. There was some middling land on the knob, but it is inconvenient to water, and not much of it tendable. I have seen no place since I started that I would like to live at.
(More of this Diary can be found in ALABAMA FOOTPRINTS – Settlement: Lost & Forgotten Stories (Volume 2)
1'It has been found impossible from available data, and in the absence of a knowledge of the local topography to follow with any particularity or certainty the route of travel from the time the diary opens on Aug. 7 to Aug. 20, when the river is reached. It appears probable that after he left his companions, he went up the Tombigbee river in the direction of Cotton Gin Port. After a day or two he abruptly changed his course to the East and South-east, in which general direction he continued until he entered Jones' Valley. All his observations show that he traveled along the South side of the water shed between the Tennessee river and the several creeks flowing into the Tombigbee and Warrior rivers. His route evidently carried him across parts of Marion, Winston and Walker Counties. Through all this region there was not a single settler.
2Whitesburg on the Tennessee river, directly South of Huntsville was called Ditto's Landing
3 Cotton Gin Port, Miss., is on the Tombigbee river North of Aberdeen, and near the present Amory, on the Kansas City, Memphis and Birmingham R. R.
Check out genealogy books and novels by Donna R. Causey
Also read about:
A Russian princess settling in early Alabama
How the early setters traveled to Alabama and the risks they took
A ruse that saved immigrants lives while traveling through Native American Territory
Alliances formed with the Native Americans
How an independent republic, separate from the United States was almost formed in Alabama
(Visited 6,848 times, 1 visits today)