About This Book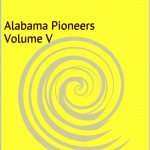 This is Volume V of a set of Biographies on Notable and Not-so-Notable Alabama Pioneers published by www.alabamapioneers.com and Donna R. Causey
The biographies of the Alabamians in this book come from many sources. A good deal of the information comes from source books written when the subjects were still living. Additional information and/or documentation on any of the subjects has been included at the end of each biography. Photographs of some of the people in this Volume may be found on www.alabamapioneers.com Direct Links to the photographs have been provided with the biographies.
The biographies included in Volume V includes:
MICHAEL CODY, JR.
ROBERT FINDLEY JOHNSON
JAMES FLEMING MCLANE
ROBERT ELDON BOWDON
MANLEY ENOS WEAVER
HON. RUSSELL M. CUNNINGHAM
RUFUS NAPOLEON RHODES
JOHN W. BUSH, Esq.
AUGUSTUS AURELIUS COLEMAN
WILLIAM R. WALLER
ROBERT BARBER
CAPTAIN LEANDER J. BRYAN, JR.
PHARES COLEMAN
SIDNEY JOHNSTONE CATTS
ADDISON G. SMITH
HUGH MORROW
THOMAS CARSON MCDONALD
GEORGE MARCUS CRUIKSHANK
SAMUEL WILL JOHN
SAMUEL EARLE GREENE
JOHN ASA ROUNTREE
JOHN FELIX MCLAUGHLIN
JAMES P. STILES
REV. WASHINGTON WILKES
CHARLES GIBSON
ROBERT A. MORRIS
WALTER KENNON MCADORY
FRANK YARBOROUGH ANDERSON
CHARLES WALDRON BUCKLEY
Did you know you can read Ebooks on your computer? Click below to see how.
(Visited 382 times, 1 visits today)