About This Book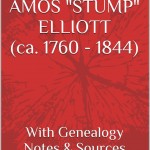 Don't waste time doing genealogy research others have already done! This book of compiled records on Amos Elliott will save you time and money.
Amos Elliott, Sr. was born in 1760-1770 in Edgefield, South Carolina. He died in 1844 in Shelby County, Alabama. He married Margaret Merrill in South Carolina. She died in Madison County, Alabama and he remarried on September 12, 1812 in Madison County, Nancy Hale, the daughter of Lindsey and Elizabeth Hale of Talladega County, Alabama. Nancy Hale was born March 8, 1794 in Tennessee and died May 30, 1872 in Shelby County, Alabama. This book includes compiled genealogy records on Amos Elliott.
Descendant surnames include: BAINES, BAKER, BRASHER, BRINKER, BROWN, CARDEN, CARTER, CLIETT, CLOWER, DAVIS, DILBANE, FREEZE, FULTON, GIDDINGS, GRIFFIN, HAIL, HALE, HAMPTON, HANEY, JOHNSON, JONES, LAWRENCE, LEWIS, MCGOWEN, MERONEY, MERRILL, NELSON, NUNNALLY, PERRY, ROGERS, SIMMS, THOMPSON, WILLINGHAM
Did you know you can read Ebooks on your computer? Click below to see how.
(Visited 744 times, 1 visits today)