About This Book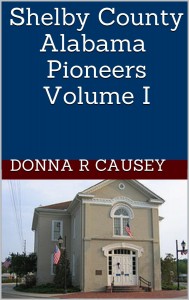 This is Volume I of a series of Shelby County pioneers. Genealogy reports are included in this book with supporting evidence. Soldiers under General Jackson and after the battle of Horseshoe Bend, were sent up the Cahawba River to search for the remaining "Red Sticks" and traveled through Shelby County, Alabama. When they returned to Tennessee and Kentucky, they decided to bring their families to the newly opened territory, traveling mostly by pack-horse. Several of these soldiers settled in the area around Shelby county, Alabama.
The biographies included in this book are only a few of the settlers who arrived in Shelby County in the early days. Many of the families came to Alabama from North Carolina, South Carolina, Tennessee and Georgia in groups and often intermarried. The following biographies and genealogy reports reveal some of the intertwining relationships between the families.
Descendants of these pioneers traveled further west into Mississippi, Louisiana, Arkansas, Oklahoma, Texas and even as far as California seeking more land and opportunities. This Volume reveals the relationships between the ACTONS, BAILEYS, CLOWER, CROWSON, LEES, NABORS, NELSON, ROBERTSON, and WILSON families. Notes, and sources are included. Genealogy reports with all supporting evidence, wills, and deeds when available are included. Many of these families descendants moved to Louisiana, Mississippi, Arkansas and Texas
The family GEDCOM reports can be found in the Alabama Pioneers Library on the website alabamapioneers.com. Surnames found in this book include the following: ACTON, ALEXANDER, ALLEN, ALLGOOD, ASHMORE, AVERY, AYETTOTT, AYLETT, BAILEY, BAINS, BAKER, BALCH, BANDY, BARHAM, BARNETT, BARRONS, BASS, BEALER, BEARDEN, BELL, BEMAN, BENGE, BENTON, BEVILL, BILLINGSLEA, BISHOP, BLANTON, BLEDSOE, BLEVINS, BLOUNT, BOOTHE, BOYD, BOYLE, BRAGG, BRASHER, BRIELAND, BRINKER, BRATTON, BRITTON, BROWN, BRYAN, BULLOCK, BURNETT, BURROW, BUTLER, BYARS, BYNUM, BYRUM, CAHILL, CALDWELL, CARPENTER, CARTER, CASEY, CLAYTON, CLEVELAND, CLIETT, CLOWAR, CLOWER, COHEN, CORLEY, CRAIG, CRAWFORD, CROCKETT, CROSS, CROWSON, DANIEL, DAVIS, DEAN, DESHAZO, DICKENSON, DILBANE, DOLLAR, DUKE, ELLIOTT, ELLIS, EDGE, ESSMAN, ESTILL, FANNIN, FARLEY, FARR, FAVRE, FERRELL, FINNEY, FLOURNOY, FOUST, FRASER, FREEZE, FROST, FULTON, GAILEY, GARRETT, GIBSON, GLIDEWELL, GODDEN, GODWIN, GOODGAME, GOODSON, GREEN, GRIFFIN, GRIFFITH, GRIGGS, GRIMMETT, GULLAHORE, GULLEHORN, HAFNER, HAGIN, HAIL, HALE, HAMILTON, HANNAH, HANEY, HANSARD, HARDIN, HARKINS, HARLESS, HARRIS, HARRISON, HAYES, HAZARD, HEARNE, HESTER, HICKS, HILL, HODGES, HOLBROOK, HOLLINGSWORTH, HORTON, HOWARD, HUDSON, HUTCHINSON, JOHNSON, JONES, KIDD, KIERDON, KNOWLES, LALADY, LANIER, LAVINSKY, LAWLER, LEATHERWOOD, LEE, LEEPER, LEONARD, LINDSAY, LINDSEY, LOFTIN,LOONEY, LOVELADY, MAHAN, MARDIS, MARLOW, MARONEY, MASKE, MASON, MATHEWS, MATTHEWS, MAXWELL, MCCAIN, MCCLINTON, MCCRAFT, MCGOWAN, MCLANAHAN, MCLEOD, MCLEROY, MCMAHON, MCNAIR, MCNEAR, MCNEELY, MCNEER, MCPHERSON, MEREDITH, MERONEY, MERRELL, MILES, MILLER, MILLS, MILSTEAD, MITCHELL, MOORE, MORGAN, MORRIS, MOSTELLER, MOWDEY, MUNDINE, MURPHY, MURRY, MUSE, MYRICK, NABORS, NAISH, NEAL, NELSON, NEWMAN, NIVENS, NORTH, NUNNALLY, OLDHAM, ORR, OZLEY, PARKER, PARKS, PATTON, PAYNE, PEARSON, PERRY, PERSON, PETERS, PITNER, POINTER, POWERS, PRENTICE, QUINN, RANDALL, RASBERRY, REED, REEVES, REID, ROBERTS, ROBERTSON, ROGERS, ROY, RUSHING, SAWYER, SAUNDERS, SEALE, SEARS, SHACKELFORD, SHAW, SHERROD, SHULER, SIMS, SKELTON, SLATON, SMITH, SPARROW, ST. JOHN, STARRS, STERRETT, STEWART, STONECYPHER, STORRS, STREET, STRIPLING, STROUD, SWIFT, TAYLOR, TEAGUE, THOMPSON, TOWNLEY, TRUELL, TUCKER, TURNER, VANDERBILT, WALDROP, WALLACE, WALKER, WARD, WARE, WASHINGTON, WATKINS, WATSON, WATROUS, WEAR, WEEKS, WELLS, WEST, WHARTON, WHITE, WIGGINS, WILLIAMS, WILLINGHAM, WILSON, WISEMAN, WOOLLEY, WRAGG, WRIGHT, YERBY, YONGUE, YOUNG
Did you know you can read Ebooks on your computer? Click below to see how.
(Visited 872 times, 1 visits today)