About This Book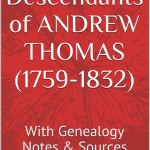 Andrew Thomas, Jr. was born around 1759 in South Carolina. Andrew was a pioneer of central Alabama. This book of his descendants is approximately 144 pages long and includes notes and sources.
Some descendant surnames of John Robert Thomas and Dempsey are: ARRINGTON, BARTON, BASINGER,BISHOP, BLACKERBY, BONNER, CHRISTENBERRY, CHRISTOPHER, CORNWELL, COX, CRAWFORD, CURB, DOMINICK, DORMAN, EVERETT, FIFFIELD, FINDLAY, GATLIN, GOLDEN, GRIFFIN, HAGIN, HALL, HARPER, HARTLEY, HARTON, HAZELWOOD, HENDERSON, HENRY, HODGES, HOLLEY, JAGGARS, JOHNSON, JONES, KORNEGAY, LOWREY, MADISON, MEEKS, MEREDITH, MORELAND, PERKINS, PERRY, RAWLS, RAY, RICHARDSON, RUSSELL, SMITH, SPENCER, SQUIRES, STEWART, THAMES, THIGPIN, WALTON, WIGGER, WILLIAMS, YEAGER
Did you know you can read Ebooks on your computer? Click below to see how.
(Visited 470 times, 1 visits today)