About This Book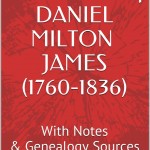 Updated with new Genealogy information! Don't waste time doing genealogy research others have completed. Take advantage of what other genealogy researchers have discovered and download this E-book in minutes to your computer or electronic device.
E-books can be easily downloaded directly to your computer with FREE APPS. Sample the outline of descendants at the beginning of the book to determine if this is your family.
DANIEL MILTON JAMES , son of WILLIAM or THOMAS JAMES was born around 1760 in North Carolina. He married REBECCA MOSSLE (B. 1770 NC – D. 1845 NC) DANIEL and REBECCA resided in Cannon, Tennessee in 1836 where he died in June 1836. All their children were born in North Carolina.
Some descendant surnames of DANIEL and REBECCA (MOSSLE) JAMES include: ADAMS, AMBROSE, ARNOLD, AVERY, BAILEY, BARKSDALE, BATES, BEARDEN. BOPLING, BORSCHUNG, BOYD, BRADLEY, BROWN, CADDELL, CHRISTENBERRY, CLEVELAND, COLLINS, COTTINGHAM, COX, CURB, DAILEY, DEASON, DRIVER, ELAM, FAUCETT, FIKES, FONDREN, FRANCIS, GOLSON, GOODWIN, HADDOCK, HALLMAN, HARDIN, HENDERSON, HENRY, HILL, HOPPER, HORTON, HUBBARD, HUNT, JOHNSTON, JONES, KALPOLKA, KENNEDY, KORNEGAY, LAGRONE, LAVENDER, LEVERT, LOCKARD, LOCKWOOD, LOGAN, LUNSFORD, MCELROY, MCLEOD, MEIGS, MILLER, MOODY, MOORE, MOSSLE, MOTLEY, MOTHERWAY, MURPHY, MYRICK, NICHOLS, PARKER, PEARSON, PETERS, PIERSON, PRENTICE, QUILLEN, RICE, ROAN, ROSS, SCHOOLAR, SIMMONS, SMITH, SMITHERMAN, ST. JOHN, STACY, STAMPS, STEELE, STONE, SUMNERS, THOMPSON, TIDMORE, TURNER, WALLACE, WARD, WHITE
Did you know you can read Ebooks on your computer? Click below to see how.
(Visited 674 times, 1 visits today)