About This Book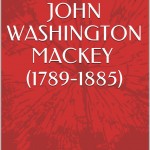 Don't waste time and money completing genealogy research others have done! Take advantage of what other genealogy researchers have discovered and download this E-book in minutes to your computer or E-reader today.
E-books can be easily downloaded directly to your computer with FREE APPS. Read the FREE sample pages of the book instantly in your browser with the FREE  Amazon.com's Kindle Cloud reader to see if this is your family line.
John Washington Mackey was an early pioneer of Perry County, Alabama is believed to have been the son of John G. and Mary Mackey of Buncombe County, NC. He was born Sep 21, 1822 in Alabama or NC and died Mar 19, 1888 in Jefferson County, Alabama.
Descendant surnames of John Washington Mackey include: ALEXANDER, AGNEW, ALLEN, BLACKWELL, BOYD, DENSON, EDWARD, KNOX, LACEY, RAY, SINGLY, WESTBROOK, WYATT
Did you know you can read Ebooks on your computer? Click below to see how.
(Visited 474 times, 1 visits today)