About This Book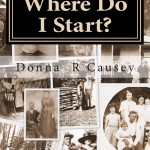 This Best Selling book is now Available as an E-book!  Start your search in minutes.
Do you need some guidance in your genealogy search? Save time and avoid pitfalls in your research. Where Do I Start? is filled with simple, no-nonsense instructions to set you on the path of your families' ancestry with the following information:
WHERE TO FIND – on-line resources, experienced genealogists will not be aware of many of these.
COURT RESEARCH – how to do court house research, where to find birth, death, social security records free on-line.
EIGHTY – ONE QUESTIONS – you should ask your elderly loved-ones before it's too late
TIPS ON BREAKING DOWN THE WALL – Everyone faces some difficulties in research, often called a 'brick wall' but WHERE DO I START? provides suggestions for overcoming them
Download this E-book and in minutes, you can start researching your family tree on your computer with all the FREE online links in the book.  Have fun in your genealogy journey to the past.
Did you know you can read Ebooks on your computer? Click below to see how.
(Visited 579 times, 1 visits today)