About This Book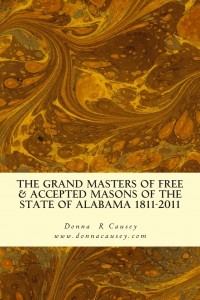 Freemasons contributed to America and the state of Alabama through their patriotic service and philanthropic work since 1811, but little is known about their backgrounds. Utilizing the bonds of their fraternity, but without fanfare, the freemasons built schools, orphanages, nursing homes, provided for the sick and elderly, fought wars, and were an integral part in building the state of Alabama and our country. They were, simply put, 'the epitome of good patriots and citizens.
Read the sample pages of the book instantly in your browser with the FREE  Amazon.com's Kindle Cloud reader 
As wife of one of the Grand Masters, Donna R. Causey, had the unique opportunity to work with Alabama's Grand Lodge to provide biographical data into the lives and backgrounds of all the Grand Masters of Freemasonry in Alabama from 1811 to 2011. Many early photographs of the Grand Masters are included in this work.
Biographies of the following men are included listed in order of their service: THOMAS WADSWORTH FARRAR, WILLIAM B. PATTON, NIMROD EARLE BENSON, THOMAS BIVIN CREAGH, WILLIAM JORDAN MASON, WILLIAM LEIGH, JOHN C. HICKS, EDWARD HERNDON, NATHANIEL WYCHE FLETCHER, JAMES PENN, FELIX GRUNDY NORMAN, RUFUS GREENE, WILLIAM HENDRIX, DAVID CLOPTON, STERLING ALEXANDER MARTIN WOOD, JAMES MCCALEB WILEY, ROBERT HUGH ERVIN, STEPHEN FOWLER HALE, WILLIAM HUTCHINSON NORRIS, JOHN ADAMS LODER, WILLIAM C. PENICK, WILSON WILLIAMS, GEORGE DASHELL NORRIS, WILLIAM PARISH CHILTON, JOSEPH HENRY JOHNSON, ISAIAH ATWATER WILSON, JOB PALMER PILLANS, HENRY CLAY ARMSTRONG, HENRY CLAY TOMPKINS, RUFUS WILLIS COBB, JOHN HOLLIS BANKHEAD, JOHN GIDEON HARRIS, MYLES JEFFERSON GREENE, HENRY HART BROWN, GEORGE MILBURN MORROW, FRANCES LEIGH PETTUS, GEORGE PAUL HARRISON, JAMES ANDREW BILBRO, BENJAMIN DUDLEY WILLIAMS, RUSSELL McWHORTER CUNNINGHAM, ROBERT JAMES REDDEN, HENRY HUDSON MATTHEWS, BENJAMIN MOSES JACOBS, HUGH SHEPPERD DARBY MALLORY, LAWRENCE HAYWOOD LEE, DANIEL ARTHUR GREENE, HENRY CLANTON MILLER, WALTER SMITH, ROBERT STERLING TEAGUE, PERCY BLACKETT DIXON, JULIAN FLETCHER SPEARMAN, DUNCAN CHALMERS CARMICHAEL, OLIVER DAY STREET, JAMES MADISON PEARSON, ROBERT FRANKLIN LOVELADY, WILLIAM LOVARD LEE, SAMUEL A. MOORE, COKE SMITH WRIGHT, SAMUEL BOYD ADAMS, ENCY FENDLEY YEILDING, GEORGE UNDERWOOD POTTER, WILLIAM EARL JAMES, JAMES MATHEW JONES, CLARENCE EDWARD MICHAELS, JOSEPH CLIFTON ROE, WILLIAM JOSEPH NASH, FRANKLIN WARREN PARKS, WILLIAM LIPSEY LEGG, JOSEPH SPANGLER SOUTHALL, LEONARD STACY TERRY, JOHN W. PREDDY, TROY LEANDER NUNN, CARL CHARLES COOPER, EELY ELBERT JACKSON, ROBERT RUFUS BERRYMAN, JAMES LEW LAWSON, GORDON LEE EVATT, ARLIS RICHARD FANT, PENSON RABON GRAHAM, WILLIAM WALLACE, JR, TOLBERT DAVID SHARP, FRED W. VAUGHAN, JAMES W. COOPER, WILBUR HALE ARMISTEAD, HOWARD E. BLACKWELL, WILLIAM JOHN BRANNON, MARVIN P. LYNN, PAUL E. BRADFORD, CHARLES CECIL ROBINSON, JOSEPH DANIEL BRACKIN, JAMES M. EIDSON, SR., THOMAS B. WHALEY, WILBUR O. HARDEN, ROBERT CHARLES COLEY, GERALD S. BORDEN, JAMES G. MACON, JAMES FRANKLIN GLASGOW, HERMON WEBB TAYLOR, CHARTER LEE NICHOLSON, JACK SMITH, J. B. ROBINSON, JR, RALPH HARRIS HENDERSON, SR., MARVIN EUGENE LEACHMAN, FLOYD HAMBRICK, JR., DAVID L. SHIREY, J. C. BRADY, E. WAYNE LUCAS, WARREN MALCOLM KILLINGSWORTH, ROBERT L. JONES, WILLARD RAY FULLER, LUTHER EUGENE GROOMS, LARRY W. WORTHAM, DELTON EARL HAVARD, STEVE BROWNFIELD, JERRY UNDERWOOD, ROBERT THOMAS CRAWFORD, V. WAYNE CAUSEY, RODGER SIMMONS, BILLY C. FORD, DARRELL NEILL, GENE ANDERTON, FRANK W. LITTLE, JAMIE A. SMITH, LARRY W. STINSON, TEDDY R. GROGAN, LARRY A. HANCOCK, RONALD ANDRESS, C. STERLING HUGHES
(Visited 898 times, 1 visits today)