{Coosa County was a very large county in the center of the state in early Alabama. The following is an excerpt from Rev. George Evans Brewer's book History of Coosa County, Alabama}
CHAPTER VII
SCHOOLS AND CHURCHES
The exact dates of the organization of the first churches cannot be given, but it was as early as 1834 that Smyrna, near Goodwater, was constituted. It is believed to be the oldest church of the county outside of Wetumpka.
First Baptist Church Wetumpka, Alabama ca. 1930s (Historic American Buildings Survey, Library of Congress)
Smyrna and Bethel were anti-mission
The Baptists were all united at this time, and the agitation on missions was just beginning. A convention is said to have been held with this church in 1835, and an association formed, but its name has not been preserved. In the split that came some years later, Smyrna went with the anti-mission party, who call themselves "Primitive Baptists." It has so remained, and still exists at the old location. There is a large cemetery attached.
Bethel is thought to have been constituted not long after and still remains located in the edge of Brooksville. It also went with the Primitives. There is a large cemetery here.
Other early Baptists
Antioch west of Nixburg was constituted about the time of the other two. The Association is said to have met with it in 1837, when the feeling upon missions produced so much confusion, that Luke Haynie, a preacher among them, induced a dissolution. The church dissolved some years later. No other association was formed until 1845, when the Central came into existence, and later the, Primitives formed the Wetumpka Association.
Near this same time Shiloh was formed, some three miles north of Nixburg, and had a number of prominent families connected with it for some years.
Families divided over missionaries
The first session of the Central Association was held and it was formed here in 1845. The strife on the mission question had grown in intensity, until fellowship was destroyed, and a separation became necessary. Some churches as bodies were for missions, some for anti-missions; some were divided, and mutually withdrew from each other, the majority holding the property and church records, the others either forming new churches, or going to some neighboring church of affinity.
Even families divided, husbands and wives, and parents and children not unfrequently going with different factions.
William Salter and James P. Goggans remained with the missionaries, their wives went with the others. A preacher of the missionary once came to Goggans' seeking lodging, and made the plea to the madam saying, "I am on the Lord's business." She replied, "If the Lord has put his business in your hands I think he has made a very poor choice."
Influential ministers
James F. Edens was a member, minister, and for a time pastor of Shiloh, but went with the Primitives. John Bates then became pastor and after him Benj. H. Wilson. He called the meeting in October 1845 with Shiloh church that resulted in the formation of the Central Association which became by far the most influential and numerous religious body in the county.
Joseph Hill was a minister in Shiloh, who died a few years back having passed more than a hundred years of life, and last year Stephen D. Ray died over ninety who was in the constitution of the church. Obadiah Moore and David Radford were ministers, once members. The church has not been so strong since the war as before, and the population changed so that thirty years or more ago it changed its location, going several miles north. There was a large cemetery at the old location, and a good many of Coosa's prominent citizens are buried there.
Annual singing at Fish Pond
Those who took sides with the Primitives from Shiloh went into the organization of Fish Pond, which took its name from the Indian town. This has continued its existence, and has been a strong church. There has been kept up an annual singing by Mr. Albert Holloway for about fifty-eight years, on the first Sunday in May.
It is the most noted gathering in all this region of country. The people come for miles in all directions, and bring their baskets of dinner, spending the day in singing, eating, and social enjoyment. The cemetery here is large.
Fish Pond Primitive Baptist Church (USGenWeb)
The earliest prominent Baptist churches in Coosa County
Mount Carmel was also one of the early churches, and sided with the Primitives. But little is known of it.
Friendship church was in existence in 1846. It was between Sockapatoy and Bradford's, and once had a strong membership, but was depleted by death and removals, until it dissolved in 1870. Patrick McKinney, Wm. Corbet, and Saml. Gray, with their families, were among its last members.
Harmoney was constituted about 1846 or 1847 in the eastern part of the county, several miles from Brooksville. For a long time John H. Colley, one of its members, was its pastor. He died at an advanced age just a few years since, and is buried in its cemetery. A few years back the church was moved nearer Brooksville.
Good Hope church was in the southeastern part of the county, eight miles west of Tallassee. It was a good strong church, in a pretty part of the county, and had a good membership. Five entered the ministry from its membership, Benj. Timmerman, Y. D. Harrington, Joseph Norton, Calvin Swindall, and 0. C. Swindall. Others have been ordained since the church was cut off into Elmore. There is a well kept cemetery attached.
In 1871, and for two or more years, it had four deacons over eighty years old, Mr. Fielder, Norton, Timmerman, and Chas. Gregory.
Union church was one of the very early churches, and was in the constitution of the Association. It was located a mile above Central, until after the Central Institute had been established, when it was moved down to the village. This was a good church with a strong membership before the establishment of the school. Afterward it was very strong, so many persons of means and influence going there to educate their families. It once had seven ordained ministers members of it, Joseph Bankston, James Russell, Platt Stout, James Jeter, A. T. Holmes, B. T, Smith, and Bright Skipper. Joseph Bozeman, who died a few years since, the popular and beloved pastor of the first Baptist church at Meridian, began his religious life here. There are two cemeteries belonging to this church.
Mt. Gilead, several miles northeast of Central, was another one of the early churches. It is Primitive, and located in a pretty place. It has never been a strong church. It has a cemetery.
The time when Concord was constituted is not known. It joined the Central Association in 1848, but it existed before, that time. It was for a series of years one of the strong churches intellectually, financially, and numerically; and though it has lost in these particulars, it is still a good church. Sterling Speer was ordained here, and was a young growing minister in power, when cut off by death. The cemetery is large.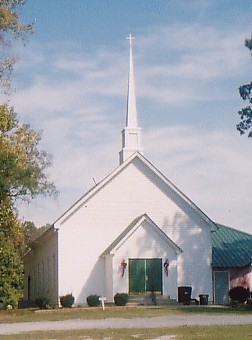 Concord Baptist, Central Associatiaon, Coosa County, Alabama (Central Association.org)
Salem joined the association in 1848, but the writer is of opinion it had an earlier existence. It was not far from Hatchett Creek, and between Rockford and Weogufka. It was never a strong church, but had some fine members.
Poplar Springs was constituted in 1848, and grew rapidly, so that in a few years it had a larger membership than any other in the Association. Meetings of wonderful power used to be held, such as the writer has seldom seen elsewhere. For several years a number of the members had temporary houses built, and had meetings just after the order of Camp meetings. They usually had able pastors, until an unfortunate disturbance led to a split in the church which has never been entirely healed.
Many of its influential members moved away and died. Rev. J. R. Steely, Hardy Jones, and J. M. Butler were members. The cemetery is large.
Popular Springs Baptist (USGenWeb)
Mt. Zion was established about 1849, about eight miles northeast of Wetumpka. It was in a pretty belt of pine land. Rev. Joel Nichols and Robert Stewart were members. Nichols was baptized at Old Elam church, near Montgomery, in 1824. The church went down soon after the war.
There was, for a time from 1849, a Missionary Baptist church called Bethel, but its location and history are unknown to the writer.
Antioch church was constituted in 1849, about 12 miles nearly north of Wetumpka. It still exists, and has been a good church, and once had a strong membership m the days of the Rogers, Lawsons, Holifields, and Holtzclaws., There is a well kept cemetery there
Weogufka was one of the early constituted churches, being nearly as old as the white settlement, but it did not join the Central Association from the Mulberry until 1849. It was a strong church for a number of years, 'but became weakened' by the death and removal of a number of the Taylors, Calfees, Mooneys, Lindseys, Hughes, Galloways, and Thompsons. It is on Weogufka Creek not far from where the Rockford and Marble Valley road crosses it. Its cemetery is large.
Three new Baptist churches in 1850
In 1850 three new Baptist churches were constituted, Rockford, Shady Grove, and Bethesda. Rockford church never had a large membership at any time, but it was always an active, progressive body, and exerted a strong and good influence in the Association. It has sent into the ministry Geo. 0. Brewer, J. P. Shaffer, and Chas. Bentley.
Shady Grove was five miles below Rockford, to the west of the Turnpike. Though a good church, it was never a strong one.
Bethesda was constituted in 1849, near Brooksville, and is still in good condition. Rev. Darius Martin, who has been clerk of the Association so long, joined here, a boy, was set apart to the ministry, and has served it as pastor a number of years. Catt Smith. was a .member here and was perhaps ordained here. There is a large cemetery.
Rockford, Bethesda, and Shady Grove each have cemeteries. Paint Creek and Providence were organized in 1851, and that year united with the Association. Paint Creek was near the creek of the same name, in the northwestern part of the county, and only maintained an existence for; about six years.
Providence is in what is now the southwestern part of the county, then the western, and not far from the Coosa River, on the River Road. There is a cemetery here, in which some of the very early settlers are buried.
Mt. Olive was constituted in 1852, and the name of the church has been placed upon the neighborhood and post office. This has been a good church from the start, and has had no lapses such as often mark the history of churches. W. C. Brown has been a leading member and deacon since soon after its organization. Rev. J. W. Fulmer has been a minister in her membership about thirty-five years. The cemetery is large.
Mount Olive Baptist, Goodwater, Coosa County, Alabama (Central Association.org)
Mt. Zion was a few miles from where Eclectic now is, and for some years was a right flourishing church, but it finally dissolved, and went into other neighboring churches. A few years after the war another church was constituted near by, called Antioch No. 2. But it has since been absorbed by Eclectic.
Churches after 1850
Union Springs joined the Central Association in 1853 from the Mulberry. It was constituted in the early settlement of the country, not far from Marble Valley. It is in a good country, and has been a strong church during most of its existence. The neighborhood and church were right much disturbed just after the war by what was known as Shermanism, originated by Mr. Sherman, a sort of religious fanatic, who claimed to possess wonder working power, and denounced right earnestly the existing order of things in the churches.
In 1855, in the present limits of Goodwater, a church called Spring Hill was constituted, and continued a few years, but never became strong enough to build a good house or keep up the organization. After Goodwater became a place of business in 1883 a church was constituted, that has become a strong church, with a good building, costing several thousand dollars.
In 1857, about six miles below Sylacauga, Bethany church was formed, and did right well for a time. At the close of the war, political differences caused a rupture ending in the split of the church. Those who were of the Republican sentiment held the house, but the others organized what has since been known as Macedonia, a very good, though weak church. Bethany did not survive long.
In 1858, a church was constituted near Travelers Rest, on the Trace, called Sardis, but it never became a church of strength.
There was one constituted at Mt. Moriah, some four miles below Weogufka church, on the same creek. While it has kept up its organization it never became a church of much power, and for a good many years has been a member of an Association organized in opposition to progressive church work.
Lebanon church was constituted in 1859, below Buyckville on the Trace, on a beautiful site, surrounded by a pretty country. It has been a prosperous church, though never very strong. Within the past few years a trouble arose among them, leading finally to a split, each party claiming to be the church. This, of course, is a bar to the progress of either.
Southwest from Rockford, about nine miles east of the Jackson Trace, there was a church established named Wayside. While never very strong, it was able to maintain a fairly vigorous life from just before the opening of the war until within some years past it has become stronger.
Churches after the Civil War
No churches were constituted during the progress of the war, but in the summer of 1865, Olive Branch, a little below Shady Grove, westward, was organized, but it never became strong, being too much circumscribed in territory. There was another a few miles east of Union Springs, in the northern part of the county, called Holly Springs, but neither did it ever accomplish much.
Hatchett Creek church began its existence in 1868, near the mouth of that large creek. It never became a church of strength.
Four Baptist churches of the Primitive order have already been named among those early constituted in the county, viz: Smyrna, Fish Pond, Mt. Gilead, and Bethel. There were others constituted at a later date, but the time, and other facts have not been obtained. There is a church of this order below Buyckville a few miles, which was in existence in the fifties. Swamp Creek is a church near the creek of the same name, between the Turnpike and Trace, that had an existence as early as the fifties. It is not nor has it been very strong.
Mt. Pleasant is another in the neighborhood of McAdory's, but its history is unknown. Pleasant Hill, about Bazemore's Crossroads, had an existence probably in the forties or earlier, as Foscue and the Bazemores were members, and they were early in the country.
Marble Valley likely had an early origin, but the writer has only known of it since about the opening of the war. Liberty Hill, on the Smith's Ferry road 3 1/2 miles west of Rockford, was constituted sometime after the war, probably not more than twenty-five years ago. If there are others in the county are unknown to the writer.
SOURCE
Do you need some guidance in your tracing your family tree? Genealogy is a fun hobby that can include the whole family.
Save time and avoid pitfalls in your research. Where Do I Start? is filled with simple, no-nonsense instructions to set you on the path of your families' ancestry with the following information:
WHERE TO FIND – on-line resources, experienced genealogists will not be aware of many of these.
COURT RESEARCH – how to do court house research, where to find birth, death, social security records free on-line.
EIGHTY – ONE QUESTIONS – you should ask your elderly loved-ones before it's too late.
TIPS ON BREAKING DOWN THE WALL – Everyone faces some difficulties in research, often called a 'brick wall' but WHERE DO I START? provides suggestions for overcoming them.