(Remembering Joyce Ray Wheeler who was a frequent contributor of wonderful stories to AP. I especially liked this heartwarming one. Joyce Ray Wheeler passed away November 2. 2012.)
At the time of this writing, I am sitting on my sofa looking at a low table in front of me.  I call it a "coffee table", but at our house, this is definitely a misnomer.  I have never served coffee from this table.  At this moment I see on the table a bowl of red apples, three albums of family pictures, a remote control, and a doorknob.
But wait – it's not just any old doorknob!  It is the inside and outside knobs joined together with a couple of old screws;  all that's missing is the door—the door to the house where I was born in one of the big bedrooms on a cold January morning in 1926.  The only heat in the room was a coal burning fireplace.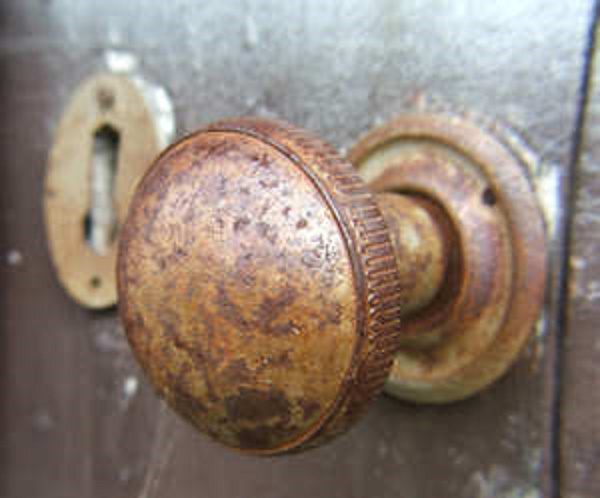 My family lived here 18 years
I'm now enclosing this doorknob in my hand, and it is completely concealed in my fist.  It is a delicate oval shape of metal coated in brass which has dulled through the years.  About one-fourth inch from the edge is an oval of raised beading.
I'm not sure how our house happened to have such a special knob.  The house had been built by a carpenter for his own family.  All other knobs in the house were the customary big round knobs.
My family lived here about 18 years before selling it.  Many years later I drove by to look at my old home.  I saw the current owner sweeping the porch and stopped and spoke with her about my memories of the doorknob.
Memories flood my mind
She excused herself and disappeared into the house.  She returned with her husband who handily removed the knob and placed it into my hands, saying he'd like a round one better.
Even now as I clasp this oval shape in my hand, memories of "coming home" flood my mind— coming home from school and smelling my mother's good cooking, coming home from  Saturday night dates, coming home the first time after living in a college dorm – just coming home, grasping the old doorknob and feeling safe and warm!
Perhaps I'm the only person who displays an old doorknob on the coffee table and considers it a treasure.  As I hold that knob at my present age, I'm thinking more of the tried and true words of the old hymn:
"It is sweet to know
As I onward go – —
The way of the cross leads home!"
(I wonder if there will be an oval doorknob in Heaven.)
Joyce Ray Wheeler
Written: December 2008
Vinegar of the Four Thieves was a recipe that was known for its antibacterial, antiviral, antiseptic and antifungal properties for years. It was even used to cure the Bubonic Plague. Discover Thomas Jefferson's recipe in

 VINEGAR OF THE FOUR THIEVES: Recipes & curious tips from the past
(Visited 1,698 times, 1 visits today)
Joyce Ray Wheeler was born in Kentucky, but after marriage and two sons she and her husband, Dr. Ruric Wheeler she moved to Birmingham, Alabama in 1953. She was a former school teacher for a short while. She was active in the Faculty Wives Club at Samford University and a member of Shades Mountain Baptist Church where she taught Sunday School classes for women for many years. She enjoyed travel, her grandchildren and writing her memories. Joyce passed away November 2. 2012.
Her obituary and memorial can be seen at: http://obits.dignitymemorial.com/dignity-memorial/obituary.aspx?n=Joyce-Wheeler&lc=4394&pid=160800084&mid=5294496