Joe Louis, "The Brown Bomber," was born near LaFayette, Alabama on May 13, 1914. His real name is Joe Louis Barrow.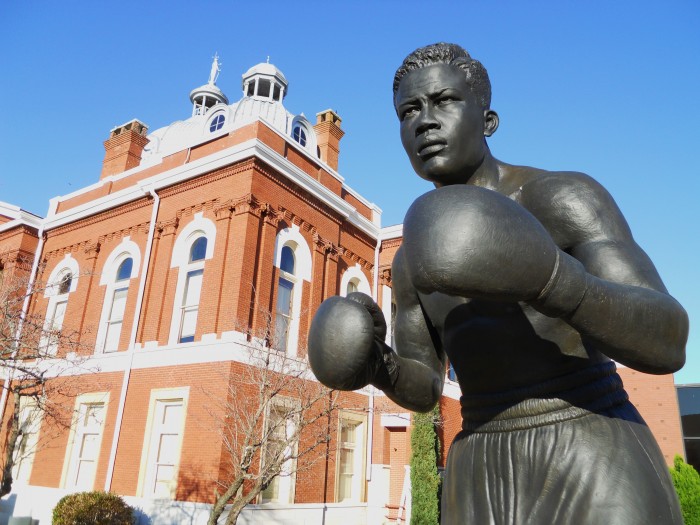 Held world heavyweight boxing title
In 1926 the family moved to Detroit and Louis began boxing. Joe Louis held the world heavyweight boxing title from 1937 to 1948 and made a division record 25 successful title defenses.
His matches in 1936 and 1938 against Max Schmeling of Germany were seen by many as heroic fights between the democratic free world and the Nazi forces. Louis died in 1981.
LaFayette, Alabama, the county seat of Chambers County, is located in the central portion of the state; 13 miles from the Georgia state line. The area is well known for its outstanding recreational and cultural opportunities which include hunting, fishing, golf, major college sports, professional sports, and of course the nationally acclaimed Alabama Shakespeare Festival. Talladega International Motor Speedway and world-renowned Callaway Gardens.
Town changed name
The town was first called Chambersville, but by the time of incorporation on January 7, 1835, the town name had been changed to Lafayette, named after Marquis de Lafayette; its spelling was changed to "LaFayette" due to the influence of newspaper editor Johnson J. Hooper, who created a fictional character called Captain Simon Suggs, a backwoods southerner who pronounced the town's name as "La Fait.
There are many videos on Joe Louis – Here are a couple of shore interesting ones.
Muhammad Ali & Joe Louis Foolin Each Other on a TV Show (1966)
HD Joe Louis Knockouts