PEAR PICKLE
Select small, sound ones, remove the blossom end, stick them with a fork, allow to each quart of pears one pint of cider vinegar and one cup of sugar, put in a teaspoonful allspice, cinnamon and cloves to boil with the vinegar; then add the pears and boil, and seal in jars.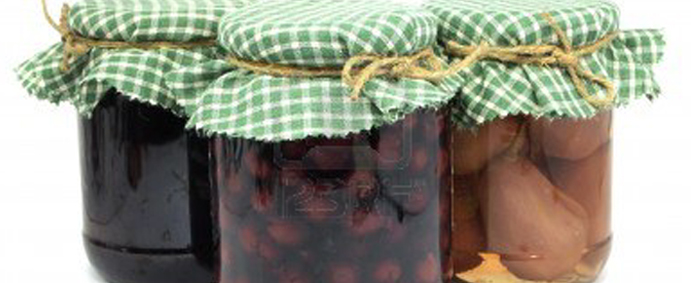 SPICED PLUMS
Seven pounds of plums, one pint of cider vinegar, four pounds of sugar, two tablespoonfuls of broken cinnamon bark, half as much of whole cloves and the same of broken nutmeg; place these in a muslin bag and simmer them in a little vinegar and water for half an hour; then add it all to the vinegar and sugar, and bring to a boil; add the plums and boil carefully until they are cooked tender. Before cooking the plums they should be pierced with a darning needle several times; this will prevent the skins bursting while cooking.
OLD-FASHIONED APPLE SAUCE
Pare and chop a dozen medium-sized apples, put them in a deep pudding-dish; sprinkle over them a heaping coffee-cupful of sugar and one of water.
Place them in the oven and bake slowly two hours or more, or until they are a deep red brown; quite as nice as preserves.
CORN SOUP
Cut the corn from the cob, and boil the cobs in water for at least an hour, then add the grains, and boil until they are thoroughly done; put one dozen ears of corn to a gallon of water, which will be reduced to three quarts by the time the soup is done; then pour on a pint of new milk, two well-beaten eggs, salt and pepper to your taste; continue the boiling a while longer, and stir in, to season and thicken it a little, a tablespoonful of good butter rubbed up with two tablespoonfuls of flour. Corn soup may also be made nicely with water in which a pair of grown fowls have been boiled or parboiled, instead of having plain water for the foundation.
More interesting and sometimes humorous solutions and old recipes can be found in the book