Do you remember Pizitz Department Stores in Alabama? The Pizitz chain was founded as a family business of its flagship building in downtown Birmingham. It was sold to McRae's in December 1986, and all former Pizitz stores became McRae's.
Immigrants to the United States
Born in Poland, the ancestors of Pizitz immigrants were in the tanning business in Poland. He immigrated to America in 1889 without a dollar in his pocket and walked around the streets for three days until he was befriended by a woman from his hometown in Poland, named Mrs. Frank, who wanted to help him. She was from Augusta, Georgia where she owned a supply of peddlers' goods. Louis worked for her as a peddler for two and a half years. His nephew Max Pizitz, having completed a military tour in the army of the Russian czar joined him in Georgia where he also became a peddler.
Pizitz Department Store delivery truck, 1938, Photographer O. V. Hunt (Birmingham Public Library)
Louis managed to save $750 and opened up a small store in Swainsboro, Georgia which was a success. Louis' wife encouraged him to open a store in a larger city. On March 15, 1899, Louis opened his Birmingham store at 2026 1st Avenue but did little business. Three weeks later, his nephew Max apparently joined him and they opened a new store.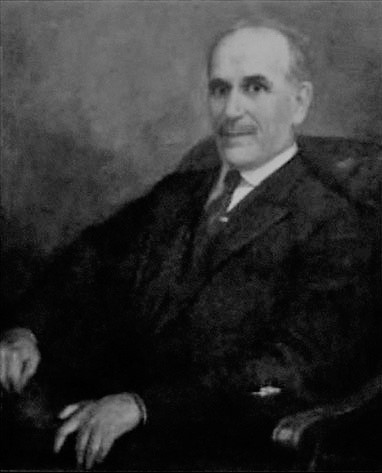 Louis Pizitz, by artist N.R. Brewer Jefferson County Historical Society
Moved to Birmingham
On March 15, 1899, Louis opened his Birmingham store at 2026 1st Avenue, but according to his biography, he did little business at this location. A Tuscaloosa news article (History of Tuscaloosa published in The Tuscaloosa News July 31, 1949) states that his nephew Max joined his uncle in Birmingham and invested his savings in the store. Advertisement reports that a new permanent store was opened on April 5, 1899, at 2nd Avenue and 19th Street where it remained for the next 87 years. After Louis death in 1959, his son Isadore inherited his business.
Tuscaloosa Store
Nephew, Max Pizitz, returned to Poland in 1903 to visit his family. After a year, Max returned to American and later brought his family from Poland to America.
In 1913, Max Pizitz went to Tuscaloosa and purchased an interest in Saks and Company. After putting the store back on its feet, Max Pizitz became its sole owner in 1916. He remodeled it and installed new equipment and developed it into the large department stores Pizitz Department Store. Later, Max Pizitz took his two sons, Sam and Isadore, into the store. When the elder Mr. Pizitz died in 1948, the sons became co-owners of the store in Tuscaloosa.
At its peak, there were 13 Pizitz stores in operation. Many of the former Pizitz locations are now closed, but the Pizitz family (via Pizitz Management Group) still owns the buildings of most of its former stores.
SOURCES
History of Tuscaloosa published in The Tuscaloosa News July 31, 1949, written by an older resident, Ben A. Green, in 1931 who was the managing editor of The Tuscaloosa News
Wikipedia
ALABAMA FOOTPRINTS: Settlement: Lost & Forgotten Stories is a collection of lost and forgotten stories of the first surveyors, traders, and early settlements of what would become the future state of Alabama