Excerpt transcribed from The Alabama Historical Quarterly, Vol. 07, No. 03, Fall Issue
EARLY HISTORY OF AUBURN
By Mrs. Mary Reese Frazer
(Through the courtesy of Miss Mary E. Martin, long while librarian of Alabama Polytechnic Institute, this history of early Auburn has been copied by her from an out-of-print pamphlet. Mrs. Frazer has been dead for some years, but we are indebted to her for both the "Early History of Auburn," herewith published, and also "History of the Auburn Baptist Church," which will appear in a later issue. Editor.)
I am more familiar with the memory of those who lie in Pine Hill Cemetery than with these who live among us today. I have often been asked who Jethro Walker was,— the man who put up one tomb to three wives. He was a very prominent citizen here, and lived where Dr. Reid Yarbrough now lives. He owned a large plantation a few miles out, and was there spending Sunday night. I have been told that he was reading his Bible when, through a window and by an unknown party, a shot was fired, killing Mr. Walker instantly. The people searched for the murderer, but he was never found.
Interesting characters and tragedies
A very queer character was that of Mr. Billie Mitchell, called by all of us "Uncle Billie." It is said that in his last days he made his family promise not to bury him in a coffin, but to dress him and lay him out on a feather bed, and also to put his boots beside him. Now, I am not in a position to say that this was a fact, or just something told, still I have heard it all my life. If you will go into the Drake enclosure you will find a cemented vault, and that is his resting place.
Many tragedies are recorded in the history of Auburn. One I shall mention in particular. Jeff Wynn and his cousin, Jack Harper (he, as you remember, was the son of Tom and Lizzie Harper) one morning went out hunting, and by some means or other Jack's gun went off and Jeff was instantly killed. Jack brought the body into town, crying at the top of his voice, "I have killed my friend, I killed my friend!" Poor Jack came near losing his mind. He felt that he could not live here after this terrible accident, so he left Auburn and went out to Mississippi. I do not think he ever returned. I ask all of you to go to the cemetery some day and see a simple head and foot-stone erected to the memory of Jeff Wynn. This was put there by his faithful old -slave, Amos Wynn. He told me that he tried for a long while to Get Mr. Wynn's relatives to mark his grave, but did not succed. (sic) ( So after sixty years that old negro begged the money from strangers, and friends and erected this little stone to his young "Marster," as he always called him. This poor old negro went hungry and cold, but never used a penny of that money for his necessities. He kept it in trust with Mr. Burton. For sixty years, or more, Amos kept that one sacred spot. I never knew a more touching instance of a slave's devotion to the memory of his young master.
Most of the facts just related were between 1836 and 1856.
Methodist church grew rapidly before the War
In 1856 the Methodist grew in pretty large numbers. Prominent members of that Church moved in from all quarters. The Glenn, Andrews, Lamars, Perrys, Moores, Hills, Ogletrees, Hollidays, Scotts, Dillards and others. In 1856 these and others decided that this was the place for a Methodist college, to be known as the Methodist Conference college. Reverend John Glenn (better known as "Uncle Johnnie*') was elected as President of the Board, I know of but one other member of the Board, a Mr. Kilchrist or Gilchrist. The lot opposite Mrs. Lipscomb's residence was the site first selected on which to build the college. This place is now owned by Misses Kate and Mildred McElhaney. The ground was laid off, levelled, and workmen were ready for work when Mr. Kilchrist came, saw the situation and decided that it would be too far from the center of the town; So all agreed to purchase the lot on which the college now stands. The work began in earnest. In the summer of 1857 the great day came for the laying of the cornerstone. Everybody, negroes and children were there. Tables for the great dinner were built from the corner of the North entrance gate to the corner of the South entrance gate; small tables under the trees on the left,—in fact, tables were galore. Citizens of the town of every denomination came with hampers filled with rich viands. The Moore brothers, Mr. Jim Moore's father and two uncles lived out a mile or two. They brought in a wagon full, drawn by six mules. I was there with my mother and father; of course I was quite a small child, still I remember that I never saw so much to eat in all my life. Visitors from all parts of the country were there; also many celebrities. Bishop Pierce was one of the speakers, and W. L. Yancey of political fame. Reverend E. J. Hamil was the financial agent for the college. I cannot recall others who were there, nor can I get information elsewhere. A platform was improvised on which the speakers sat. Rough seats were placed on the ground for the audience. That was the greatest day that Auburn ever experienced up to that time. I do not recall any day like it since.
Captain H. D. Capers and Captain George W. Dixon of the Auburn Guards 1861 (Alabama Department of Archives and History)
After that wonderful day the work continued steadily. At last the great day came when its doors were thrown open to welcome the boys, greeted by their President, Reverend Mr. Sasnett, Professor John Glenn, Professor J. T. Dunklin and Professor John Darby. But I am sorry to record that after a few short years the clouds of war began to gather, and our once peaceful and happy little village presented a different scene. The "Auburn Guards," a company of young men was organized, led by Captain Dixon. Fancy uniforms and caps were the chief attractions to myself and others. The sound of fire and drum called our boys to arms and to war, to fight against the Northern foe for our rights, as we felt. The boys volunteered from college, and in 1861 the doors of our great institution were closed, and our once happy boys marched away to return no more. The college was soon after turned into a hospital for our sick and wounded soldiers—many of them dying. We have a beautiful shaft raised to the memory of our young men who are buried in Pine Hill Cemetery. This was done by the U. D. C. of our city.
I am so glad that I remember some of these boys, and, with many others, ministered to their comfort, I will not dwell longer on those four tragical years, but this I will say in honor to our brave women and children, the luxuries of former days were forgotten and the spinning-wheel and the loom was the special music heard from every household. Knitting socks was our pastime; my friend, Mrs. Dr. Drake and I knit a sock a day, but they were not so particular then just how the toe and heel should be finished.
Pine Hill Cemetery, Auburn, Alabama (auburnalabama.org)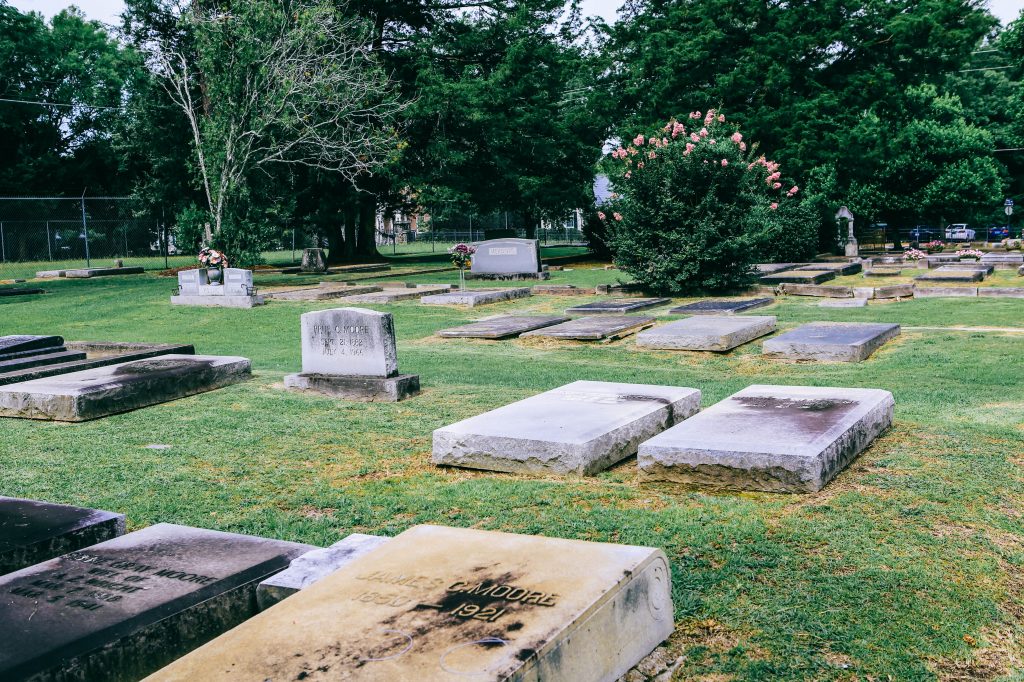 After the war
After the war, we who were once so prosperous and happy were poor indeed, but I am glad to say we still had grit, went to work and built up our lost fortunes, at least some of us. The college was presented to the State by our noble Christian brethren and has since been climbing to heights, and today this institution ranks first in all the Southland.
Now I have given you the first chapter of Auburn's and the second part I will leave for some of you to write, as you know more of Auburn from the closing of this chapter than I, for I am like many of these friends of whom I have given you a short sketch, "A back number" placed on the files of long ago. So to you, I say "Good-bye.