EXCERPT FROM REFLECTIONS OF AN ALABAMA TEACHER, 1875-1950
by Julia L. Willard
(Transcribed from The Alabama Historical Quarterly, Vol 38, No. 04, Winter 1976)
Orlena  Harper McCleskey, daughter of William Harper W. Harper taught school on Sand Mountain in Marshall County, Alabama beginning around 1883. Her father had also been a teacher. She married Robert R. McCleskey.  She wrote about her life and experience as a teacher in letters, diaries and journals. The following is an excerpt of her recorded story submitted and published in The Alabama Historical Quarterly  by Julia L. Willard.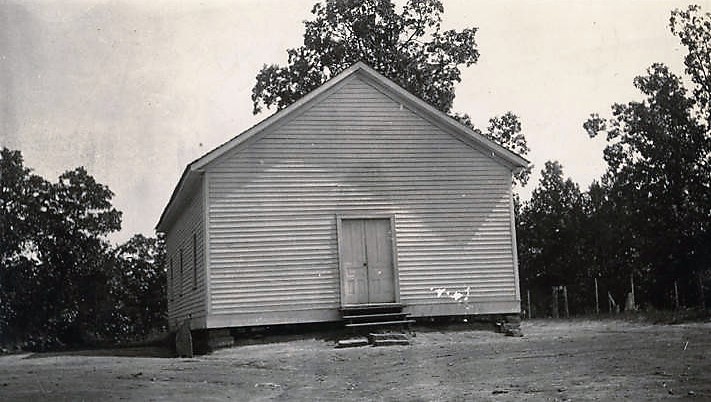 Ebenezer Church, three miles east of Bryant, Alabama, on Sand Mountain near the Georgia line. ca. 1930s (Alabama Department of Archives and History)
ORLENA HARPER McCLESKEY1
I was born in a small log cabin on a hillside near Little Tussahaw Creek near Peeksville, Georgia in 1871. My mother died when my sister Nancy Wallace Harper was born. My grandmother told me God took my mama and sent the baby, I remember very distinctly I did not love the baby. I asked Mama if I could have a Christmas tree. Her reply was, "If I live, you can." She was sitting in a high chair with arms, She died the day after Christmas.
My grandmother that we all called Ma made me rock the baby in an old-fashioned cradle. I rocked her just as hard as I could so she would cry and then go to sleep. She cried lots and she was a nuisance to me. Of course Ma and Papa petted her. I always felt too much responsibility for her as a child,
My younger brother Claud had to do everything and have as much as I did—even had a hole punched in one ear so he could wear earrings, but he backed down on having one in his other ear. He could chop cotton much faster than I but he would just wait until I caught up with him before he would go on so he wouldn't have to do more work than I did.
I shed lots of tears on account of it
I had curvature of the spine. Ma said I was not born that way but I shed lots of tears on account of it. A friend of the family told Ma to make a cross and put on my back and it might straighten it. It hurt terribly, but did not do any good, Claud said he was glad he did not have to wear one.
My first conviction of sin was when I was seven years old. A holiness preacher was holding a revival at New Hope Methodist Church in Georgia, and I felt that I should go to the altar. Ma said I was too young to know what I was doing. As I remember, his name was C. V. Weathers. We had a lot of preachers and teachers to spend the night with us while living at Peeksville.
My first teacher was Miss Rosa Holman. I idolized her and would take a pan of warm water to her room before breakfast. I remember she owned the first toothbrush I had ever seen and I know I was a nuisance to her because I always wanted to stay and watch her brush her teeth. I was fascinated with that toothbrush. When Miss Rosa taught, I was voted to be May Queen, as homely as I was! It was a big honor. Ma furnished all the flowers and she said my crown had a white string hanging down on my forehead and she did not like it at all. That same day I found a ten-cent piece on the long sand bed in the road to New Hope Creek and I was so happy. I can just see it now at ninety-three years old.
The only way teachers punished boys for fighting
Papa was Postmaster at Peeksville and I would go over there and read all the circulars and put them back in the wrappers when I was finished. Papa also taught school later. He taught forty years in all. He taught in the winter and we made a crop in the spring.
I remember Claud and another boy were in a fight at Papa's school and I did not like it cause Papa whipped Claud when he was not to blame, but Papa said he had to do that or the other boy's folks would not like it. As I remember, that was the only way teachers punished boys for fighting.
Three public roads passed by our farm and since Papa was the schoolmaster, he would have to stop work and do problems for folks when they needed it. He decided to move and in 1883, he bought 120 acres of land on Sand Mountain, Alabama, but not on a public road. In 1899, he qualified for a life certificate to teach school.
Orlena Harper McCleskey gravestone in Hillcrest Cemetery, Boaz, Alabama submitted to findagrave.com by GGS
Began teaching when I was seventeen years old
I began my teaching with a certificate in 1888.
I had finished approximately the eighth grade and was seventeen years old. The school was almost like a log cabin—no windows, just openings with wooden shutters that kept out all the light when they were closed. The school was at Brasher's Chapel, about ten miles from Solitude where we lived, on a dirt road in Marshall County on Sand Mountain.
Papa had taught me nearly all I knew—most of my knowledge came from him and what books we had. Papa was a great "figurer" so I had a fair background of arithmetic and ciphering. We spelled from the old Blue-Back Speller and I was always the best in the class. Most folks said it was because my papa was the schoolmaster.
When I began teaching, things weren't much different from the way Papa taught I had twenty-six pupils that first year. Some of the boys were much bigger than I was and they were hard to control, not to even think about trying to teach them something. I had some seven-year-olds and then these big boys and others between them in age.
Papa had to come to school
I had so many problems that Papa had to come to the school two or three times a week until I finally learned how to manage. I put the big children to helping the little ones and then I tried to help the big ones.
One of the best things I did and that they enjoyed the most was "nature walks." We would take our walks all over the countryside. People on the mountain thought we were crazy, walking in the snow and then later in the mud. We listed all the things we saw and tried to categorize everything according to common characteristics. We learned to spell the words of the things we saw. I guess the reason we all liked to go for walks so much was because in the winters we had to keep the shutters closed because it was too cold to leave them open. Since there were no glass windows, it was so dark in the schoolroom that we could barely see how to read. We had oil lamps but only a few and they just weren't very good. It was a dismal room in the winter. I complained to Papa so long and so often that he finally was able to get me one glass window to put in the school. It was such an attraction that on Sundays, all the people in the area would come by in their buggies and wagons just to see it. –
Another thing I complained about to Papa was that we only had one gourd dipper and an old cedar water bucket and everybody had to drink from this one gourd. Finally, I was able to get a tin dipper and I got most of the children to bring their own cups and cans that we labeled. Everybody brought their lunches, of course, and we always had long lunch hours and a long recess every day that was fair.
As I remember we had lots of truancy in all the schools. There wasn't much that could be done about it. The colored children didn't go because they didn't have a school nearby. At the time, no one seemed to think they needed to go to school.
They furnished a teacher and we furnished supplies
It always worried me that they had no place to attend and years later (about 1912, I think). I was able to interest our Methodist Church in getting together with some of the members of the A. M. E. Church and setting up a kind of school in the Negro church near Boaz. They furnished a teacher and we furnished some supplies and took food and clothing down there. It didn't last too long, maybe three years in all. We just couldn't keep the children in school. Probably we didn't have materials that interested them and I know now that we must have been very patronizing about helping them which didn't endear us to them. Years later, a Negro school was built for them, at Guntersville at the county seat.
As a beginning teacher, I certainly wasn't paid very much. It was so small that I don't even remember what I got. I'm not even sure I was paid anything in cash money. I looked upon teaching as a "service", it seems to me. We really didn't need too much. I lived at home, but some of the other female teachers boarded with families in the community. Each family with children in school was responsible for her room and board for a certain number of weeks each school term.
I liked teaching and taught until I married. I wonder now how much I taught the students, but maybe they learned enough to get by on the mountain. At least most learned to read and as times got better, I liked to think they had a leisure to appreciate books and knowledge maybe just a little more because of my work with them.
1Selected excerpts from Orlena Harper McCleskey's diaries, journals, and letters.
Some stories include:
The true story of the first Mardi Gras in America and where it took place
The Mississippi Bubble Burst – how it affected the settlers
Did you know that many people devoted to the Crown settled in Alabama –
Sophia McGillivray- what she did when she was nine months pregnant
Alabama had its first Interstate in the early days of settlement