ALABAMA FOOTPRINTS
Pioneers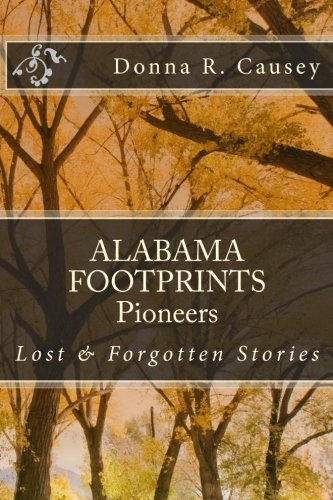 Alabama pioneers felt the lure of the frontier and struck out for unknown territory that would become Alabama, bringing with them only very few implements to survive.
From Tennessee, North Carolina, South Carolina, Georgia and many other states they came to settle in the newly opened Mississippi Territory.
ALABAMA FOOTPRINTS Pioneers continues the series with lost and forgotten stories of the earliest Alabama pioneers.
Table of Contents
Alabama Pioneers Overcame Many Obstacles 
In Search Of A Peaceful Life
For Lack Of A Shoemaker
Restless, Wrecked, Rovers
Diary Of Traveling To Alabama In Early 1800s
The Trackless Wilderness Of South Alabama
1814 Description Of Native Americans
Mississippi Territory 
The Yazoo Land Fraud
Citizens Rise Up Against The Governor
Dangerous Roads in the Mississippi Territory 
Treaties Formed With The Indians For Roads
Immigrants Bring Their Prejudices To Mississippi Territory
Natchez Trace And The Federal Road, Most Important Roads In Alabama
Notorious Robber Strikes Fear In The Hearts Of Early Pioneers
Spanish Difficulties Develop
First Counties Established
Famous Pioneers Of Early Alabama 
Vice-President Aaron Burr Charged With Treason
Vice-President Arrested In Alabama
Hero Of The Alamo Kills An Alabama Man
Fear Of War With The Native Americans Looms Ahead 
Man Killed By Indians – War Threat
Every Free White Male – 16 to 50 Was Subject To Serve In the Militia
Margaret Eades – Witness To Indian Wars
Tecumseh Arrives – Described By A Witness