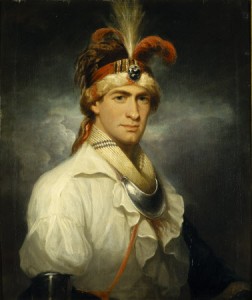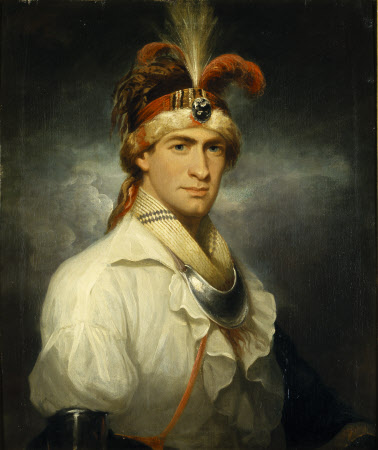 WILLIAM AUGUSTUS BOWLES
BIOGRAPHY and GENEALOGY
(1763 MD, USA – 1805)
Tallapoosa County, Alabama
"A yet more noted resident for a season upon the Tallapoosa was William Augustus Bowles, a Maryland boy, who, as a young tory, entered the British army as a soldier, fought for a year against the Americans, sailed to Jamaica as an ensign in 1777, came to Pensacola, flung his uniform into the sea, and in company with Creek Indians left for the wilds. For several years he remained by the Tallapoosa, and learned very thoroughly the Muscogee language. He married twice, a Cherokee and a Hitchiti Creek daughter of the prominent Chief Perryman. His new Creek father-in-law was the leader of a town along the Chattahoochee. William's sons by both wives became important leaders among the Creek and Cherokee people during the Trail of Tears.
"His elegant and commanding form, fine address, beautiful countenance of varied expression, his exalted genius, daring, and intrepidity, all connected with a mind wholly debased and unprincipled, eminently fitted him to sway the bad Indians and worse traders among whom he lived."
In 1781, with Creek warriors he aided General Campbell to defend Pensacola. He went next to New York, joined a company of comedians, and sailed to the Bahamas. There he acted comedy and painted portraits. The governor of the islands, Lord Dunmore, selected him as an agent to establish a commercial house on the Chattahoochie in opposition to the interests of William Panton, of Pensacola, and Alexander McGillivray Bowles was soon at work among the Lower Creeks.
But Milfort, the war chief, the French general, was sent to the Chattahoochie with a stern order for Bowles to leave the nation in twenty-four hours. He returned to the Bahamas, was sent by the governor with some Creek and Cherokee Indians to England, received valuable presents from the British court, returned to the Bahamas and became a pirate, having taught his Creek dependents to navigate the Gulf, preying especially upon the vessels of William Panton. His piratical success, having had with him "an abandoned set of white men from the prisons of London, together with hosts of savages," increased his popularity among the Creeks. He endeavored now, advancing into the heart of the nation, to destroy the power of McGillivray The latter withdrew to New Orleans, and Bowles declared that he would never again show himself upon the Coosa. But the Scotch-Indian was too shrewd for the Maryland tory boy, and he soon arranged at New Orleans for the capture of Bowles, who was brought to New Orleans in chains and sent to Madrid, in Spain, as a captured pirate. This was in 1792. From Spain he was transported to the island Manilla, in the Pacific ocean.
In February, 1797, he was ordered back to Spain, but escaped at Ascension Island on the way, reached Sierra Leone, returned to London, sailed again to the Gulf in a schooner, and became again a pirate, and was wrecked on Fox Point in September, 1799. He advanced once more into the Creek nation, declared his hostility to both Spain and the United States. He issued a proclamation on October 31, expelling all U. S. and Spanish agents from the imaginary "state of Muskogee." The State of Muskogee even had a flag, described as being rectangular, with a broad blue cross and white outline. The left upper and lower quarters, and the lower right quarters were red. The upper right quarter was blue with the sun having a face on it. He commenced depredations, and both American and Spanish authorities determined to remove him form the Creek country. A large reward was secretly offered for his capture.
Benjamin Hawkins laid a trap that put an end to Bowles. A great feast was prepared on the May 24, 1803, Coosa river, to which he was invited. At this feast he was suddenly seized, pinioned, placed in a canoe surrounded by armed warriors, and conveyed down the river. Stopping on the shore over night, while his guard slept, he gnawed the ropes from his arms and escaped. But Indians were on his track. His trail was found, and before many hours he was again their prisoner. He was taken down the Alabama to Mobile, was sent to Havana, and died in a few years in the dungeon of Moro Castle, having refused to eat. Thus ended his wild and varied career.
SOURCES
A Glance into THE GREAT SOUTH-EAST or CLARKE COUNTY, ALABAMA and its surroundings from 1520 to 1877 by Rev. T. H. BALL, A.M. GROVE HILL 1882;
Wikipedia;
http://www.southernhistory.us/waBowles.htm )
Find A Grave Memorial# 26846943
Start researching your family genealogy research in minutes.

 

This inexpensive Ebook has simple instructions on

 

how to get started with FREE sources. Download 

WHERE DO I START? Hints and Tips for Beginning Genealogists with On-line resources 

to your computer immediately with the FREE APP below and begin your research today!
Reviews
"This book was very informative and at a very modest price. Thank you for your great newsletter and this book."
"The book was clear & concise, with excellent information for beginners. As an experienced genealogist, I enjoyed the chapter with lists of interview questions. I'd recommend this book to those who are just beginning to work on their genealogies. For more experienced genealogists, it provides a nice refresher."
 Download unlimited Ebooks for FREE to your computer or other electronic devices! Click below to see how.