(Transcribed and unedited story from a WPA (Works Projects Administration
THE CAUTHAN HOME
Lee County, Alabama
by WPA writer
Preston Klein
In the early thirties, when Judge John H. Harper of Ga. Came to Alabama laying plans for a town at Auburn, Alabama, he brought Simeon Perry with him as a civil engineer. While here Perry became the overseer for Widow Wimberly; it was reputed she owned a thousand slaves and numbers of acres of land.
Coins found where first house burned
After a short while he married Widow Wimberly and they had the misfortune to lose their home by fire and with it, her money bag she always kept in the closet, and at different times along after that, the grandchildren would look for and find the coins where the house had burned, so his granddaughter, Miss Annette Howard told.
In 1853, Mr. Simeon Perry built them another home about one-hundred yards Northwest of the original house, using slave labor, hand hewed timber and pegged together.
We are struck with this lovely old ante-bellum home sitting up in this beautiful sodded, oak grove about two hundred yards from the street, East Drake Avenue, and one block to the right of highway 29, going South. On this lovely lawn we find the age-old oaks, cedars, crepe myrtle and beautiful old wisteria vines, clinging to whatever it touches.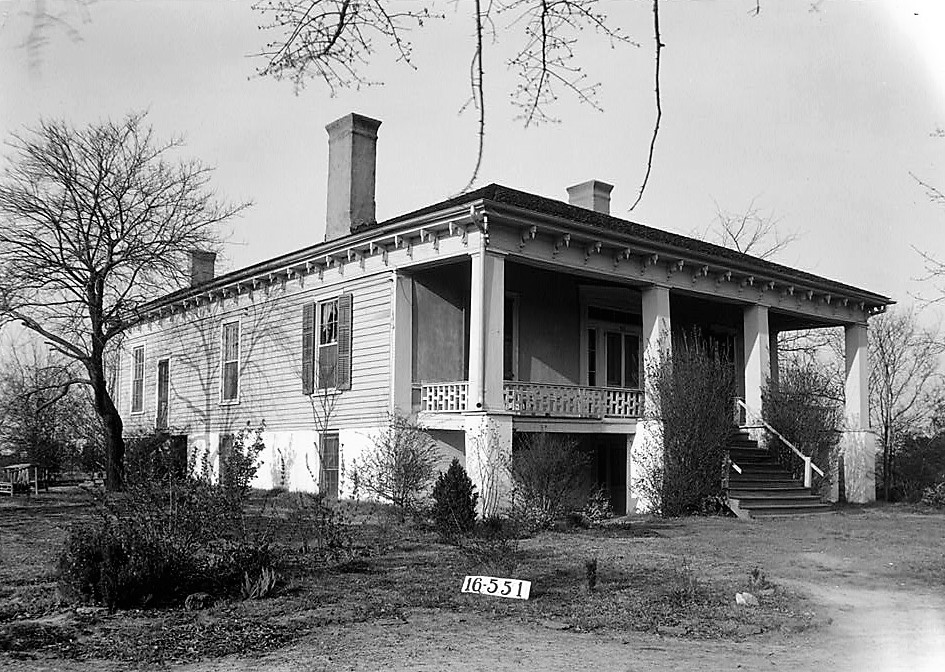 Cauthen house built by Simeon Perry (Library of Congress)
Walls to front porch were plastered
In approaching this house we find the unusual two step entrances which leads to a high verander (sic) with tied in banisters, which serve the two floors, having underneath a cemented ground-floor porch. The large four square columns, supporting the upper porch roof-extension, rests on cement foundations., resting on the ground. The walls to this front porch are plastered and the front windows reach to the floor, the green shutters against the white siding lend to the old mansion a colonial character. Over the two front entrances, up and down stairs, a notable feature of the doors being framed in side glass lights and the upper porch door being double doors and topped with a conventional transom. Entering this very spacious hall with high ceilings we find rooms opening into same from both sides and it has a foot chair-facing at the bottom, and picture molding at the top, the same wide planking is used for flooring and ceiling.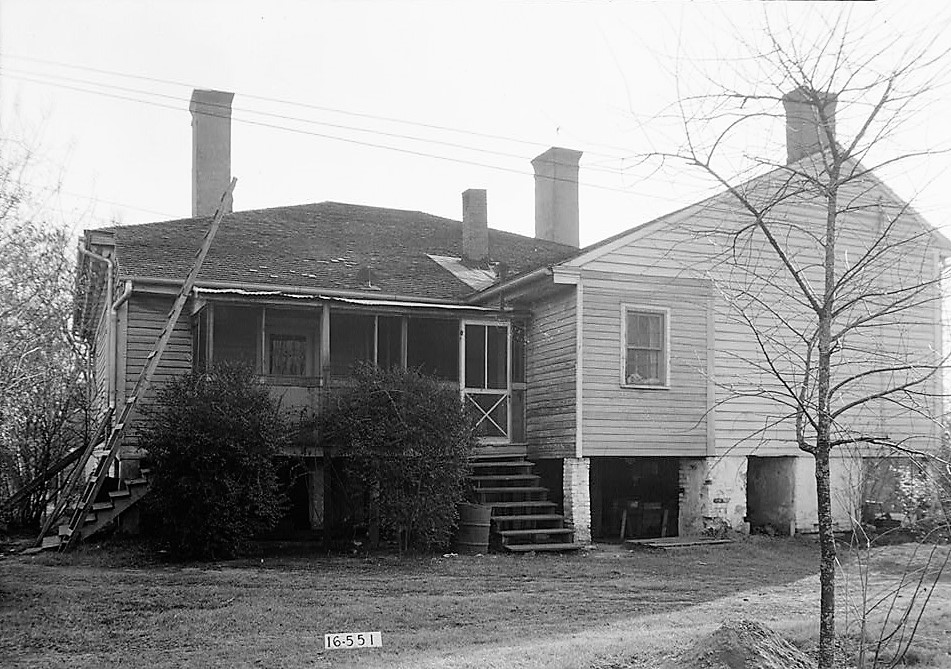 The original kitchen was thirty steps from the house and the food had to be brought in, up ten steps through the basement to the dining room eighteen by seventeen feet, all rooms having simple open fireplaces.
She became ill with typhoid fever
Widow Wimberly had her loom room in the basement, of course, spent much of her time in there, and took typhoid fever, from sitting in that damp room and the malady spread over town. Old Mr. Perry grew desperate and dismantled the basement and it was practically dismantled when acquired by the present owners but it has been entirely reclaimed and it still better condition now than ever. Some parts have been modernized and it has nine rooms.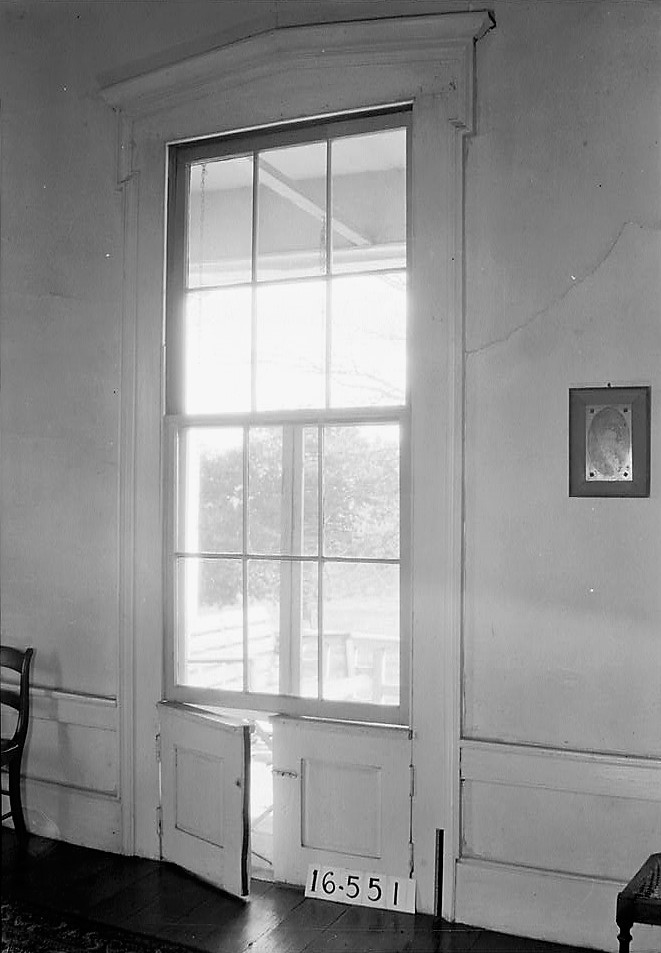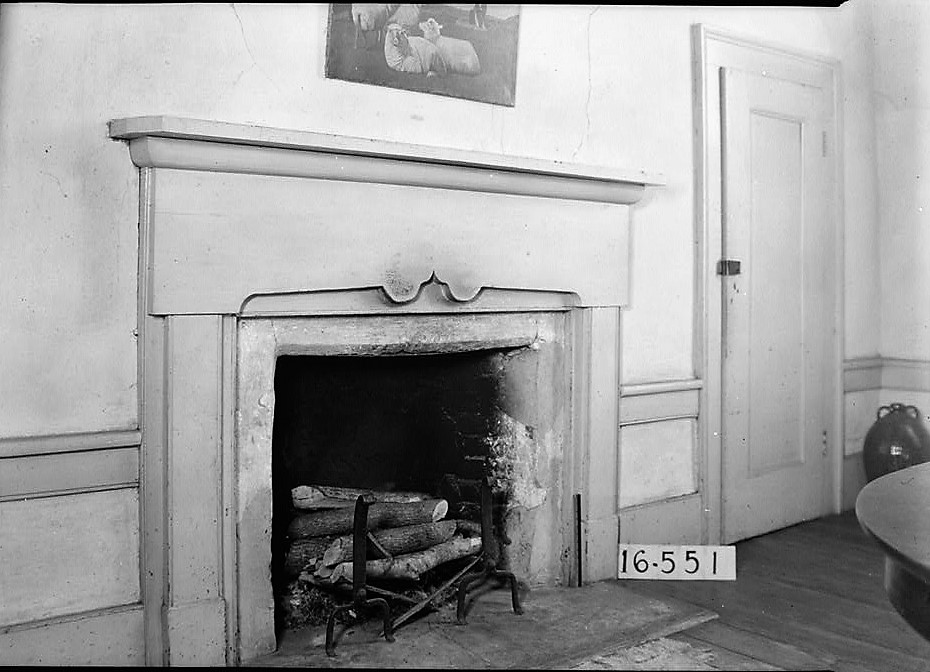 There is one slave house left, two having been burned lately. Mr. and Mrs. E. F. Cauthen own the property and live in it.
Miss Annette Howard, the Perry grand-daughter, very old now, (ca. 1938) lives in Tuskegee, Ala., and has been quite prominent in women's club work, in years gone by.
Mrs. Cauthen has in her possession a copy of Mr. Simeon Perry's will.
NOTE ADDED BY TRANSCRIBER FROM Lost Auburn: A Village Remembered in Period Photographs by Ralph Brown Draughon, Jr. Delos D. Hughes, Ann Bowling Pearson: The house suffered irreparable damage by a tornado in April 1953. The raised cottage house form was uncommon in the Auburn area. Only two raised cottages are known to have been built in the town. (The other, is the Cary Pick house).
Simeon Perry served as intendent (mayor) for several years. The short, side street in front of the site of the Perry-Cauthen House still bears his name. When Mrs. Cauthen, a longtime resident of the house, formed a garden club, she named it for Perry. The Perry County Garden Club still exists today.
Prior to statehood, Alabama was a vast wilderness with a large Native American population. It is only natural that when new immigrants from other states arrived, conflicts over the land would arise. Soon, these small conflicts exploded into war.
Alabama Footprints Confrontation is a collection of lost and forgotten stories that reveals why and how the confrontation between the Native American population and settlers developed into the Creek-Indian War as well as stories of the bravery and heroism of participants from both sides.
Some stores include:
Tecumseh Causes Earthquake
Terrified Settlers Abandon Farms
Survivor Stories From Fort Mims Massacre
Hillabee Massacre
Threat of Starvation Men Turn To Mutiny
Red Eagle After The War
Amazon.com – Read eBooks using the FREE Kindle Reading App on Most Devices