We rarely celebrate it anymore, but December 14 was unofficially observed by schools, women's clubs, and patriotic societies as Alabama Day.  The date commemorates the day on which the state was formally admitted into the Federal Union. The celebration date was first suggested by Mrs. William E. Sorsby, nee Idyl King, of Birmingham.
State Bird and Flower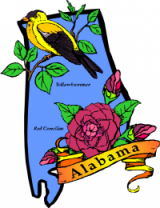 At the meeting of the Alabama Federation of Women's Clubs in Selma, May 1898, Mrs. Sorsby called attention to this anniversary and urged its recognition generally. The Pierian Club at East Lake in Birmingham, Alabama. Through the efforts of Mrs. Sorsby on December 14, 1897, Alabama Day was designated.  Following the Selma convention, arrangements were made for exercises on December 14, 1899, under the auspices of the history department of the Birmingham Woman's Club of which department Mrs. Sorsby was the director.
Alabama State Flag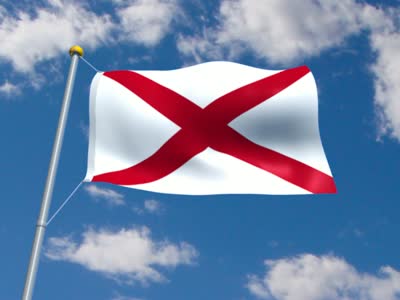 From that date in 1899, for many years, under her direction, the day was celebrated in Birmingham. At her suggestion on June 18, 1903,  the Alabama Educational Association unanimously adopted Alabama Day for observance in the schools and on December 14, 1903, exercises were held very generally throughout the State.
The celebration of this anniversary is to encourage interest in the history of the State and stimulate higher patriotic ideals. This date was also the day fixed by the Alabama Society of New York City for its annual meetings. The Alabama Department of Archives and History suggests some activities for celebrating Alabama Day.
December 14, 1849: On the thirtieth anniversary of Alabama statehood the capitol in Montgomery is destroyed by fire. The building had been erected only two years earlier after Montgomery succeeded Tuscaloosa as the seat of state government. Construction of the new capitol was completed in 1851.
SOURCES
Alabama Day Program, 1903; Trans. Ala. Hist. Society. 1899-1903, vol. 4, pp. 613-619; Birmingham Ledger, Nov. 18, Dec. 9, 1911,
History of Alabama and dictionary of Alabama biography, Volume 1 By Thomas McAdory Owen, Marie Bankhead Owen
Are you looking for last minute Christmas gifts? Books make great gifts! Click here to check out all our books available on Amazon 

and if you are a member of Amazon Prime, you can receive tw0-day FREE SHIPPING!
A Russian princess settling in early Alabama
How the early settlers traveled to Alabama and the risks they took
A ruse that saved immigrants lives while traveling through Native American Territory
Alliances formed with the Native Americans
How an independent republic, separate from the United States was almost formed in Alabama