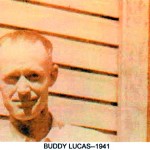 Looking for relatives of this man, Buddy Lucas.
This picture was taken sometime in 1941 in Bessemer, Alabama. Any information will be appreciated. Thank you. Contact James Thrasher  [email protected]
Do you have a brick wall you cannot get past in your genealogy research? Use the power of the internet to help find answers. Alabama Pioneers will post your query in the Query section of the Website and emailed to over 10,000 AP newsletter subscribers for only $5.00. See instructions here.