Did you know that Foley, Alabama has a secret tunnel under the city? – watch the video and see old photographs of Foley
(You may have traveled through the picturesque city of Foley many times on your way to a Gulf  Coast vacation. Did you know the downtown area has a mysterious tunnel?)
The Foley Tunnel
John Snook owner of Gulf Telephone Company made a tunnel from the Magnolia Inn and his company across the street.  There were also more mysterious uses and reasons for the tunnel involving a love story, communists, and women sharpshooters. Check out the video below for the story behind the Foley Tunnel.
Foley is a city in Baldwin County, Alabama, United States. The 2010 census lists the population of the city as 14,618.
Named for John B. Foley of Chicago
Foley was named for its founder, John B. Foley of Chicago. As Foley was traveling to President McKinley's funeral in 1901, he met a railroad agent who told him of the area in South Baldwin County. Foley came down the following year, and he liked what he saw and bought up between 40,000 acres and 50,000 acres of land. He then returned to Chicago and formed the Magnolia Land Company.
Foley at night (Photo of Foley is courtesy of TripAdvisor)
As he began to sell off acreage, he realized the need for a better way for the people to come to Foley. Foley used some of his own money to lay the rails so the train could come from Bay Minette. The first railroad station was built in 1905. The original station burned in 1908 and was replaced the following year by the station that is now the City's museum. John Foley donated parcels of land for a school and churches.
The first train to service Foley was a wood burner called the "Pine Knot Special." It would leave Foley in the morning and make a return trip in the afternoon. As people cleared the land, they would place liter knots in a wood box for the engineer to use as was needed. Foley was incorporated in 1915 with G. I. Weatherly serving as its first mayor.
Street Scene of Foley ca. 1935 (Alabama Department of Archives and History)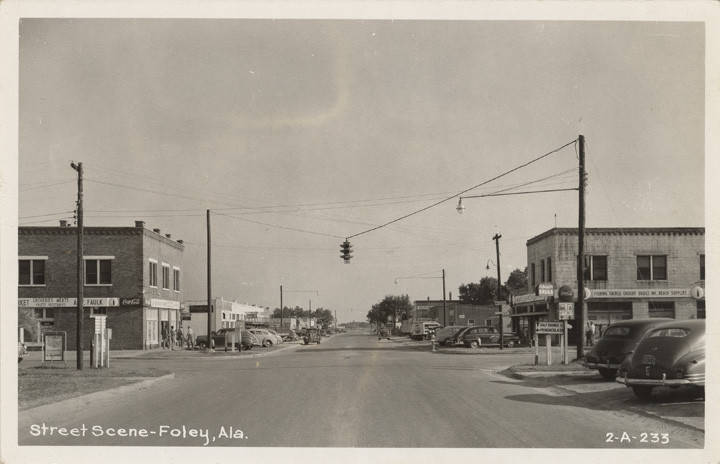 Foley, Alabama postcard ca. 1915
Cutting and Threshing 40 Acres Soy Beans – Wm Goetz Farm – Foley, Ala ca. 1920
Rice and Velvet Beans – Murray's Farm – Foley, Alabama ca. 1900
Cotton Gin, Grist Mill and Rice Huller in Foley, Alabama ca. 1900
Foley, Alabama 1928
Alabama Footprints Confrontation is a collection of lost and forgotten stories that reveals why and how the confrontation between the Native American population and settlers developed into the Creek-Indian War as well as stories of the bravery and heroism of participants from both sides.
Some stores include:
Tecumseh Causes Earthquake
Terrified Settlers Abandon Farms
Survivor Stories From Fort Mims Massacre
Hillabee Massacre
Threat of Starvation Men Turn To Mutiny
Red Eagle After The War
Get the Daily Update from Alabama Pioneers
Don't miss out on Alabama history, get our daily updates in your email.