On December 14, 1819, Alabama was admitted to the Union as the twenty-second state.
We, at Alabama Pioneers, have devoted years to discovering and "bringing to light" the footprints left behind by our ancestors through books, photographs, films, stories, biographies, and newspaper accounts on our website, www.alabamapioneers.com and our Podcast, "The Alabama Grist Mill". We have been chronicling Alabama history and telling these stories in an effort to create a truer, historical image of Alabama based on actual documents, old news articles, pictures, and facts.
Patreons/Patrons have become a part of this endeavor!
This past year we have partnered with the Patreon/Patron program in order to create an interactive community where members can participate with their own anecdotes, pictures, questions, etc. With their permission, some of these precious pictures, anecdotes, and stories from members will become a part of books, podcasts, or the website and be credited to the contributor as a part of Alabama's mosaic.
BENEFITS FOR ALABAMA PIONEERS PATREON MEMBERS
Patreon members read newly discovered transcribed information on the AP website FIRST through stories, films, and daily posts—-unlocked only for Patreon members.

Members see all the raw historical information before some of it becomes part of a book.

Patreon members see sneak previews of books and podcasts.

All Patreon members participate in FREE monthly book drawings as well as other prizes we may have throughout the year. We offer several tier levels of participation and rewards.

Patreon members who have contributed to Alabama's historical mosaic will be credited on the AP website, Alabama Grist Mill Podcast and/or within future AP books.
Vine Street between Capital Avenue and South Street in Cahaba, Alabama ca. 1890 (Alabama Department of Archives and History)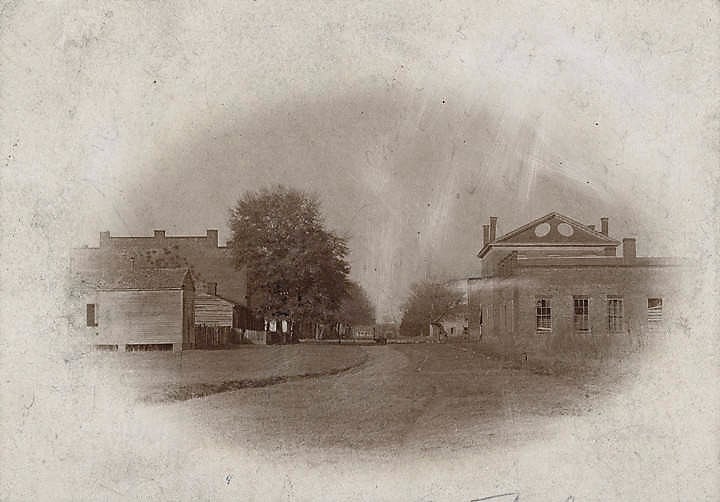 Join alabamapioneers on the Patreon website at https://www.patreon.com/alabamapioneers today!
Then click this link to go to the Community page  https://www.patreon.com/alabamapioneers/community and share your stories and pictures.
If you are already a Patreon member, click this link https://www.patreon.com/alabamapioneers/community to share your story or pictures.
Help us create a truer, living history of Alabama!
BUY ONE GET ONE FREE! The first four Alabama Footprints books have been combined into one book,
ALABAMA FOOTPRINTS Exploration
ALABAMA FOOTPRINTS Settlement
ALABAMA FOOTPRINTS Pioneers
ALABAMA FOOTPRINTS Confrontation
From the time of the discovery of America restless, resolute, brave, and adventurous men and women crossed oceans and the wilderness in pursuit of their destiny. Many traveled to what would become the State of Alabama. They followed the Native American trails and their entrance into this area eventually pushed out the Native Americans. Over the years, many of their stories have been lost and/or forgotten. This book (four-books-in-one) reveals the stories published in volumes I-IV of the Alabama Footprints series.