"On January 30, 1966,  Alabama experienced its coldest ever recorded temperature of -27°F at New Market in Madison County. The average low temperature during January 1966 for nearby Huntsville was around 29°." (Alabama Department of Archives and History)
How cold is cold?
by
Jean Butterworth
In the mornings when I get up, I immediately hurry to the thermostat to turn up the heat in my house. Sometimes I think about how cold my house was when I was a child. I really do appreciate the luxury of central cooling and heating these days.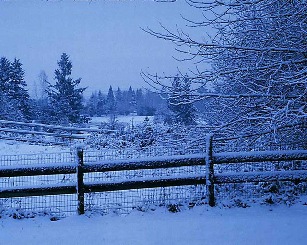 Colder in the past in Alabama?
I really believe that the weather was a lot colder in Alabama during my childhood years. In the winter I wore lots of clothes in the house since the house was heated by a coal-burning stove and later by a floor furnace.
There was not much to entertain the family during those cold rainy days except studying, reading and listening to the radio seated around the stove. So, the alternative was to go to bed to keep warm.
Hot water bottle and Vicks
Before it was time to go to bed, Mother would heat water on the stove and fill a hot water bottle and put it in the bed near where my feet would be. I usually slept in socks, so when my feet touched the hot water bottle my feet stayed cozy warm.
If I had a cold or cough Mother would rub my chest down at night with "Vicks Salve" from that little blue bottle. Then she would then put a clean flannel cloth on my chest. Boy, did it smell!
Quilts were very heavy
I wore flannel pajamas and slept under many quits that my mother and grandmother made for those long winter nights. In fact, the quilts were so heavy that it was hard to turn over in the bed!
Standing outside to catch the school bus in the early mornings was no fun. My bother and I dressed warmly on those bitterly cold winter mornings. When we arrived at school we had to stand outside again until the school opened. Usually, we would run and play to keep warm until that time. Inside the school, the older boys would build a fire in the coal stove in each room in the school. We kept on our coats until the room became somewhat warm.
Looking back over this now, I think that I didn't feel the cold as I do now. Nowadays, I dress warmly, but with not as many layers as I did as a child.
Still, in the wintertime in Alabama, I must remember to dress warmly when I eat out at restaurants, in church, and attending seminars because the "controllers of the thermostat" keep the thermostat turned down! Burr!!!!!!!
Oh, how I appreciate our heating and cooling systems!
FROM TUSCALOOSA NEWS February 11, 1930 -when Vicks was still new.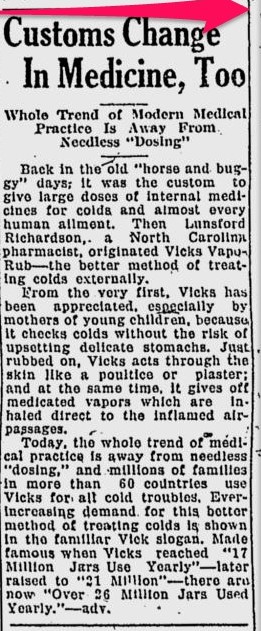 Jean Champion Butterworth is originally from Tuscaloosa County, graduating from Tuscaloosa County High School, Druid City Hospital School of Nursing and The University of Alabama. She is a retired nurse. Working 27 years at The Children's Hospital as Department Director, Specialty Clinics. She has traveled extensively in Europe, Africa, The Middle East, and Eastern Europe. You can contact Jean at [email protected] See additional stories by Jean Butterworth on www.daysgoneby.me She also now has a Kindle Ebook Chinaberries and Other Memories of Alabama