On November 30, 1954, a historic event occurred in Alabama when a meteor appeared in the Alabama sky in the morning and was seen by a Montgomery meteorologist and a radio announcer as it trailed across the pre-dawn hours with an eerie green glow.
The meteor exploded and at 2:56 p.m., a chunk went through the roof of the Hodges home and injured Elizabeth Ann Hodges as it smashed a hole in the roof above her living room, hit her radio and them bounced off her hip. Mrs. Hodges was reported to have been not feeling well and was lying on a couch in her living room when the meteor smashed through the roof and tumbled through the ceiling. She received a major grapefruit size bruise when the meteor struck her hip according to a hospital in Sylacauga but that was not the only suffering Mrs. Hodges endured from the event.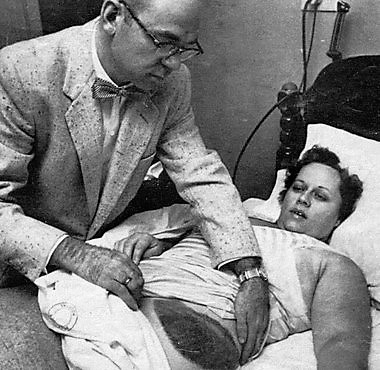 Ann Hodges in hospital with bruise on hip (University of Alabama of Natural History)
Taken to Maxwell Air Force Base
So many people flocked to the Hodges house that when her husband, Eugene Hodges, returned home from work he had difficulty getting in his own home.
The meteorite was taken to Maxwell Air Force Base in Montgomery where it was tested and identified. It measured about six inches in diameter and weighed approximately nine pounds. The inside consisted of a metallic, gray granular substance which responded to tests given for sulfide and the outside coating was a black satin appearing substance.
The next day, Mr. Hodges complained that the Air Force had no right to take the meteorite and it should be returned to him. His neighbors agreed with him. The Air Force reported that the stone would be shipped to Wright-Patterson Air Force Base, Dayton, Ohio, for inspection and afterward returned to Mrs. Hodges.
Meteor seen across many states
The exploding meteor was reported to have been seen over the states of Alabama, Georgia, and Mississippi. Six Tuscaloosa, Alabama citizens also stated they got a good look at the meteor as it fell. The accounts below were recorded in The Tuscaloosa News, December 1, 1954.
"Ernest Yeatman of No. 1 Oakwood Court, a truck driver for a soft drink concern said he was driving his truck up a steep hill from Warrior Asphalt's plant when he saw the object, which he said seemed to be coming straight down. He described it as a white ball with a long trail of fire. As it descended, he said, the fire trail turned to smoke and then the ball disappeared. There was still sky visible beneath it when it disappeared, he said and except for the smoke, he saw nothing to indicate an explosion. Mr. Yeatman said he would have guessed it to be about five miles away. The whole episode took 'just a fraction of a second,' he said, although the smoke trail lingered for a few moments."
"Fred Nicol, deputy circuit solicitor, was driving home to lunch when he saw the flash while going east on Tenth Street near Druid City Hospital. 'It looked at first like a ball of fire, which all of a sudden disintegrated and poured out smoke, said Mr. Nicol. Mr. Nicol called The News office to report what he'd seen but said 'don't quote me unless somebody else also witnessed it. Folks might think I was just seeing things."
William M. (Billy) Cochrane, 2301 Glendale Gardens, reported that he saw 'a bright light' in the eastern sky, followed by a 'big puff of smoke.' and concluded that it was the meteor.
"Mr. and Mrs. Howard Meigs, 36 University Circle, reported seeing the meteor as they sat in their car in front of the the Baptist Student Center on University Avenue. Mr. Megis said he saw the meteor explode and that at first it appeared to him as though it were in the neighborhood of the Bryce Hospital property. At first, he thought some University students had been experimenting with a thermite rocket. The Meigses said the smoke trail looked like an inverted ice cream cone. Mrs. Meigs, who is taking the courses in astronomy at the University, told of what she saw in class but at that time no one could identify the strange object as a meteor."
"Mrs. Florence Taylor, 1204 12th Ave., said she was standing on the corner near the courthouse when she glanced up to see a very startling sight – a blaze of fire up there in the sky."
Another piece discovered in a field
According to the Avondale Sun of 1954 (October-December), James (Julius Kempis) McKinney found a missing mass of the meteorite that hit Mrs. Hodges of Sylacauga in a field on December 1st. He took his find to George Swindel, U. S. Geologist at Sylacauga who verified his find.
Previously, there had been 60 recorded 'close calls' of a meteorite falling close to people and in the 1860s, and a few instances of death to animals hit by meteorites but there was no other authenticated case before 1954 of a human actually being struck by a meteorite.
Featured in Life Magazine
Mrs. Hodges was later featured in Life Magazine as being the first person ever reported being struck by a meteor. She reported that she had been napping on her couch, covered by quilts when the incident occurred.
The Hodges never fully recovered from the event and all the excitement it generated. The couple divorced in 1964. Ann Elizabeth Hodges died of kidney failure in 1972 at a Sylacauga nursing home at the age of fifty-two. The Hodges eventually donated the stone to the natural history museum in 1956.
Years later, their house caught fire and was later demolished. Today, a historical marker stands in Oak Grove near the spot of their house on the Old Birmingham Highway. (Turn east off US Hwy 231 at the Shell Station onto Highway 511. The historical marker is on the right,three-quarters of a mile)
SOURCES
Tuscaloosa News December 1, 1954
RoadsideAmerica.com
Film posted by The Story Behind
Discordance: The Cottinghams
Inspired by true events and the Cottingham family that resided in 17th century Somerset, Maryland, and Delaware, colonial America comes alive with pirate attacks, religious discord, and governmental disagreements in the pre-Revolutionary War days of America.