While searching for something else, I frequently run across another interesting story. This is the case with this news abstract.  The initial sentence of the story caught my eye.
This amazing news article was written by a well-respected journalist by the name of Rodney Dutcher (1901-1938) in November 24, 1931. He wrote a daily column that was published in many papers across the country. When Dutcher died, President Franklin Roosevelt wrote his eulogy.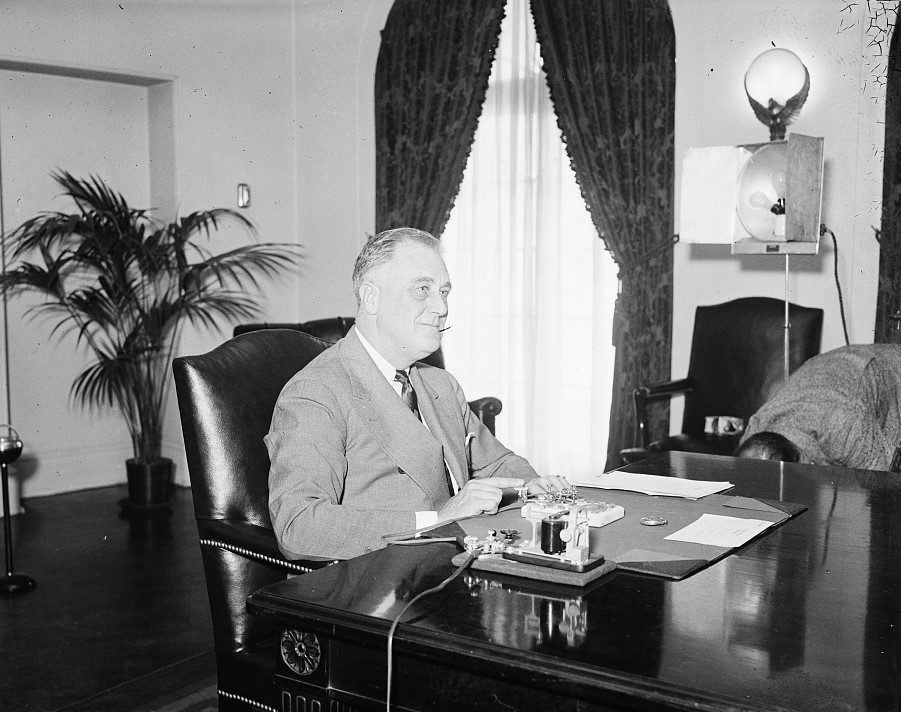 President Franklin D. Roosevelt 1936 (Library of Congress)
She would be from Arkansas
On November 24, 1931, the Times Daily of Florence, Alabama published this his story where Dutcher predicted that "if a woman is elected vice president of the United States in 1998, she will be a lady of the South and probably she will be a citizen of Arkansas." This prediction is pretty remarkable since it was so far in the future. Of course, it is 2016 and she is running for President, but she is from Arkansas. Why did he predict that she would be from that specific state? He was emphatic about the state because he made the statement twice in his article.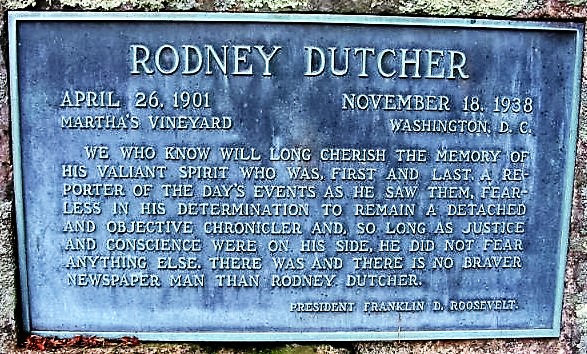 Rodney Dutcher – Eulogy by President Franklin D. Roosevelt 
His article has been transcribed exactly as written below and explains why he felt that way.
WASHINGTON LETTER
Still a Lot of Moonshine, Legal of Course
BY RODNEY DUTCHER
WASHINGTON – If a woman is elected vice president of the United States in 1998, she will be a lady of the South. Probably she will be a citizen of Arkansas.
The traditional gallantry and chivalry of the South effervesce even into national politics. It was a governor of Georgia who made Mrs. Rebecca Felton the first woman senator, although only for a day. Now a governor of Arkansas has appointed Mrs. Hattie Caraway to be senator and these Southern statesmen vie so earnestly in paying tribute to that other sex that there's no telling where it will all end. What the North does about putting women in the senate was best indicated by the 750,000 plurality by which Senator Jim Ham Lewis of Illinois won over Ruth Hanna McCormick.
Oh  You Beautiful Doll
Arkansas stands proudly at the top of feminism's honor roll. Two Arkansas congresswomen elected to succeed their husbands sat in the house last session – twice as many as any other state ever had at the same time. Now comes Mrs. Caraway.
Various Southern Democrats conspired before 1924 convention in New York and put in nomination a heroine who, if she had been elected, probably would have been the most beautiful woman to hold high office since the administration of Cleopatra. She was Mrs. Leroy Springs, national committeewoman from South Carolina.
Politicians from all sections became enthusiastic over the idea as soon as they saw Mrs. Springs. Every time she stood up the band played "Oh You Beautiful Doll." Then the convention broke into that terrible Smith-McAdoo row and Mrs. Springs, who had seconded McAdoo, received only 18 votes from South Carolina as the delegates nominated Charlie Bryan and dashed home.
Lately, Mrs. Ruth Bryan Owen, the congresswoman from Florida, has been talked about as a vice president possibility. Mrs. Owen, however, knows better than to try for a place on the national ticket. She has her eye on the senate. No one believes that a Southern state would ever refuse such a job to a lady who asked for it.
No Southern member of congress can resist a lady lobbyist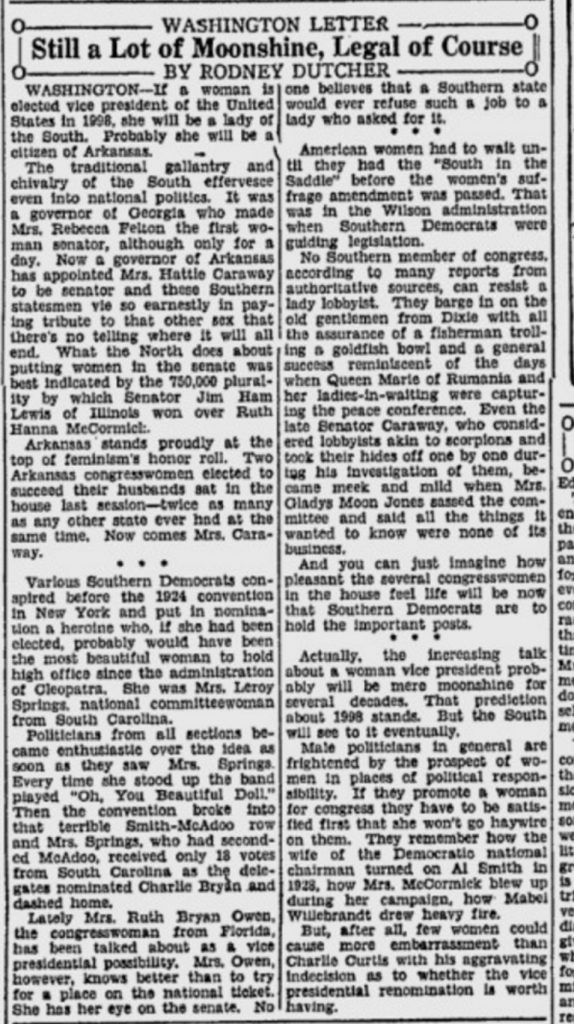 No Southern member of congress can resist a lady lobbyist
American women had to wait until they had the "South in the Saddle" before the women's suffrage amendment was passed. That was in the Wilson administration when Southern Democrats were guiding legislation.
No Southern member of congress according to many reports from authoritative sources, can resist a lady lobbyist. They barge in on the old gentleman from Dixie with all the assurance of a fisherman trolling a goldfish bowl and a general success reminiscent of the days when Queen Marie of Rumania and her ladies-in-waiting were capturing he peace conference. Even the late Senator Caraway, who considered lobbyists akin to scorpions and took their hides off one by one during his investigation of them, became meek and mild when Mrs. Gladys Moon Jones sassed the committee and said all the things it wanted to know were none of its business.
And you can just imagine how pleasant the several congresswomen in the house feel life will be now that Southern Democrats are to hold the important posts.
Male politicians frightened by prospect of women in political responsibility
Actually, the increasing talk about a woman vice president probably will be mere moonshine for several decades. That prediction about 1998 stands. But the South will see to it eventually.
Male politicians in general frightened by the prospect of women in places of political responsibility. If they promote a woman for congress they have to be satisfied first that she won't go haywire on them. They remember how the wife of the Democratic national chairman turned on Al Smith in 1928, how Mrs. McCormick blew up during her campaign, how Mabel Willebrandt drew heavy fire.
But, after all, few women could cause more embarrassment than Charlie Curtis with his aggravating indecision as to whether the vice presidential renomination is worth having.
Faith and Courage: 2nd edition -A Novel of Colonial America

 Inspired by real people and actual events, the family saga of colonial America continues with Ambrose Dixon's family. Faith and Courage presents the religious persecution of Quakers in Pre-Revolutionary War days of America intertwined with a love story.