The Inn-keepers
(Lawrence County, Alabama)
written ca. 1890s
by
Col. Edmond Saunders
The Innkeepers of Moulton (Lawrence County, Alabama) have been numerous, and they have followed each other in quick succession like scenes in a panorama. One reason of this incessant change was that each found, in spite of the closest economy, that no money could be made in the business.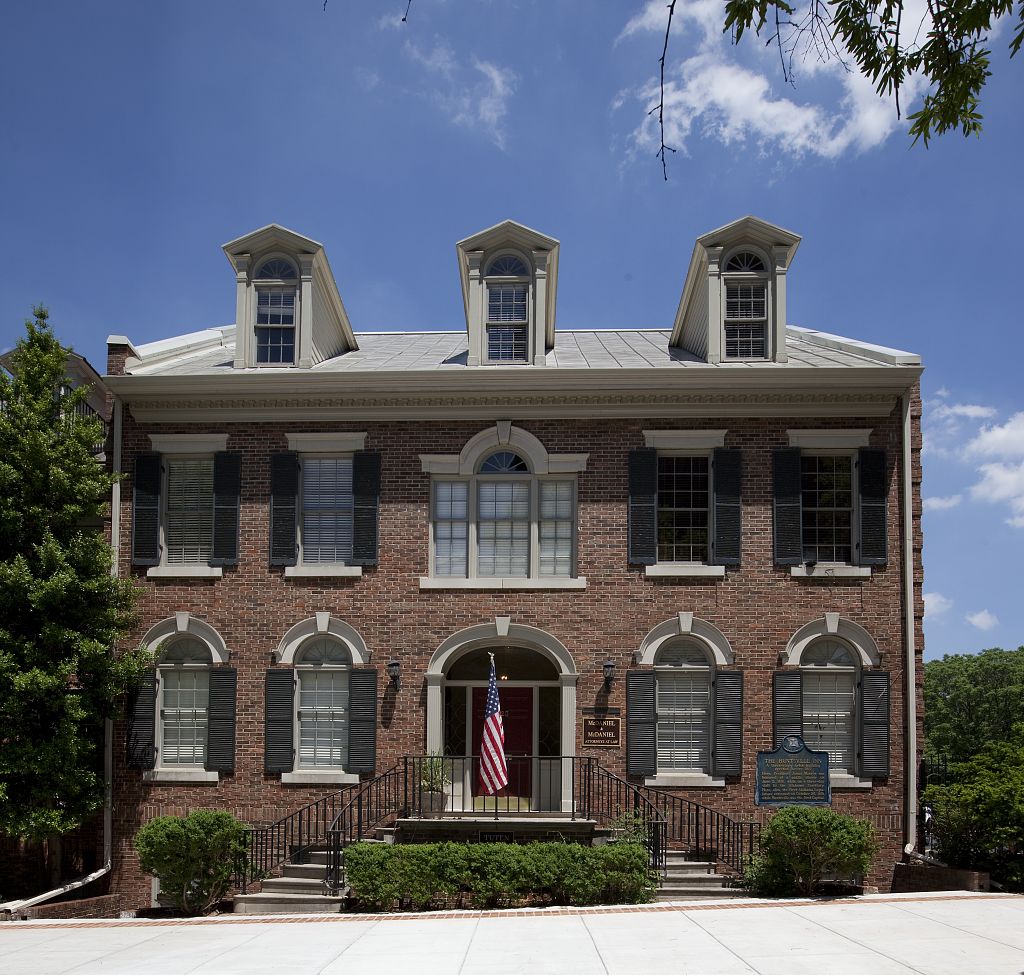 The Huntsville Inn, built in 1817, is now a beautiful brick office located on the square in nearby Huntsville, Alabama
The rush for the dinner table, in old times, was disgraceful when the signal was given. In an adjoining county the crowd, in such a rush, pressed a young lawyer against a door-post until he was for some moments speechless, but he was of very small stature. It was reserved for two noble ladies of Moulton, in modern times, to discover a complete remedy for all this disorder, and that is to provide plenty to eat, and that of the best quality. I shall not attempt to give a full account of the Inn-keepers, but merely notice such as occur to my mind.
John L. Stone returned to Tennessee
John L. Stone was in this line. He was of middle age when he came from Tennessee and becoming discontented, he moved back, and there died.
William L. Wilson died in Randolph
William L. Wilson was quite an old man when he came from Tennessee and occupied the inn afterward kept by McKelvy. He had several large boys, gave but little satisfaction, and eventually moved to Memphis. Then he went to Randolph, and there died.
Boggs and Thomason
A man named Boggs also kept a hotel, but this was before my time. He sold out to Mr. Moses K. Thomason, who had been living two miles west of Moulton, on a place which he purchased from Aaron Burleson.
Thomason tired of the business in a few years and moved back to his farm, where he lived until his death. He had come originally from North Carolina.
We all know his son, Maj. W. D. (Donnel) Thomason, who served so efficiently during the late civil war as quarter and paymaster in General Roddy's command. But few know that he was a veteran when he came into this command. I have already mentioned his going out to Texas in the fall of 1835 to aid in the revolution with eight of our countrymen, all of whom are now dead, except J. McDaniel (who married Miss Wear) and lives near Moulton, and Thomason himself. The latter, during the Texas War, rose to the rank of major and was commissioned as such by General Houston. He was then appointed district surveyor and held the office until 1843.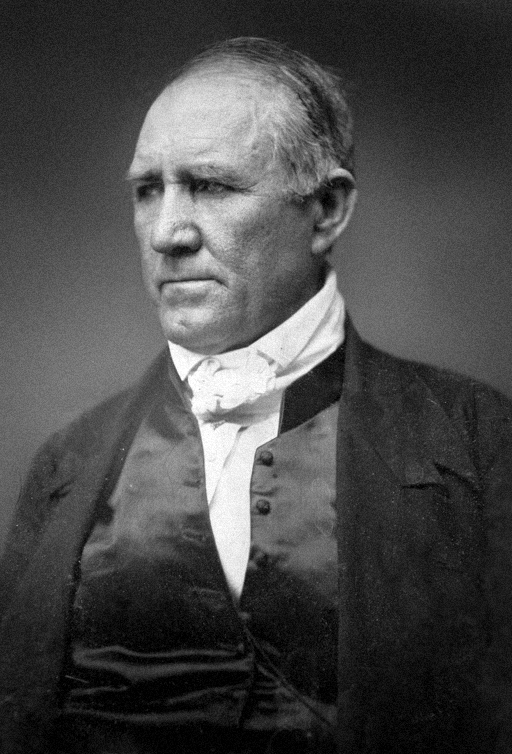 General Sam Houston
Major Thomason then moved to Mississippi, with an elder brother, who had become dissatisfied with Texas. Here he remained until the war between the States when he volunteered in the brigade of General Reuben Davis and was marched to Bowling Green. Gen. Albert Sidney Johnston (who himself had served in Texas for many years) had Major Thomason appointed quartermaster and commissary for the post of Russellville, Ky.
When Johnston's army fell back to Corinth, he was then sent to bag corn, and pen it up on the Mobile & Ohio road, and send it up, as it was wanted by the army. After General Johnston was killed, and the army fell back, he was made post quartermaster at Meridian, Miss. , where an immense amount of stores had been forwarded from New Orleans. After this, upon his request, he was transferred to General Roddy's command, and when we give an account of its services we shall have to speak of him again.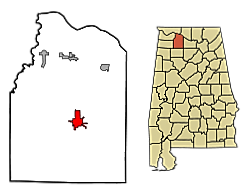 Map with location of Moulton in Lawrence Co., Alabama
Robert B. Cary had serious misfortunes
Robert B. Cary also kept a hotel in Moulton, and a very good one. He had the same in Courtland. and was one of the five commissioners when the town was incorporated in 1819. He descended from one of the best families in Virginia, and unfortunately (good man as he was) he thought in his poverty too often of the wealth and splendor of his ancestors.
After going to Moulton a serious misfortune happened to the family, and that was a rumor that some man in England of the family, having millions of money, had died without heirs in that country; the money was in bank, and that his heirs in America had nothing to do but to prove their relation, and draw a check for the money.
It is needless to say that this rumor turned out to be an ignus fatuus, as have so many in late years, that Mr. Benjamin (the able American lawyer, now living in London) has issued a general letter, warning his countrymen against such deceptions.
A calamity fell on the family
After this, however, a more serious and real calamity fell on the family. He had a very pretty and accomplished daughter named Martha, and a tall, solemn, gaunt, sorrel man, named Talmage (who was a partner of Major Hubbard, and supposed to be well off), paid his addresses to her and was favored by her. He was so jealous in his disposition that he was deeply offended if she spoke a courteous word to any of the other young men who boarded in the house. She, poor thing, construed this as a proof of the strength of his affection (many a girl has been deceived in the same way).
When she married him, she found out that she was the wife of a cold, selfish, and jealous ogre. In the end, they separated, and he became a wreck. I am not informed as to the other members of this family, except Prof. Cary, a very clever gentleman, who was in the Granger's Academy at Trinity.
Other Inn-keepers
There were also in this line of inn-keepers McIntosh, Devan, McCord, McKelvy and others. McIntosh was a tailor, kept the hotel west of the court-house, for many years, moved to Richmond, Texas, and may still be living.
Joseph and James McCord were brothers who came to the county in very early times. They were very good men and much respected. Joseph was honored by the people with a seat in the Legislature in 1824, and James, in 1834. Samuel W. McCord, who kept a hotel for a while, was, I believe, a son of his.
William McKelvy married a daughter of Randolph Wren, a fine old man who lived in the Courtland Valley.