Excerpt from The Cyclopedia of the Colored Baptists of Alabama – Their Leaders and Their Work copyright 1896 – The book contains many biographies as well as information on churches of early African American Baptists
MOBILE1
The rise of the work in the Southern section of Alabama appears in the following, copied from Brother Holcombe's work, (Hosea Holcombe, Alabama's first church historian)1and originally written for the Christian Index, March 10, 1836:
"About 120 years ago a few Frenchmen came here and made the first little opening in the pine forest. Previously to 1817 it was occupied principally as a place of deposit and trade with the Indians. Now its population is not far from 10,000. Eighteen years ago a single steamboat found her way to this port, now forty-five are employed in the Mobile trade. The Baptist church was constituted March 1835, by J. G. Collins, R. L. Barnes and P. Stout with ten members. Rev. G. F. Heard was called to begin the pastorate February 14, 1836.
"At that time they had no house of worship, but met in the court house, and for a time they met in the house belonging to the African Baptist Church. The African Church is in a prosperous condition; their number is about 90."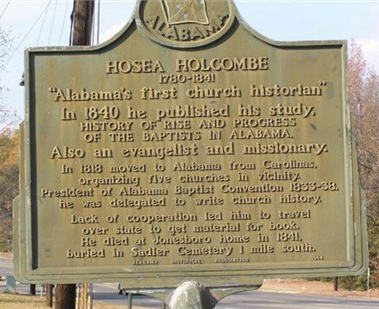 Had more liberty and treatment than other parts of the State
In this city and county the colored people had more liberty and better treatment than in any other section of the State. The free people and those who hired their time often supported schools for the education of their children. Revs. Wm. Dossey, P. Stout, A. Travis, J. H. Schroebel, Mr. Hawthorne and Mr. Spence (all white) are mentioned as pioneers and fathers of the work at this point. Near this old French town, June 13, 1845, the writer was born, and in this county and city he spent the first fourteen years of his life, and many years since. For some years prior to the late civil war, the Stone Street and St. Louis Street churches (colored) were both noted for their numbers and their financial strength.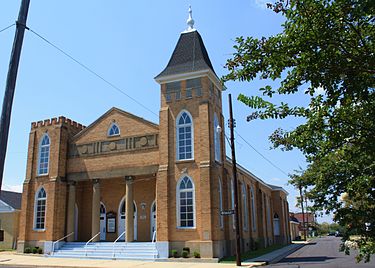 Stone Street Baptist, Mobile (Wikipedia public domain)
ST. LOUIS STREET CHURCH
This church was for many years especially noted for its missionary enterprise. To this church, Alabama owes many of her pioneer preachers. The late Rev. Charles Leavens, who was pastor just after the close of the war, sought to send a pioneer, an organizer, into every section of the State. Their present house of worship cost, I am told, about $24,000, and is a two-story brick structure. Since the war, their pastors have been: Revs. Charles Leavens, I. Grant, A. Butler, C. C. Richardson, and the present occupant, Rev. Mr. Frazier. This church seems now in full sympathy with its past missionary record, over which no one rejoices more than the writer, since it is from this church that he, under God, received his commission to preach the gospel of the Son of Righteousness.
St. Louis Street Baptist Church, Mobile, Alabama (docsouth.unc.edu/church/boothe/boothe221)
ST. ANTHONY STREET CHURCH NOW FRANKLYN STREET
This church deserves honorable mention. Rev. A. F. Owens led to the purchase of the property on St. Anthony street and served as pastor for several years—1878 to 1889. Rev. A. N. McEwen, the present pastor, advised the church to sell and purchase at a more desirable point. They are now buying a building on Franklyn street. This church has had an earnest class of workers, who have made great and painful sacrifices for the cause.
UNION CHURCH
This church is another secession from Stone Street. It, too, has some strong people in it. Rev. A. F. Owens is pastor.
There are other churches around worthy of mention. So much is said only to show the rise and progress of the Baptist cause in this section of Alabama. The great need here is more brotherly Inve, instead of the bitter prejudice which withers every hope of united effort. Of course, many of the the good people are already free from its fearful influence, but far too many are still slaves to it.
Among the founders, or ante-bellum members of the colored Baptist work in Mobile, we find the names of Rev. Charles Leavens and wife, James Somerville, Judge Europe, Thomas Sawyer, Rev. B. J. Burke, and Crawley Johnson.
Where Do I Start?: HINTS and TIPS for BEGINNING GENEALOGISTS with ONLINE RESOURCE

 Do you need some guidance in your genealogy search? Save time and avoid pitfalls in your research. This book provides simple, no-nonsense instructions to help you get started. Many FREE research links included.
Tips include:
WHERE TO FIND – on-line resources, experienced genealogists will not be aware of many of these.
COURT RESEARCH – how to do courthouse research, where to find birth, death, social security records free on-line.
EIGHTY – ONE QUESTIONS – you should ask your elderly loved ones before it's too late.
TIPS ON BREAKING DOWN THE WALL – Everyone faces some difficulties in research, often called a 'brick wall' but WHERE DO I START? provides suggestions for overcoming them.