As a Southern, I've always enjoyed reading stories about the old South. Some of my great-aunts and uncles remembered family members who bravely fought in the Confederacy, and I recall sitting by the fireplace, listening to exciting stories of my ancestor's experiences in the Civil War. I continued my love for historical research throughout my life and initiated the Alabama Pioneers website in order to share my research.
My gr-gr-grandfather served in the Civil War, but like many other men in the South, he fought reluctantly because he did not believe that American citizens should fight each other.
When the discussion about taking down Confederate monuments and statues developed recently, I couldn't bear the thought of them disappearing. I felt the statues were a part of history and should remain where they were.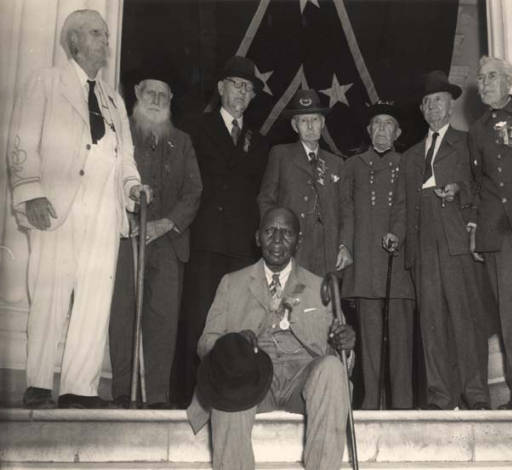 Confederate Reunion – last known reunion in the State of Alabama
How the erection of Confederate monuments started
After the Civil War in 1866, scouts from the North were sent by the Federal Government to the South to retrieve Union soldiers' bodies for burial in the United States National Cemetery. Confederate soldiers were left behind and to Southern women, this seemed like a lack of respect for their husbands and sons lying all over the battlefields and in mass graves far away from home. The neglect of Confederate dead fueled the fire of outrage among ex-Confederates, but most Alabamians were destitute and money was needed to bring their dead soldiers home.
The ladies seized on the plan of the erection of monuments to fallen leaders of the Confederacy as an incentive to raise money.
Did you know that Robert E. Lee did not want monuments erected?
Robert E. Lee did not want monuments erected. An excerpt of a letter from Robert E. Lee to Gen. Thos. L. Rosser December 13, 1866, reflects his feelings on monuments:
As regards the erection of such a monument as is contemplated; my conviction is, that however grateful it would be to the feelings of the South, the attempt in the present condition of the Country, would have the effect of retarding, instead of accelerating its accomplishment; & of continuing, if not adding to, the difficulties under which the Southern people labour. All I think that can now be done, is to aid our noble & generous women in their efforts to protect the graves & mark the last resting places of those who have fallen, & wait for better times.
However, funds were raised and monuments and statues were constructed, and many bodies of Confederate veterans were brought home to be buried. I'm sure at the time these ladies never realized the controversy their effort to merely bury their dead would create.
Times have changed
It has been 151 years since the Southern ladies and first met to erect these monuments and statues to the Southern fallen soldiers. Today, these monuments and statues have taken on new meaning and have become a source of pain, propaganda, and disagreement for many Americans.
On August 12, 2017, a young girl, and two policemen died and 19 people were injured in Charlottesville, Virginia in a protest to removed the monument of Robert E. Lee.
As I watched in horror as American citizens fought each other in Charlottesville, I asked myself, " Are these statues and monuments worth innocent people dying over?"
Additionally, the extremist's groups such as neo-Nazi etc., have taken advantage of our disagreement over the memorials and accommodated this as a cause in their own propaganda. We must not let our memorials be desecrated by them and become part of a race war in this country.
This is not honoring our Confederate ancestors. Our ancestors would be sickened to see what is happening today over these simple hunks of rock and saddened to know that they resulted in additional bloodshed in our great country today. After four long years of war which devasted the South, our veterans longed to unite the country.
(Watch the film below to see their feelings toward each other when they had a reunion at the 50th anniversary of Gettysburg in 1913.)
Where do the statues belong?
How many times have you walked past and not even noticed the statues at public buildings? If the statues and monuments were in museums, and cemeteries, we would probably notice them more, and we could honor, study, learn as well as share the history of the Civil War with the younger generations from our own personal perspectives, both good and bad.
Perhaps it is time to remember our dead in their actual last resting places and museums and through videos, books or stories. The statues could be better protected in cemeteries and museums instead of being destroyed and defaced. Ask yourself, would our Confederate soldiers want us to fight for such a simple reason as to where the statues should be placed?
Our Civil War veterans showed us how to stop hating each other. We must not let anything divide our country again. The lives of all of our veterans who sacrificed their lives for us deserve much more.
RELATED STORIES
Ribbon of Love: A Novel of Colonial America (Tapestry of Love) (Volume 1) Ribbon of Love was a wonderful love story of Henry and Mary living and struggling to succeed as one of the first families in the colony of Virginia in the 1600s. In addition to the love story, the descriptions of the clothing, home furnishings, personalities, family life, church and community are most intriguing. The exhilarating action and subplots keep the reader in constant anticipation. It is almost impossible to put the book down until completion. – Dr. Don P. Brandon, Retired Professor, Anderson University