If you are one of the first one hundred charter members you can receive two books free, one when we meet our goal of 100 members and the second book when we reach our goal of 250 members.
We are giving away Books to celebrate the launch of our Patreon/Patron program.
When the Alabama Pioneers website was launched almost ten years ago, a reader described it as a "potpourri of what makes up Alabama" and now we have readers all over the globe. Our Alabama community has become quite extensive!
New Patron/Patreon Program
Recently, we added the Alabama Grist Mill podcast and today, with this added Patron/Patreon feature, we will be able to also converse with you about anything related to Alabama's history.
Also, depending on your level of participation, you will have access to ALL material on Alabama Pioneers including PATRON ONLY posts. You will be able to share information, photos and talk or ask questions of other Patrons on the Patreon/Patron site.  Group discussion often help "break down brick-walls" in family research. Advanced level members can even post queries, share and converse with other members, and participate in drawings for free books as well as other benefits. We look forward to sharing more about this new program with you during the months ahead.
In a few days, our first edition of the Exclusive Alabama Pioneers Patrons bimonthly newsletter will be published with links to PATRON ONLY information on the website. Watch for it in your email.
Newsboy 1915 – Mobile, Alabama (Library of Congress)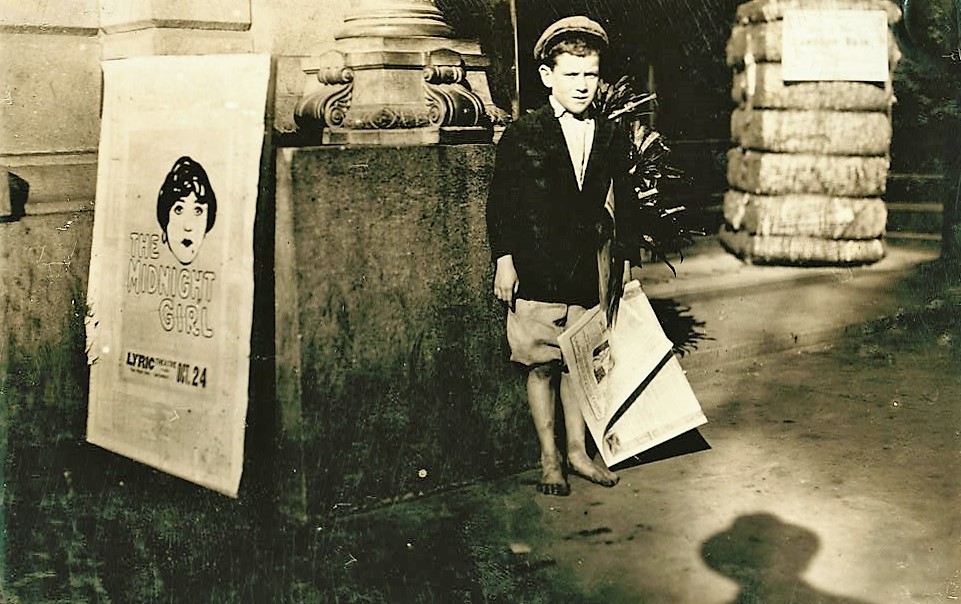 Receive a FREE copy of Alabama Pioneers books
To celebrate the launch of our new Patron/Patreon program, we are giving away Ebooks! When we reach 100 patrons we will send all current patrons a copy of our ebook WHERE DO I START? Hints and Tips for Beginning Genealogists with On-line resources  and when we reach 250 Patron members. ALL 250 charter members will receive our Ebook: ALABAMA FOOTPRINTS Exploration: A Collection of Lost & Forgotten Stories.
Join today and become one of the first 100 charter members and you will receive both books!
Again, THANK YOU for all your support over the years!
And then share this article with others so we can reach our first goal! You can cancel anytime.
Alabama Footprints – Exploration – is a collection of lost and forgotten stories about the people who discovered and initially settled in Alabama.
Stories include:
First Mardi Gras in America
The Mississippi Bubble Burst
Royalists settle in Alabama
Sophia McGillivray- A Remarkable Woman
The Federal Road – Alabama's First Interstate