December 1, 1957 – The Gadsden Times reported some interesting news for Auburn and University of Alabama about  Coach Shug Jordan, Coach Bear Bryant and Coach J. B. 'Ears' Whitworth.
Auburn University championship
Auburn University was celebrating in 1957 when The Gadsden Times headlines screamed the headline Auburn Blasts 'Bama With 40-0 TC Spree on December 1, 1957
An excerpt of the newspaper article read:
Tigers Capture First SEC Title In Easy Romp
Undisputed No. 1 Spot In U. S. Seen
by Don Cox
Times Sports Editor
LEGION FIELD, BIRMINGHAM, Nov. 30 –
MightyAuburn raked in all the chips here today before 45,000 shivering fans by pounding the once-proud Alabama Crimson Tide through the mud at Legion Field, 40-0. The defeat was one of the worst ever administered in the series which was resumed in 1948, and virtually assured Coach Ralph (Shug) Jordan's Tigers their first national championship. It certainly gave the Plainsmen their first Southeastern Conference title. Auburn won the crown when Mississippi and Mississippi State tied 7-7, Auburn is 7-0 in conference play, Mississippi 5-0-1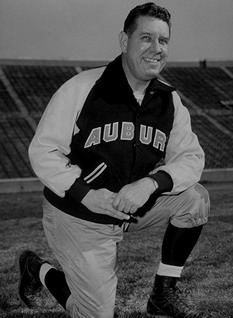 Ralph (Shug) Jordan (Wikipedia)
Staked to a five touchdown first-half lead, Auburn easily out-classed Alabama while marching to its 14th straight triumph and its first undefeated season since 1913 when the Tigers compiled a perfect 8-0-0 record. The victory increased Jordan's rating as the second-best winning coach in Auburn history. The Tigres have won 46, lost 22 and tied two under Jordan. Mike Donohue holds the all-time record with 100 victories, 34 losses, and five ties.
NOTE FROM WIKIPEDIA: Auburn was recognized as national champions by the AP Poll even though they were on probation and did not participate in a bowl game.  Ohio State was named the national champion by the Coaches' Poll.  This was the first of only two times in the history of the AP championship that it was awarded to a team on probation not allowed to participate in a bowl game (it would occur again in 1974 with Oklahoma).
Another news story from Gadsden Times about Coach Bear Bryant who was Coaching at Texas A&M
No Announcement Forthcoming, Says Alabama's Choice
Houston, Tex., Nov. 30 (AP)
Texas A&M Coach Paul (Bear) Bryant said today "We're thrilled to death and highly honored to play Tennessee" in the Gator Bowl.
Texas A&M was selected today to play Dec. 28 in Jacksonville, Fla.
He said he had "no announcement to make at this time" concerning his rumored move to Alabama and added that he did not know of any announcement coming up in the near future.
Bryant, who earlier said he did not know whether he would replace J. B. Whitworth at Alabama still has seven years left on his contract with Texas A&M.

 Coach Bear Bryant led the University of Alabama for 25 years. During his 25-year tenure as Alabama's head coach, he amassed six national championships and thirteen conference championships. Upon his retirement in 1982, he held the record for most wins as head coach in collegiate football history with 323 wins
Coach J. B. Whitworth was leaving the University of Alabama and this is an excerpt from a story on his departure.
Whitworth Era Ends At 'Bama
by James W. Smith, Jr. Times Staff Writer
LEGION FIELD, BIRMINGHAM, No. 30
Darkness was seeping into this chilly, wind-swept stadium as the University of Alabama said goodbye to J. B. (Ears) Whitworth.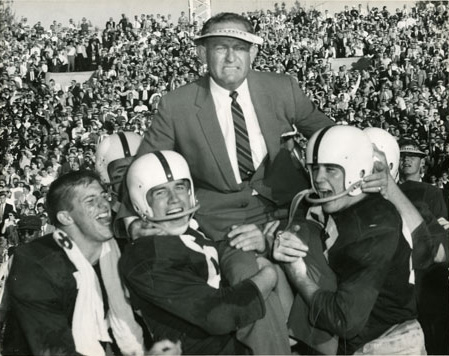 J. B. Whitworth Alabama football coach (Wikipedia)
This was his last day as head football coach at his alma mater, and it was the most heart-breaking of his three-year reign at the school where he won fames as a player. Auburn had just drubbed the Crimson Tide, 40-0, the biggest score posted against a 'Bama squad since 1951.
Whitworth bowed out with four victories, 24 losses and two ties in three years. His contract expired at midnight. He did not ask for the contract to be renewed. What of this man's future?
Standing with head bare and eyes moist, Whitworth said:"I'm going out there (Oklahoma) and do some hunting and fishing: then I'm going to sit down for a long time and do some serious thinking about my future."
NOTE: Whitworth might best be remembered for benching all of the team's seniors including future NFL great Bart Starr for an entire season. Despite his deplorable win/loss record his players later spoke highly of him as a person.
ALABAMA FOOTPRINTS Removal: Lost & Forgotten Stories (Volume 7) 

At their height, Native Americans encompassed most of the land in Southeast America. This book documents many of the treaties, enticement, and reasons they were forced to leave. Beginning with President Thomas Jefferson, excerpts of letters and transcriptions of speeches made by all parties are included.
Other stories include:
Plan for Indian Removal Started With President Thomas Jefferson
Intrigue and Murder After Treaty At Indian Springs
President Adams And Governor In A Stand-off
Gold Causes Expulsion Of The Cherokees
Cherokee Chief Ross Became Homeless