From geologic research, we know that the state was once covered by ancient oceans, swamps, and other near-shore environments and the sediment left behind of limestone, sandstone, shale, and chalk are also economically important to Alabama.
Do you think it could happen again? And if so, how soon do you think it will happen?
State is divided into five sections
Physio-graphically, the state is divided into five sections: the Cumberland Plateau, Highland Rim, Valley and Ridge, Piedmont Upland, and East Gulf Coastal Plain. Each of these is characterized by rocks of specific geologic age and composition, and the resultant land forms reflect these rock types.
Dauphin Island, Alabama was once in the ocean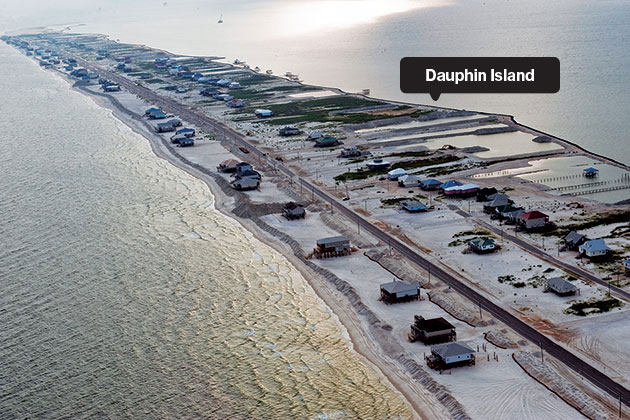 Recent research indicates that the Wetumpka asteroid hit which hit in Alabama 83 million years ago would have landed in a shallow sea, that covered most of southern Alabama from around Shelby county in central Alabama.
Global Warming is a controversial topic today, but more and more people are beginning to accept that something is changing on our planet Earth. "Missions flown from the NASA base here have documented some of the most dramatic evidence of a warming planet over the past 20 years: the melting of polar ice, a force contributing to a global rise in ocean levels."
This is creating problems for many communities along the ocean's shoreline. "The Wallops Flight Facility is a billion-dollar space launch complex that occupies a barrier island and it is slowly drowning under the impact of worsening storms and flooding. Even though $43 million has been spent to fortify the shoreline with sand, nearly a third has since been washed away" Wallops Island has been losing an average of 12 feet of shoreline a year.
Ocean is rising
It is estimated that the beach of the island town of historic Chincoteague gateway is disappearing at an average rate of 10 to 22 feet a year. The access road and parking lot have been rebuilt five times in the past decade. In 2010, the wildlife refuge proposed to close the beach and shuttle tourists by bus to a safer sandy shoreline.
All along the Atlantic shoreline, the ocean's rise is a troubling everyday reality.
"Even the nation's capital isn't immune. The Potomac River turns into a tidal estuary just north of Washington as it flows toward Chesapeake Bay to the south. The average number of days a year above flood threshold has risen to 25 since 2001, up from five before 1971."
"In 2010, the U.S. Army Corps of Engineers began a $4.1 million project to close gaps in the line of flood protection for Constitution Avenue and the Federal Triangle area – home of the departments of Justice and Commerce, the National Archives and the Internal Revenue Service. The corps expects to finish in late autumn a 380-foot-long, 9-foot-tall barrier across 17th Street near the Washington Monument."
"The oceans have risen about eight inches on average over the past century worldwide. The rise is two to three times greater in spots along the Gulf of Mexico and the Atlantic Ocean because of subsidence, a process whereby natural geological movements and extraction of underground stores of water, oil and gas cause the ground to sink." (Bloomberg Businessweek)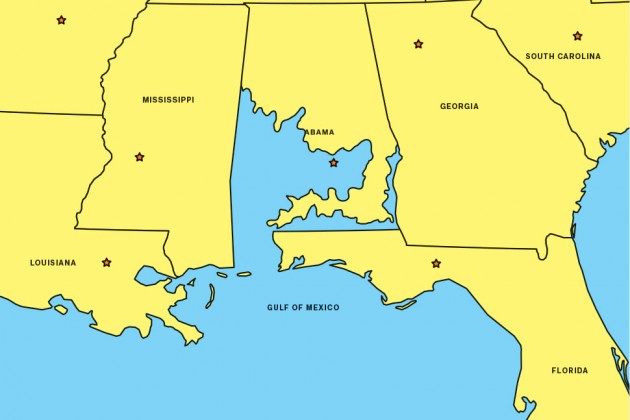 "When Kevin Harrison warns Alabama lawmakers about rising seawater that government scientists project will swamp the state's bridges, ports, and highways in coming decades, he's careful to avoid the words "climate change." There are "naysayers about that particular topic," says Harrison, transportation director of the South Alabama Regional Planning Commission. Instead he points to weather models showing an increase in the frequency of hurricanes and floods but sidesteps the touchy subject of what causes them."
SOURCES
Shelby County Alabama Pioneers Volume I
Alabama Footprints: Settlement is a collection of lost and forgotten stories of the first surveyors, traders, and early settlements of what would become the future state of Alabama.
Read about:
A Russian princess settling in early Alabama
How the early setters traveled to Alabama and the risks they took
A ruse that saved immigrants lives while traveling through Native American Territory
Alliances formed with the Native Americans
How an independent republic, separate from the United States was almost formed in Alabama