The following business related information has been transcribed from the 1st edition of the Birmingham Iron Age, published in Birmingham, Alabama on February 12, 1874, by Duva, Roberts, & Persinger.
Business notes, owners and endorsements from 1st edition of the Birmingham Iron Age in 1874
Messrs. Jeffers and McConaughy have been granted permission by the City Council to put up public scales. They are needed.
Milner and Lockwood's Planing Mill in this city was recently sold to our enterprising citizen, Mr. Kyle, and by him resold to a company in the rising town of Cullman. We are sorry to lost it- but Mr. Kyly has one more left – the one lately owned by T. S. Tate, Jr.
Tuition in the City Free School, during 1874, will be free to all white persons living in Jefferson County. The school will open on the 9th day of next month.
We present the law card of R. H. Pearson, Esq., to our readers. If we did not well know, that, although a lawyer, he is a modest gentleman, we would give him a "puff." He needs no puffing. He has made rapid strides into public favor here, and we think, he was about the first lawyer who settled in Birmingham, (Mr. Pearson is a young man, notwithstanding that), in partnership with the lamented Robt. H. Henley. He deserves unlimited success.
Our friend Dargin, notwithstanding his Fallstaffian corporosity, steps as lively as any merchant we have ever known. He is ahead of the market on a lot of beautiful spring goods. We have examined them. We know the ladies will be delighted with them.
Our re-organized Brass Band bids fair to be a success. The members are nightly practising, (sic) and will soon be in tune.
GRIST MILL – Mr. B. F. White has come into possession of Hardeman's Mill at the railroad crossing. He will give his consistent attention to customers, and guarantees fair play on the toll question, and keeps no hogs to fatten at the mill. Bring in your good corn and get first-rate meal.
First Brick Home in Birmingham Alabama by Colonel A. C. Oxford (Alabama Department of Archives and History)
One of the needs of Birmingham is a nice Bath-house. "Cleanliness is next to Godliness," and a great promoter of health. Having a Reservoir of pure water of the capacity of 1,000,000 gallons daily, there would be no difficulty in obtaining a full and constant supply of water. There is money in the enterprise. Who will take hold of the project? Now is your time.
Our friend, H. L. Watlington, has two special notices, in another column, which we desire our readers to read. He keeps a good stock and sells cheap.
The "A & C" cleared $11,000 last month over expenses. L. J. Fleming, Superintendent; R. C. McCalla, Assistant Superintendent Southern Division; C. O. Whitney, Assistant Superintendent Northern Division.
Mr. G. H. Eddleman is another acquisition to our city, He is a first-class machinist and superior Gun and Locksmith. His work is never slighted, as he is a thorough mechanic, understanding every detail of his trade. He has recently employed two additional workmen, and is prepared to fill all orders.
Dr. McIntyre, Dentist, has a card in this issue to which we call attention. He has had many years of experience, and is a worthy citizen, deserving liberal encouragement.
Our friend Paul – not him of old – still hammers and bands from early morn till dewy eve, making tin pans and everything else made of tin, at his big house, corner of 3rd Avenue and 20th Street. He does guttering and roofing, has good workmen, uses good materials and sells cheap.
Our friend, (we know he is a friend by a remark he made), W. J. McDonald has opened a Variety Store on 2d Avenue. Sign of the Red V. Retail, only, for the present.
We are indebted to the courtesy of our young friend, Mark Johnson, city post-office, for favors. He is a rising young man and will make his Mark to some good purpose.
Hon Joseph H. Sloss has introduced a bill in Congress which provides newspapers may be sent to subscribers living in the county, free of postage, and all exchange papers be sent free. We hope to hear of its early passage, and an abatement of the present injustice. – Athens Post
FIRE INSURANCE – We take pleasure in directing attention to the advertisement of our good friends, Cumming & Gillespie, who have leased the room lately occupied by the National Bank, where they are prepared to take risks on property in some of the best companies in the world. Mr. Cumming is a venerable gentleman of Mobile – long a resident of that city, where he possesses the confidence and esteem of all who know him – and they are everybody. He will give, here, his special attention to the books and papers – and he is as correct and precise as a good chronometer. Our friend Gillespie is noted for his energy,
papers – and he is as correct and precise as a good chronometer. Our friend Gillespie is noted for his energy, zeal and application in whatever good work he undertakes. He will see to the part of the work requiring the "running round." He has long been an insurance agent in this city, and we all know his upright, straight-forward manner of doing business. We predict great success for this strong firm.Their companies are first-class.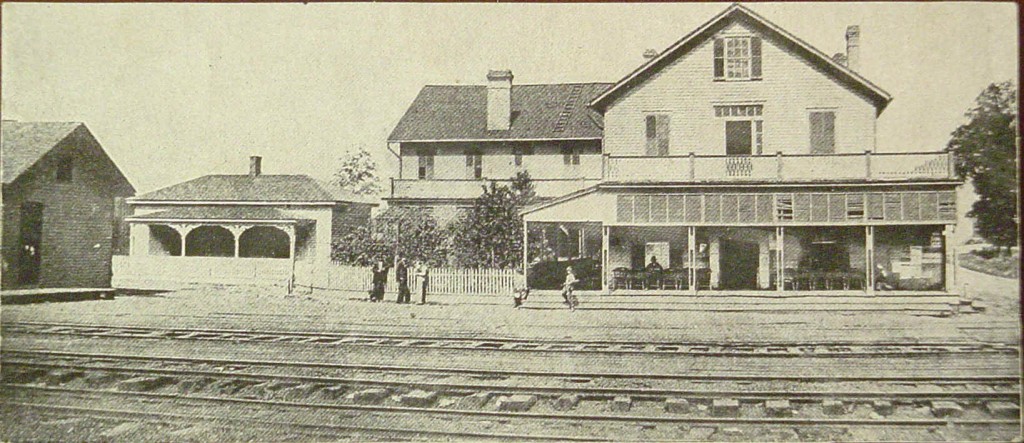 Relay house in Birmingham, Alabama (Birmingham Public Library)
The Directory of Business houses in the city, which we publish below, may be incomplete. Our city is already so extensive that we cannot walk all over it in a day. If any individual or firm has been left out of the list, if they will make known to us the fact, we will cheerfully correct the omission. We make no charge for this insertion. The Directory will appear but once.
BIRMINGHAM INDUSTRIES
FIRST NATIONAL BANK
Chas. Linn, President, Rob't Jones Cashier.
INSURANCE AGENTS
Cumming & Gillespie, old Bank office
Yonge, Moore & Tood, cor. 21st St & 2 Av.
W. J. Milner, at Elyton Land Co's office.
DRY GOODS, &c.
James O'Conner, corner 1st Av. & 21st St.
Edward Rafferty, corner 2d Av. & 21st St.
Morris Marx, 2d Avenue
Ellis & Woods, 2d Avenue
J. H. Dargin, 2d Avenue
Constantine & Dupuy, 2d Avenue
Charles Neumann, 20th Street
Smith & Howser, 1st Avenue
W. L. & A. J. Sivley, 1st Avenue
Charles Hochstadter, 1st Avenue
Kyle & Richards, 20th St. & 3d Avenue
WHOLESALE AND RETAIL GROCERS
Odom & Samuell, corner 19th St. & 1st Av.
W. L. & A. J. Sivley, 1st Avenue
Jas. A. Allen & Co., cor. 20th St. & 1st Av.
Constantine & Dupuy, 20th Street
Scott & Bonner, 20th Street
B. Hawkins, 20th Street
W. J. Pierce & Co., 20th Street
R. Hernandez, 20th Street
Going & Hughes, corner 20th St. & 2d Av.
Ellis & Woods, 2d Avenue
FAMILY GROCERIES
C. F. Enslen, 18th Street
S. Torry, corner 19th St 7 2d Avenue
H. L. Watlington, 2d Avenue
—– Hill, 2d Avenue
—– Shackleford, 20th Street
A. E. Fuller, 20th Street
DRUGGISTS & CHEMISTS
W. H. Batte & Son, 20th Street
Williams & Williams, 20th Street
Gillespie & Montague, 20th Street
WATCHMAKERS & JEWELERS
M. A Bridges, 20th Street
A. Speker, 20th Street
D. W. Abbott, 20th Street
TIN-WARE MANUFACTURES
W. H. Paul, corner 3d Av. & 20th St.
C. D. Warlick, 2d Avenue, near 22d Street
L. M. Teal, 19th Street
HARDWARE DEALERS
R. H. Roberts, 2d Avenue
Estate of Sorsby, 2d Avenue
FURNITURE DEALER
W. H. Morris, 1st Avenue, near 20th St.
CONFECTIONERS, CIGARS, &c.
E. C. Mackey & Co., 20th Street
M. B. Everett, 20th Street
C. F. Enslen, 18th Street
H. Simon, 20th Street
JUNK SHOP
STATIONERS & NEWS DEALERS
T. W. Morefield, at P. O., 20th Street
J. C. Loftin, old P. O., 2d Avenue
GUNS & LOCKSMITHS
G. H. Eddlemann, 2d Avenue
W. A. Rickets, 18th Street
CABINET SHOP
DYER AND SCOURER
LIVERY STABLES
Criel & Crittenden, 2d Avenue
James McHenry, 2d Avenue
J. W. Bell, (Oliver's) 19th Street
PHOTOGRAPH GALLERY
A. C. Oxford, corner 21st St. & 2d Avenue
SASH, BLINDS & PAINT STORE
Schmidt & O'Brien, cor. 2d Av. & 21st St.
MILLINERS
Miss Fannie Sullenberger, 20th Street
Mrs. A. A. Tyler, 21st Street
Mrs. Barnes 2d Avenue
Mrs. Kirby, 2d Avenue
AUCTION & COMMISSION HOUSE
Hernandez & Wiley, cor. 20th St. & 3d Av.
BUTCHERS & GREEN GROCERS
Cummings, Miles & Co., cor. 20th St. & 2 Av.
VARIETY STORE
W. J. McDonald, 2d Avenue (adjoining $8,000 corner)
HOTELS
Relay House, Railroad depot
Alamo House, 1st Avenue
Powell House, 20th Street
About 97 boarding-houses
Railroad Machine Shops, two Iron Founderies, Planing Mill
LAWYERS
Jolly & Grace
R. H. Pearson
James E. Hawkins
Yonge & Moore
Voldy Alston
C. F. Hamill
Edgar L. Clarkson
Hewett & Walker
A. O. Lane
W. S. Earnest
E. K. Fulton
Phelan & McAdory
O. H. Milner
J. T. Terry
Geo. G. McWhorter
Porter & Martin
PHYSICIANS
M. H. Jordan
J. B. Luckie
J. B. Fonville
Sid B. Smith
W. T. Parker
W. H. Crawford
W. P. Taylor
J. W. Sears
DENTIST
S. C. McIntyre, office over Batte's, 20th St.
(Visited 455 times, 1 visits today)