Personal mentions from the first edition of the Birmingham Iron Age, published in Birmingham, Alabama on February 12, 1874 by Frank Duval and Roberts.
The non-appearance last year of the BIRMINGHAM IRON AGE, after a prospectus had been issued by Frank A. Duval & Co., Mike L. Woods, Editor, was owing entirely to the failure of Col. Woods to come to time. He has to have furnished the entire capital, and his failure to do so, involved an indefinite postponement. As we selected the name of the paper then, we have adopted it now, and Col. Woods is in no manner connected with this paper.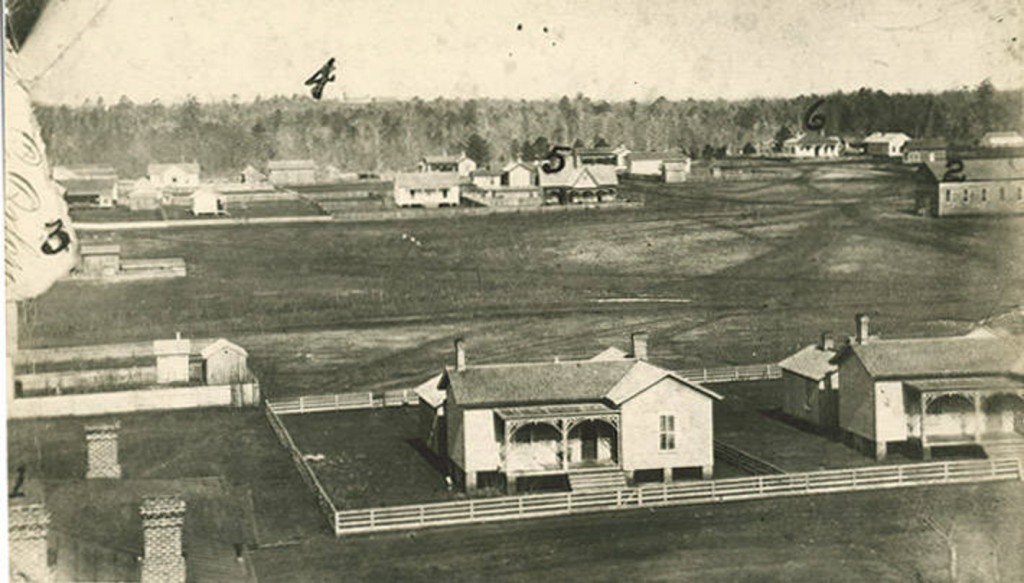 Birmingham 1873 from top of Courthouse by photographer O. V. Hunt (from Samford University Library)
New organizations formed
The ladies of the Methodist Church in this city have formed a Mite Society, and it was inaugurated on last Thursday evening by a supper at the residence of Mrs. Gee. Mrs. Thompson is President of the Society. It is designed to hold weekly meetings to raise funds to build a parsonage. Success to them.
The S & N. R. R. – Fortunate, indeed has been the S (ink blotch) having our friend M. Stanton as Superintendent. There is no one more conversant with the duties of the office, and few are so attentive since Mr. Stanton's advent here, the road has been operated almost to perfection. He is strict in his regulations, as he should be, and all employees know that to fall short of duty is to suffer in some way. Having a long personal acquaintance with Mr. Stanton, we speak knowingly of his merits, and repeat, that the Company has been indeed fortunate in securing his services.
The Grand Lodge of Odd Fellows of Alabama met in Mobile last week. There was a large attendance of delegates. Past Grand C. F. Enslen, of Mineral City Lodge, No. 74, was elected a representative and Past Grand Frank A. Duval, Alternate: but neither could leave Birmingham.
PUBLIC SCHOOL – Prof. D. C. B. Connerly, formerly of the very popular "Stonewall" (ink blot) Principal of Birmingham Public Schools. The teachers elected are, Rev. F. M. (ink blot), J. F. McLauglin, Mrs. N. A. Thomas and Miss M. A. Cahalan. We hope for the best results from the efforts of this excellent Faculty. They will surely succeed if let alone by the would-be managers outside.
Capt. Travers Daniel has leased the Water Works, which he constructed, from the Elyton Land Company. The Captian is a worthy, affable, enterprising gentleman– a first-rate citizen in every respect.
Marriages and new public buildings
MARRIED – At the residence of P. A. Fitts, Rector of the Church of the Advent, in this city, by the Right Rev. Bishop Wilmer, on the 9th inst. Mr. B. E. Grace, Jr., to Miss Annie M. Walker, daughter of C. A. Walker, of Elyton. That is the most Graceful act of our young friend's life, and we always thought his walks were not for naught.
The new jail of this county, in Birmingham, approaches completion, and will soon be ready for the reception of "deadheads." The jail is substantial, ornamental, commodious and airy.
The court-house will be commenced ere long.
This week's edition of the Birmingham Iron Age is, by far, the largest ever issued in this city – seven hundred and fifty copies.
L'Orient is the name of the post office at Blount Springs.
Mr. Turnbough, and enterprising citizen of Birmingham, last week commenced a two-story brick house adjoining his brick store on 20th street, opposite the Powell House. It will be sixty-five feet in length by twenty feet in width. Several applications for renting it have been made.
The new store-house of our friends Williams & Williams, on 20th street, is a handsome, well-finished building.
Early Days of Birmingham (Samford University Library)
Advertisers and business news
Messrs. Williams & Williams have a good-size advertisement in our first issue. They are located in a building of their (ink blot) recently erected, opposite the National Bank. This is the oldest drug firm in Birmingham, and after their losses by fire and otherwise, have built up an excellent trade. We ask our country friends to give these gentlemen a trial when they visit Birmingham. They sell cheap.
Rev. J. D. Anthony, Editor of the Mountain Eagle, at Jasper, is a resident (with his family), of Birmingham. We trust he may fine this a pleasant home.
REMOVED – Our City Clerk's office has been changed from the Council building to 1st Avenue – next house below the "Alamo," upstairs, third door on the balcony. From 9 0'clock forenoon to 1 in the afternoon, Mr. Gregory will be there.
The Princess of Carpet-baggers was in Birmingham for two weeks ending January 6th. She hailed from Illinois – Chicago, probably, and proved herself as complete a "dead-beat" as that delectable city can produce. Her name is May Dowdall. May the d—l take her, with the six dollars she beat us out of.
Fire Department woes
FIRE DEPARTMENT – Birmingham has a fire department – two Engine companies and one Hook and Ladder, but shamefully true, neither of the hand engines in the city is worth pulling out to a fire. The Hook and Ladder Company has no apparatus – no truck, no ladders, no axes, no buckers, "no nothing." The hose at command is insufficient. Now, we ask the city authorities, in view of the urgent necessity of having means to stop the spread of flames, can they not appropriate a few thousands of dollars to put the Fire Department in order? Every man, woman and child in this city is interested in having our firemen prepared for work.
WHY IS IT – We have not had a Dramatic or Minstrel company in Birmingham since last season. Our theatre-goers are very anxious to have our beautiful theatre occupied once in a while. The unreasonable license of last season has been repealed and the gentlemanly lessee of the Theatre can now offer inducements to good companies to visit us. We learn that the whole charge per night, covering all house expenses, is only $15. Come, gentlemen, show your companies in Birmingham. There is many a spare dollar burning in our pockets.Frank P. O'Brien is the Lessee of the Theatre.
No better evidence need be asked of the onward march of our young city than the fact that our population is constantly being augmented by the arrival of permanent settlers. Several families from the lower country have recently cast their lots with us, and the accessions are of the very best. Among the new-comers are Prof. Connerly and family, for several years residents of Dallas county. We warmly welcome them here, and hope that their residence among our people will be most pleasant and profitable.
Pioneer Fire Company, No 1, had a meeting one night last week at which the officers for the present year were elected as follows: Foreman, L. M. Teal; First Assistant, '— Hughes; Second Assistant, —- Gowan, Third Assistant, — Armstrong; Treasurer, W. H. Batte; Secretary, Dr. Sid B. Smith.
We invite attention to the quarter-column advertisement of our young friends, W. L. & A. J. Sivley. They have recently removed from Elyton to this city, and are "live," thorough-going business men, who deal "on the square." They keep a full stock of everything in the dry goods and groceries line, buy cotton &c., and, we are glad to see, are doing well.
W. H. Batte & Son have an elegant Drug house near the post-office, and have a full assortment of Drugs, Medicines, Perfumeries, &c. Young Mr. Batte is a very clever gentleman, and has made a host of friends since his arrival among us. He has a fine stock of garden and flower seeds, to which he invited special attention. Call and see him.
Our friend, M. A. Bridges, has a card in this paper. Having tested his skill in watch-repairing, we know him to be an excellent workman. He may be found at the Drug Store of Gillespie & Montague, 20th Street. His prices are moderate and his workmanship No. 1.
Our legal friend, J. E. Hawkins, is a Justice of the Peace, as well as an Attorney at Law. His office is immediately in front of the "Age" office, up-stairs, Motes' building. He gives special attention to collection of claims. From an intimate acquaintance with this gentleman, we confidently commend him.
Gillespie & Montague have an advertisement in this paper to which we invite the careful attention of everybody. We know these gentlemen are proficients in their business. Mr. Gillespie was a pupil of some of the best chemists in Europe, and manufactures many of his own drugs – pure. Mr. Montague is a correct compounder of medicines, like his partner, and together they are a strong team.
We learn that our worthy Chief of the Fire Department, Dr. J. B. Luckie is perfecting arrangements to have our city furnished with valuable fire apparatus.
Two lamps of great brilliancy, adorn the front of the Engine-house, on 2nd Avenue.
At the Annual Meeting of the Elyton Land Company, held in this city on the 29th and 30th ult., the following officers were elected for the ensuing year: J. R. Powell, President; B. P. Worthington, Dr. H. M. Caldwell, M. B. Pritchard and Hon. W. S. Mudd, Directors; Willis S. Milner Treasurer and Secretary.
Other newspapers around the state
THE SELMA ARGUS – The first paper coming to us in exchange is the Selma Argus, the best weekly paper in the South. We are glad to learn that the subscription list of the Argus is increasing beyond precedent in Southern journalism. Long may Col. McKee flourish, for he deserves unbounded success.
The Montgomery Evening Ledger is really the handsomest Daily paper in the South. It is published by and Association of Printers; the head of which is Ben H. Kieser – one of the best printers in this country – whom we have known for many years. The Ledger is published at $5 a year – 50 cents per month. We wish its enterprising proprietors unbounded success.
We tender our thanks to the courteous editors of the Mobile Daily Graphic, Montgomery Evening Ledger, Southern Argus, Louisville Courier-Journal, Marion Commonwealth and Wilcox News for sending us their papers in exchange for ours, in advance of our issue. True courtesy always marks the gentlemen of the press.
Personals
DIED – In Montgomery, at his residence on Hull street, Feb. 9th, Berry Cooley, in the 58th year of his age.
Right Rev. Bishop Wilmer, on last Sabbath, confirmed into the church the following citizens of Birmingham: Miss Sallie Harrison, Mrs. Daniel, Capt. Travers Daniel, Col. James Robert Powell and Joseph Douglass.
The Demopolis News tells of a negro plowman, while plowing on the plantation of Miss Carrie Goree, of Hale county, finding an iron chest containing $90,000 in gold and silver bars. That big haul ought to stimulate all the negroes to plowing.
Some Property For Sale
The finest residence in the city, 2 story, with 8 rooms, halls and servants rooms, fine cistern; lot 190×200 feet, corner 6th Avenue and 19th Street.
Dwelling house, on east side of 18th Street, between 3d 7 4th Avenues, has 4 rooms with basement and hydrant attached
Half interest in brick store house on N. W. corner of 2d Avenue and 21st Street
Half interest in dwelling house and lot on N. W. corner of 20th Street & 6th Avenue. This is the most eligible lot in the city for a fine residence.
FIRST FAMILIES OF LAWRENCE COUNTY, ALABAMA VOLUME I
The early settlers of the county came from Virginia, Tennessee and the Carolinas. Many of the early settlers of Lawrence County were veterans or children of veterans of the Revolutionary War. Read for FREE on your computer with kindle unlimited.
(Visited 283 times, 1 visits today)