Cider was a popular alcoholic beverage made from the fermented juice of apples before the 20th century. The juice of any variety of apple can be used to make cider, but cider apples are best. The addition of sugar or extra fruit before a second fermentation increases the alcoholic content of the resulting beverage. In the US, as well as some parts of Canada, "cider" refers to unfiltered apple juice, traditionally made with a distinct sweet-tart taste, and in these regions the fermented beverage is known as "hard cider". Preserving cider was evidently a problem as these recipes from an 1890 book reveal. I Some of the recipes sound a little strange and one seems dangerous.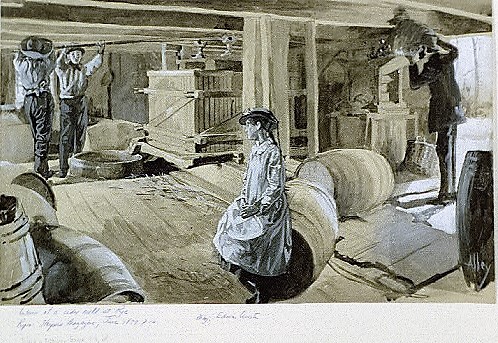 Interior of a cider mill by Edwin Austin Abbey ca. 1890 (Library of Congress)
To Keep Cider
Allow three-fourths of a pound of sugar to the gallon, the whites of six eggs, well beaten, a handful of common salt. Leave it open until fermentation ceases, then bung up. This process a dealer of cider has used for years, and always successfully.
Another Recipe – To keep cider sweet allow it to work until it has reached the state most desirable to the taste, and then ad one and a half tumblers of grated horse-radish to each barrel, and shake up well. This arrests further fermentation. After remaining a few weeks, rack off and bug up closely in clean casks.
A gentleman of Denver writes he has a sure preservative: Put eight gallons of cider at a time into a clean barrel; take one ounce of powdered charcoal and one ounce of powdered sulphur; mix and put it into some iron vessel that will go down through the bung-hole of the barrel. Now put a piece of red-hot iron into the charcoal and sulphur, and while it is burning, lower it through the bung-hole to within one foot of the cider, and suspend It there by a piece of wire. Bring it up and in twelve hours you can cure another batch. Put the cider in a tight barrel and keep in a cool cellar and it will keep for years.
A Holland Recipe – To one quart of new milk, fresh from the cow (not strained), add one-half pound of ground black mustard seed and six eggs. Beat the whole well together and pour into a barrel of cider. It will keep cider sweet for one year or more.