Continued TOWNS IN THE ALABAMA TERRITORY
(The following story is the 5th section of a news article written in 1817 which describes some early towns of Alabama. It was published in 1817 when Alabama was still a Territory and first printed in the New York Herald, then copied in the Alabama Republican, and finally published in the Huntsville newspaper. This story describes the town of Huntsville, Madison County, Alabama, United States. The article has been transcribed from The Alabama Historical Quarterly, Vol 03, No. 01, Spring Issue 1941 – See all parts of the article at: Towns in the Alabama Territory)
St. Stephens July 25, 1817
In the present dearth of news, we conceive that our paper could not be more usefully devoted, than in presenting to the public a picture of the great progress of our country is making in useful improvement. Three years since, rarely an instance was known of a bale of cotton being exported from the Tombigbee or Alabama settlements; in the present year we have assurances that one farmer in this neighborhood, who does not work more than 20 hands, will clear saving all expenses at least twenty thousand dollars from his cotton crop. Farmers have generally, expectations far beyond what could be imagined in a new country. Cotton gins have become very common, almost every farmer owning one. Indeed, in every point of view in which the country can be taken, none on earth presents greater advantages. Added to a climate mild and salubrious, the soil most happily adapted to every species of vegetation. Fruits in as great abundance and perfection as in any part of the world, grow here almost spontaneously. Nor have we been unmindful of the necessity of a proper attention to towns, and in the arts which give tone and spirit to commerce, the channel through which our luxuriant and highly favored country, find a reward for honesty and industry.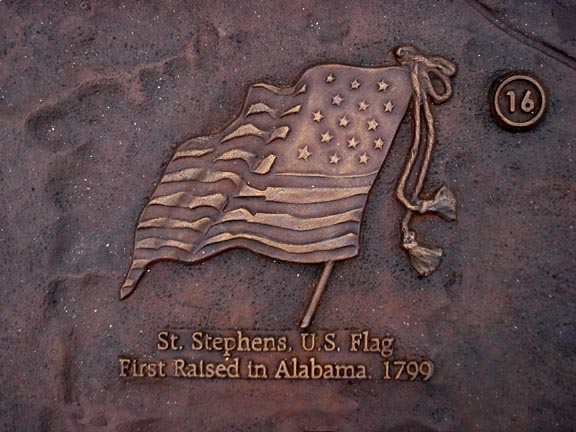 The town of St. Stephens, at the head of ship navigation of the Tombigbee, is advancing with a rapidity beyond that of any place, perhaps in the western country. It has at this moment at least thirty new houses commenced; many of them would view with those generally built in the United States, It has an academy supported by the voluntary contributions of the citizens; with two teachers and sixty or seventy students, who have since their commencements, made progress highly honorable to the institution.
Navigation on Tombigbee secure
There is a Steam Boat on the stocks, in size and force, calculated in an eminent degree to give the greatest facility to our commerce to the ocean. It is intended, as occasion may require, to run from thence to New Orleans, and return up either the Tombigbee or Alabama, as high as Fort Claiborne. The navigation of the Tombigbee, as high as this place is perfectly secure, to vessels of any size that can enter Mobile bay at, any season of the year. The annual amount of merchandize, (sic) brought and vended at this place, is not less than five hundred thousand dollars, and is still increasing. The town of Jackson, about ten miles below this place, is in a state of rapid improvement, and we are informed affords considerable facility to trade.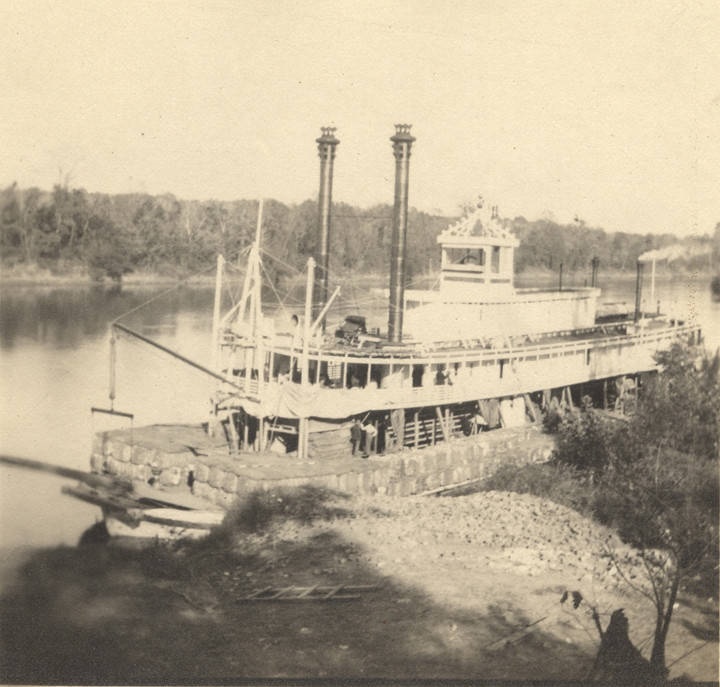 Steamboat John Quill at Deer's Landing in Claiborne, Alabama (Alabama Department of Archives and History)
Fort Claiborne and Fort Stoddart
Fort Claiborne on the Alabama, has a considerable population, and from its local situation, and the richness of the country around it, bids fair to become one. of the most flourishing towns in the Territory. It is situated immediately on a high bank and presents a most beautiful and romantic prospect, commanding a view of the Alabama above and below, as far as the eye can reach; and the high hills which border the. meanders of the river, present a most picturesque scenery.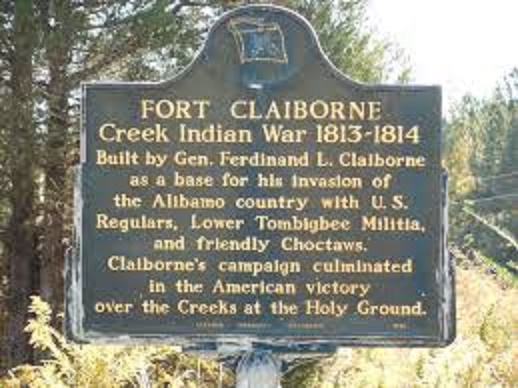 At the late sales, a company principally composed of merchants of this place, purchased the site of old Fort Stoddart, which we understand they are about to lay off into town lots, and offer for sale immediately; many of them are determined to establish stores and erect ware houses, so soon as the lots, are disposed of. The situation of this place combines a greater variety of advantages, than any place near the seaboard. It has a straight and direct communication with Mobile bay, & vessels can approach it in some instances, with as great facility as the town of Mobile— the same wind which carries them to Blakely or Mobile, will, in a short time waft them to the safe and convenient harbor of Fort Stoddart.
Mobile has handsome view
Mobile, is situated at the head of Mobile bay, and commands a very handsome view of the bay below and the river above. It is improving in a ratio with that of the country.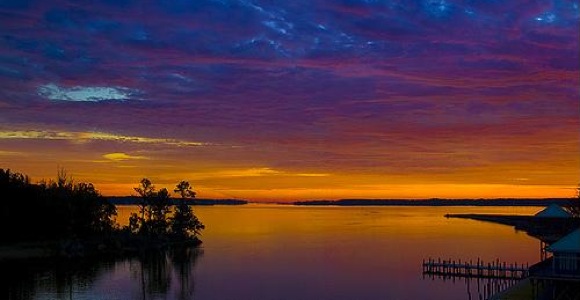 Mobile Bay sunset
The lots in the town of Blakely have lately been sold, and we are told, great preparations are making for its rapid improvement. It is understood that considerable capital has already been appropriated to that place, and great expectations are entertained from its superior advantages, that it will shortly become a place of considerable commercial importance.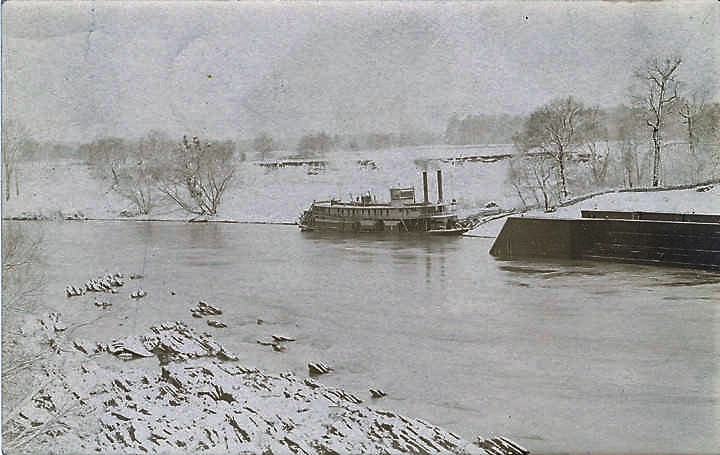 When steamboats came up to Wetumpka. (Alabama Department of Archives and History)
The country lying above on the Tombigbee and Alabama possesses, we understand qualities (in point of soil) superior to those above described and we calculate ere long on seeing the rich productions of the counties of Madison, Elk, Blount, and Shelby and those of Montgomery & Monroe, floating down our rivers and crowding the streets of the town on their borders.
Alabama Republican, Huntsville, A. T.
Vol. 11, No. 5, Page 2, Cols. 4 & 5. September 30, 1817.
The Birth of Twickenham
Captain Slick – Fact or Fiction
Vine & Olive Company
The Death of Stooka
President Monroe's Surprise Visit To Huntsville