Anne Royall (June 11, 1769 – October 1, 1854) traveler and author, was one of the first newspaperwomen in America. She married Captain William Royall, a gentleman farmer who served in the American Revolution. When he died in 1813, she traveled Alabama for the next four years and wrote letters to her friends about the evolution of the young state. The letters were published as a book entitled Letters from Alabama in 1830.
In January of 1818, Anne was in Huntsville, Alabama and she met General Coffee whom she describes in this transcribed letter.
Same date. (January 1st -1818)
Dear Matt,
To go on. The Huntsville Spring, is a great natural curiosity. This you, as well as myself, heard before. But I had no conception of it. It flows from under the Bluff mentioned, and forms a stream large enough for the purposes of navigation, and empties into Indian Creek, also navigable. The head of the spring is about sixty yards wide, but spreads out to a much greater length, covering about three acres of ground!!! The Bluff, at its head, forms a perpendicular of 60 or 70 feet in height, perhaps more, and is conical.

Old Huntsville, Alabama
Huntsville is situated in latitude 34° 45″, 18 miles from the line of Tennessee, 100 South from Nashville, and 10 miles north of Ditto's Landing, on Tennessee river.
GENERAL COFFEE. Last evening I had the pleasure of seeing this renowned soldier and companion of General Jackson. This hero, of whom you have heard so much, is upwards of six feet in height, and proportionally made. Nor did I ever see so fine a figure. He is 35 or 36 years of age. His fare is round and full, and features handsome. His complexion is ruddy, though sunburnt. His hair and eyes black, and a soft serenity diffuses his countenance. His hair is carelessly thrown one side, in front, and displays one of the finest foreheads in nature—high, smoothe, and retreating. His countenance has much animation, while speaking, and his eyes sparkle; but the moment he ceases to speak, it resumes its wonted placidness, which is a characteristic of the Tennesseeans.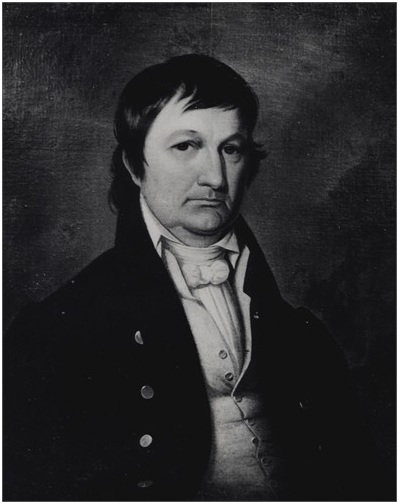 General Coffee
In General Coffee, I expected to see a stern, haughty, fierce, warrior. No such thing. You look in vain for that rapidity with which he marched and defeated the Indians at Tallashatches: nor could I trace in his countenance the swiftness of pursuit, and sudden defeat of the Indians again at Emuckfau; much less his severe conflicts at the head of his gallant men at New Orleans. He is as mild as the dew drop; but deep in ,his soul you see very plain that deliberate, firm, cool, and manly courage, which has covered him with glory. He must be a host when he is roused. All these Tennesseeans are mild and gentle, except they are excited, which is hard to do; but when they are once raised, it is victory or death.— General Coffee speakes very slow, and may weigh about 200 weight. Major Rose, another of the heroes, is a Scotch gentleman, but a Tennessee soldier. You have not to look very deep for the qualities of his mind. It is plainly depicted in his fine open countenance, and soft blue eye. He is a middle aged man, of portly size, and acted in the Quartermaster's Department in the late war. This man, from the land of Wallace and Bruce, was in high favor with General Jackson; and his labors in procuring supplies for the army were unequalled by any thing in history. He rode from the seat of war to Huntsville, very often, without sleep or rest! proceeding night and day express: when one horse would give out he would press another. I am called to dinner.
SOURCE:
Letters from Alabama, 1817-1822: Biographical introd. and notes by Lucille Griffith
Alabama Footprints Confrontation is a collection of lost and forgotten stories that reveals why and how the confrontation between the Native American population and settlers developed into the Creek-Indian War as well as stories of the bravery and heroism of participants from both sides.
Some stores include:
Tecumseh Causes Earthquake
Terrified Settlers Abandon Farms
Survivor Stories From Fort Mims Massacre
Hillabee Massacre
Threat of Starvation Men Turn To Mutiny