After the Civil War in 1866, scouts from the North were sent by the Federal Government to the South to retrieve Union soldiers' bodies for burial in the United States National Cemetery. Confederate soldiers were left behind and to Southern women, this seemed like a lack of respect for their husbands and sons lying all over the battlefields and in mass graves far away from home. The neglect of Confederate dead fueled the fire of outrage among ex-Confederates, but most Alabamians were destitute and money was needed to bring their dead soldiers home. The women of Montgomery, Alabama responded.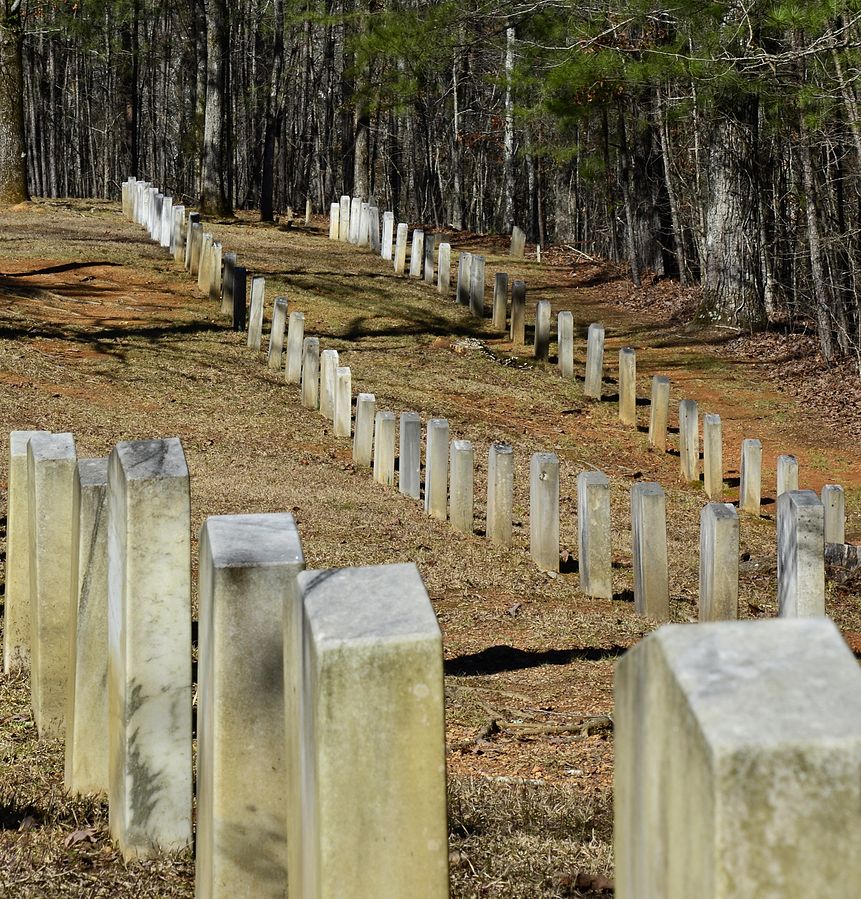 Shelby Springs Confederate cemetery, Shelby Co., Alabama by Magnolia677 (Wikipedia)
Committee established to bring dead home and defray costs of decent burials
In 1866 a committee was formed by the ladies of Alabama in an effort to raise the funds needed to re-inter the bodies of their Confederate fallen in Alabama. After an emotional plea in the local paper, "the women of Montgomery, in answer to this call, filled the sacred halls of the old Court Street Methodist Church on that beautiful Monday morning on the sixteenth day of April, eighteen hundred, and sixty-six!"1
"On April 16, 1866, in Montgomery, a patriotic organization was founded as the result of an appeal of April 14, 1866, made by the Alabama historical and monumental society to the ladies of Montgomery to hold fairs, concerts, etc., in order to help in defraying the expenses necessary in the proper and decent burial of Alabama soldiers."
A meeting was held at 10 o'clock on the morning of April 14, of that year, at the Court Street Methodist church.
"At the meeting of the ladies of Montgomery held pursuant to notice at the Methodist Episcopal Chuch on Monday, the 16th day of April, 1866, to devise ways and means for raising funds to have the remains of Alabama soldiers, now lying scattered over the various battlefields of the war, collected and deposited in public burial grounds, or elsewhere, where they may be saved from neglect, Mrs. Judge Bibb was requested to preside over the meeting and Mrs. Dr. Baldwin requested to act as Secretary.
"The object of the meeting was explained Chair, and on motion of Mrs. Dr. Baldwin, a committee of five was appointed by the Chair to consider and report some plan that might best promote the objects of the meeting, and to recommend the names of suitable persons as permanent officers of this Society. The Chair appointed on this committee Mrs. Dr. Baldwin, Chairman; Mrs. Wm. Johnston, Mrs. Judge Rice, Mrs. Dr. Holt and Mrs. Dr. James Ware, who retire and after a consultation suggested the following names as permanent officers and on motion of Mrs. Wm. Pollard they were unanimously elected: Mrs. Judge Bibb, President; Mrs. Judge Phelan, Vice President; Mrs. Dr. Baldwin, Secretary; Mrs. E. C. Hannon, Treasurer.
This committee, after suggesting permanent officers, reported the following resolutions, which were unanimously adopted.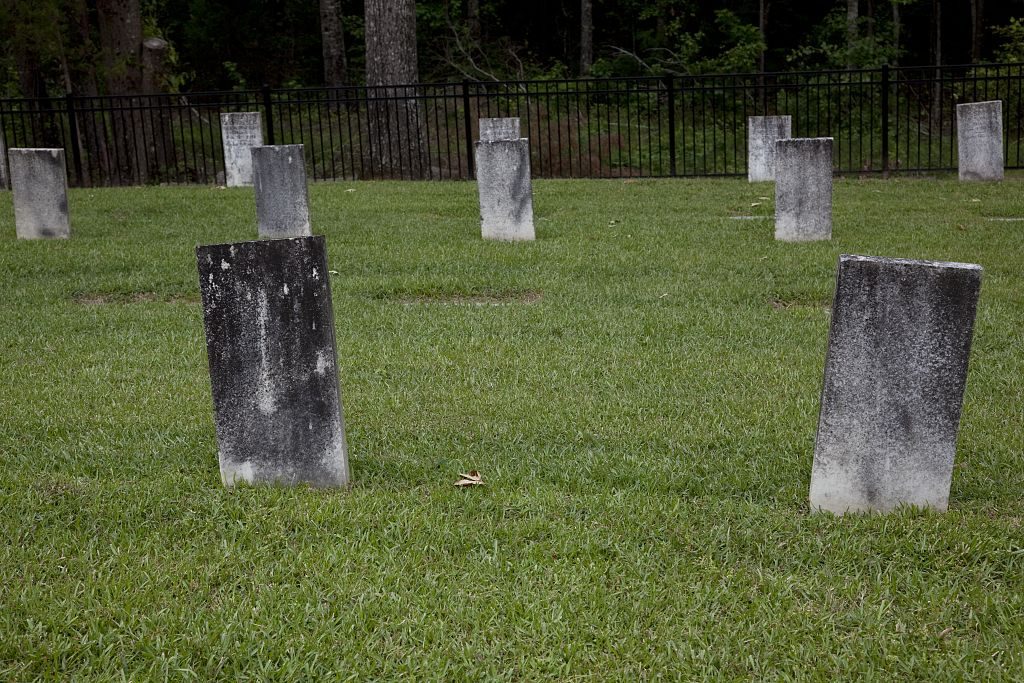 Cemetery at Confederate Memorial Park, Marbury, Alabama (Library of Congress)
RESOLUTIONS
RESOLVED, That it is the sacred duty of the people of the South to preserve from desecration and neglect the mortal remains of the brave men who fell in her cause, to cherish a grateful recollection of their heroic sacrifices and to perpetuate their memories.
RESOLVED, That we earnestly request our country women to unite with us in our efforts to contribute all necessary means to provide a suitable resting place and burial for our noble and heroic dead; that we will not rest our labors until this sacred duty is performed.
RESOLVED, That in order to raise funds to carry out the objects expressed in the foregoing resolutions, we constituted ourselves a Society to be styled "The Ladies Society for the Burial of Deceased Alabama Soldiers," and that we solicit voluntary contributions for the same; and that we will hold in this city on Tuesday, the first day of May next, and annually on the first day of May thereafter, and oftener if deemed expedient, exhibitions consisting of concerts, tableaux, juvenile recitations, songs, suppers, etc., to be regulated and determined by committees to be appointed for that purpose.
RESOLVED, That to carry out these plans, an Executive Committee shall be appointed, which shall have the authority to appoint sub-committees and agents at their discretion.
RESOLVED, That the President of this Society, together with the present resident ministers in charge of the different churches of this city and their successors in office, shall constitute a committee for the purpose of keeping and making proper application of the funds raised by this Society.
RESOLVED, That any lady can become a member of this Society by registering her names and by paying into the treasury an annual assessment of one dollar.
RESOLVED, That all clergymen or ministers of the gospel, shall be considered honorary members of this Society.
On motion of Mrs. Dr. Baldwin, the Chair was authorized to appoint and Executive Committee consisting of ten, whereupon the Chair appointed the following ladies: Mrs. Dr. Rambo, Chairman; Mrs. Jno. Elmore, Mrs. Wm. Pollard, Mrs. Dr. Wilson, Mrs. W. J. Bibb, Mrs. Hausman, Mrs. Mount, Mrs. Bugbee, Mrs. W. B. Bell, Mrs. Fort Hargrove, and Mrs. James Ware.
On motion, the Society adjourned to meet whenever requested by the President.
The association in 1866 appointed Dr. Samuel K. Cox as agent to visit different battlefields and ascertain the condition. Dr. Cox faithfully discharged these duties and in this way, the money was most judiciously spent in reburying and marking the graves of the Alabama soldiers at various places.
In 1868 the accumulations of the association were spent on headstones costing $5,600 and a monument and chapel costing $3,000, in the Montgomery Cemetery. It was not until 1876 that it was decided to do away with the May day offering always held on the first day of May. This original custom had been preserved through the ten long years of reconstruction.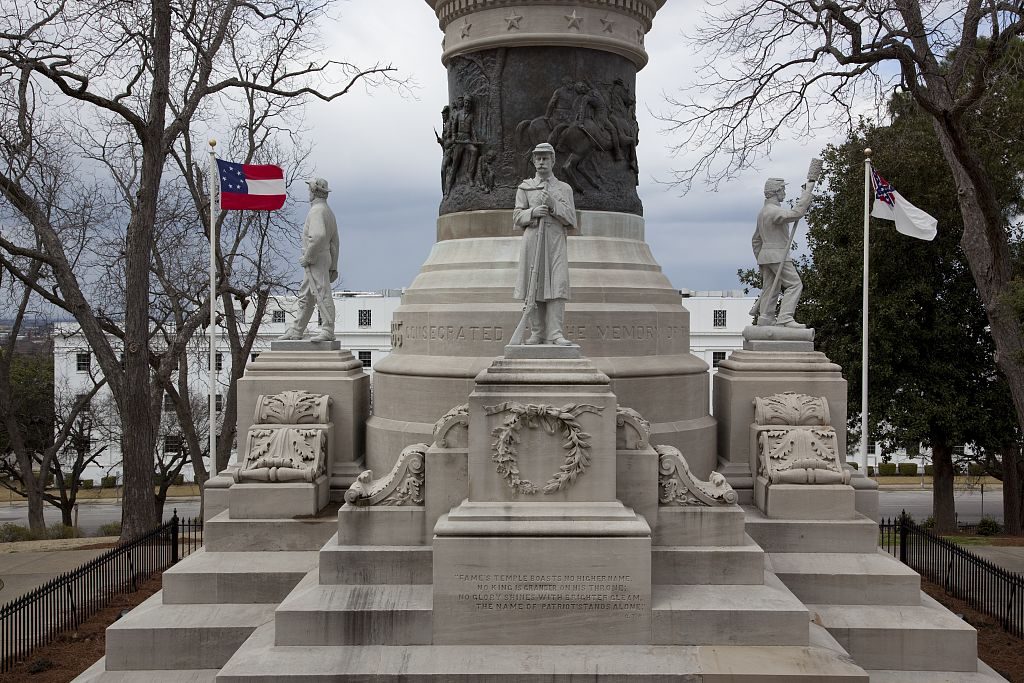 Confederate Memorial Monument, Montgomery, Alabama 2010 (Photographer Carol Highsmith, Library of Congress)
On April 26, 1886, by invitation of the Monumental Association and the Ladies' memorial association, President Davis (President of the Confederacy) visited Montgomery and laid the foundation stone of the Confederate monument, on the Capitol grounds. Later the Monumental Association withdrew and deposited the amount of $6,777 with the Ladies' memorial association for the completion of this work. It was not until December 7, 1898, that the work was completed and the monument to the Confederate soldiers and sailors of Alabama was unveiled.
The Ladies Memorial Associations uniformly commemorated April 26 as Confederate Memorial Day in Alabama. Today, April 26th, "Confederate Memorial Day, also called Confederate Heroes Day in Texas, is a public holiday observed by the states of Alabama, Florida, Mississippi, South Carolina, Louisiana, and Texas since end of the American Civil War to remember the estimated 258,000 members of the Confederate States Army, Navy, Marines, and militia who died in the line of duty."2
CHARTER MEMBERS
Officers: Mrs. Judge B. S. Bibb, president; Mrs. Judge J. D. Phelan, vice president; Mrs. Dr. W. O. Baldwin, secretary; Rev. Dr. S. D. Cox, assistant secretary; Mrs. E. C. Hannon, treasurer.
Executive Committee: Mesdames Dr. Samuel Rambo, John Elmore, William Pollard, Dr. Wilson, W. J. Bibb, G. L. Mount, C. J. Hausman, Judge F. Bugbee, W. B. Bell, Fort Hargrove, James Ware.
Other Members: Mesdames Gov. Benjamin Fitzpatrick, Gov. T. H. Watts, Gen. W. W. Allen, Gen. J. Clanton, Gen. Hotlzclaw, Col. John Gindrat, Col. Jack Thornington, Col. J. B. Bibb, Col. Warren Reese, Col. T. Lomax, Col.. Virgil Murphy, Col. W. C. Bibb, Judge George Goldthwaite, Judge Samuel Rice, Judge T. J. Judge, F. M. Gilmer, Samuel Jones, Dr. Carnot Bellinger, Dr. W. C. Jackson, Dr. S. Holt, Dr. G. W. Petrie, Dr. E. A. Semple, Dr. Keyes, Dr. Hill, Dr. Thomas Taylor, Eliza Moore, Eliza Ponder, Leon Wyman, William Johnston, John Whiting, Benjamin Micou, Amanda Snodgrass, Eliza Brown, J. Cox, Daniel Cram, S. E. Hutcheson, J. Dubose Bibb, A. Gerald, Samuel Reid, Lou McCants, James Terry, Henry Weil, Sarah Herron, Henry Lee, Gallatin McGehee, Sam Marks, Virginia Hilliard, Wm. L. Yancey, George R. Doran, S. P. Hardaway, James Stewart, P. H. Gayle, Richard Goldthwaite, Tucker Sayre, William Ray, A. Strassburger, John Cobbs, William Ware, Misses Louisa S. Bibb, Mary Phelan, Priscilla Phelan, Bettie Bell, Ida E. Rice, Sallie Baldwin, Annie Goldthwaite.
Officers – 1921: Mrs. Mary Phelan Watt, president; Mrs. J. B. Allen, first vice-president; Mrs. J. T. Mapes, second vice-president; Mrs. C. A. Allen, recording secretary; Mrs. Edward R. Holt, treasurer; Mrs. Stephen Mitchell, historian; Mrs. A. H. McNeel, chaplain.
The exact date of the change of the name of the Society to "The Ladies' Memorial Association" is not known. The first use of the new name was in an article by Dr. Samuel K. Cox, in "The Mail" of December 22, 1866. This article was headed "Ladies Memorial Association," but no change in the name is found in the secretary's book until 1874. The ladies of this association met at the cemetery of April 26, 1866, for the purpose of decorating the graves of the soldiers, and on May 1 and 2 a festival was held at Concert and Estelle halls and the theatre, $3,000 being realized from this, the first venture of the association. Thus it will be seen that the Ladies memorial association was the outcome of the Alabama historical and monumental society.
Confederate Memorial Day
April 26th, "Confederate Memorial Day, also called Confederate Heroes Day in Texas, is a public holiday observed by the U.S. states of Alabama, Florida, Mississippi, South Carolina, Louisiana and Texas since end of the American Civil War to remember the estimated 258,000 members of the Confederate States Army, Navy, Marines, and militia who died in the line of duty."3
SOURCES
History of Alabama and Dictionary of Alabama Biography, Volume II.
Wikipedia
1 Cory, The Ladies' Memorial Association of Montgomery, Alabama, pp. 25–47; quote on p. 47.
3Wikipedia
Note of event on April 28th & 29th, 2017
Confederate Park Civil War Military & Civilian Life Living History – Friday & Saturday, April 28 & 29, Confederate Memorial Park, 437 County Road 63, Marbury AL. Friday's activities include a living history of the War Between the States for both schools and the public. Saturday features living history plus a Civil War skirmish. The state of the art museum interprets Alabama's role in the war as well as Alabama's only home for Confederate veterans. FREE admission to the grounds and a self-guided tour of the Soldiers' Home site. Admission charged to the museum. Friday 9:00 am to 1:00 pm; Saturday 10:00 am to 3:00 pm. 205-755-1990, http://preserveala.org/confederatepark
The Yazoo land fraud

   

Daily life as an Alabama pioneer

   

The capture and arrest of Vice-president Aaron Burr

  

The early life of William Barrett Travis, hero of the Alamo, in Alabama
Description of Native Americans of early Alabama including the visit by Tecumseh
Treaties and building the first roads in Alabama.