A few months back I wrote an article stating May 4 was the date the State of Alabama adopted formally adopted as bird day in Alabama. However, this date may be incorrect because I ran across the following newspaper excerpt from the Florence, Alabama, Times Daily Feb. 18, 1930. The article is transcribed below:
The Yellowhammer – Alabama State Bird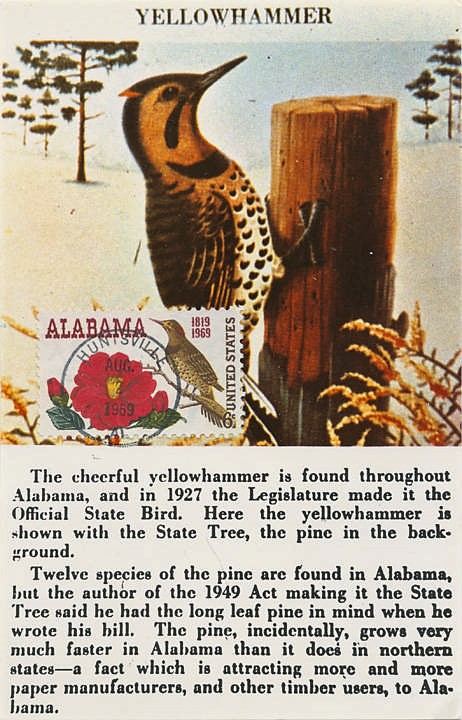 "Montgomery, Feb. 18 – (Spl.)
Gov. Graves (Gov. Bibb Graves) in an official proclamation has designated Friday, March 14, as Bird day in Alabama. In announcing the proclamation, the governor pointed to the increased conservation of wildlife in Alabama which he recognized as a valuable asset to the state's natural resources.
"Progress develops nobler sentiments toward nature," the governor said. "Just as the passage of time and the increase of knowledge demand improved housing and industrial conditions, so also they demand greater conservation of our wildlife natural resources. These resources add to our economic prosperity and to our pleasure. They develop in us a more profound sense of the infinite."
"Because of the value of birds there originated in this state 22 years ago, a beautiful and useful custom of setting aside one day of the year for the study of our feathered friends throughout the state. In accordance with this custom, I hereby proclaim Friday, as Bird day, and call upon the people of our state to devote some portion of that day to a consideration of the protection of our bird life."
Now I am confused. Which day is the actual official Bird Day in Alabama, March 14 or May 4th? Do you have the answer? If so, please answer in the comments below.
Alabama Footprints: Settlement is a collection of lost and forgotten stories of the first surveyors, traders, and early settlements of what would become the future state of Alabama.
Read about:
A Russian princess settling in early Alabama
How the early setters traveled to Alabama and the risks they took
A ruse that saved immigrants lives while traveling through Native American Territory
Alliances formed with the Native Americans
How an independent republic, separate from the United States was almost formed in Alabama