The oldest surviving court records in America were used to write this historical fiction series about a family whose descendants migrated to Alabama before statehood. 
TAPESTRY OF LOVE SERIES was inspired by actual people and historical events
Actual court records dating back to the early 1630's create historical accuracy as the reader is taken back to the primitive days of colonial America where the Pattendens encounter life-changing difficulties with Indians, ducking stools, illness, massacres, death, loneliness, love, and greed.
The story begins in 17th century England during the reign of Charles I with RIBBON OF LOVE and follows a young couple's harrowing journey to the eastern shore of Virginia where they experience joy, tragedy, and loss. Their life continues in Maryland where they flee to avoid religious persecution in the next novel FAITH AND COURAGE.  The third novel, FREEHEARTS, reveals life on the Eastern Shore of Maryland.
(Many Alabama ancestors followed this same path  – from England to Virginia and eventually migrated to Alabama.)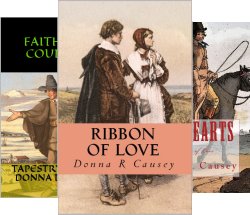 REVIEWS OF RIBBON OF LOVE:
Ribbon of Love is a wonderful love story of Henry and Mary living and struggling to succeed as one of the first families in the colony of Virginia in the 1600s. In addition to the love story, the descriptions of the clothing, home furnishings, personalities, family life, church, and community are most intriguing. The exhilarating action and subplots keep the reader in constant anticipation. It is almost impossible to put the book down until completion. – Dr. Don P. Brandon, Retired Professor, Anderson University.
I just finished reading this loving and delightfully written story. I'm telling everyone I know about it. Not only is the story entertaining, it opens the eastern shore of the Early Virginia Colony to the reader as a picture book. The characters seem extraordinary real. I know this story of "Ribbon of Love" will touch many peoples hearts. Bill T.
REVIEWS OF FAITH AND COURAGE
Highly recommended! I really enjoyed this 2nd book in Tapestry of Love Series. I could hardly wait to begin the third! I find Donna Causey's writing to be fluid, easy to understand and with great purpose. She takes you through the days of the early Pioneers in such a way that brings an understanding that cannot be gained merely by reading textbooks. A lovely journey through American history! Mary Robinson
Excellent Series I have read all three books in the series and would recommend them to anyone. They show what life was like in the 1600's, and the hardships people endured. Mawbetty2
REVIEWS OF FREEHEARTS
FreeHearts – I love reading about this era, the comments of Mary Jane when she lost her beloved husband were so spot on, it really brought back the exact pain & thoughts I experienced when I lost my husband. I can't imagine what it was like back there with so many children, being a woman with no say in the business. Waiting for the next one to see how the Cottingham children do taking care of the parents' plantation. smba
Donna Causey does it again!! This is a must-read for anyone who wants a true view of what colonial life was like in the 1700's Each book's writing gets stronger, characters become real, the struggles and sorrows that laid the foundation for this country, I hope that each reader will come away with a deeper love for our country and our ancestors. Addictedtobooks
TAPESTRY OF LOVE SERIES: Three Books in One 

– read all three books in the series (964 pages) for one low price!