(Transcribed and unedited story from a WPA (Works Projects Administration) writer, William P. Burke
Desperate farmers actually started Skyline Farms
written by
William P. Burke
ca. 1938
Whipped by depression, a group of desperate farmers joined in a home building program, selected the virgin soil of the Cumberland Plateau near Scottsboro, to resettle themselves, readjust their lives. They moved into wilderness, cut oak and poplar timber to build their houses, cleared the land, planted crops, made their homes.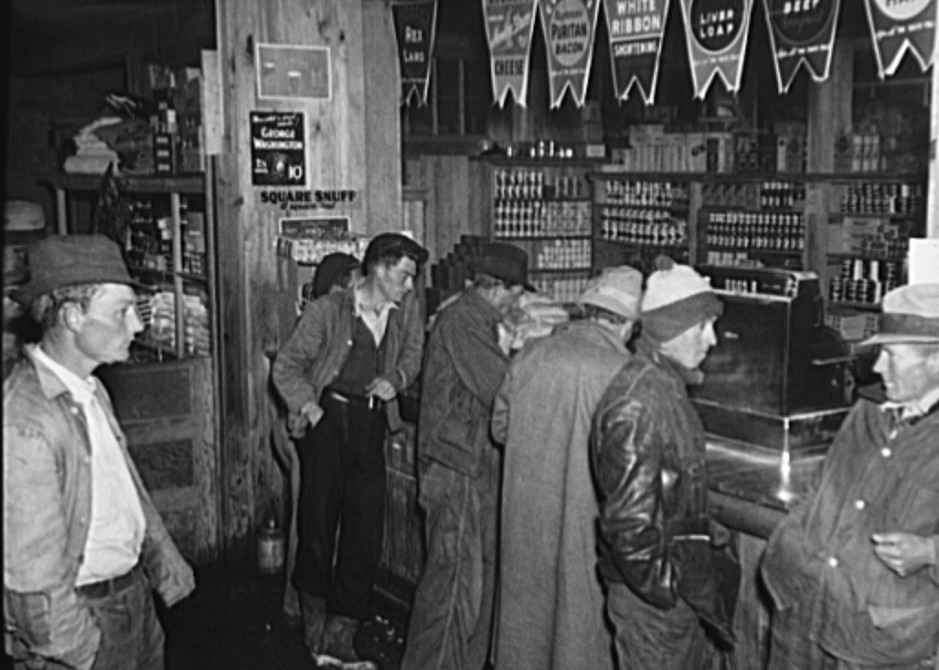 Skyline farms – commissary ca. 1938 (Library of Congress)
Resettlement Administration gave funds a year later
A year later the Resettlement Administration heard of their pioneering, decided to aid their natural industry with federal funds. Named Skyline Farms, the mountain village now has 225 neat farm homes, with their barns, smokehouses, chicken runs and gardens, a school building, an office, a commissary. Abundant native sandstone, once called "worthless rock," has been used in the construction of the public buildings, hearths and chimneys.
Visitors to the project come away praising not only the heroic energy of the settlers but the sheer splendor of the view from vantage points near the farm section. Like a picture in composition is the vista of green valley homes and surrounding fields, a river twisting into the distance, and in the background hazy mountain ranges.
REF: Alabama Magazine
Issue of 11-22-37
This book is divided into thirteen independent Parts with each part representing the earliest known progenitor and lineage of that particular family. Some of the families identified herein are Allen, Allison, Arnold, Cabe, Crawford, Davis, Doran, Harwell, Henry, Jenkins, Loyd, Lyda, McClatchey, McCrary, Millican, Owens, Phillips, Prince, Rorex, Rudder, Sanders, Smith, Stewart, Talley, Taylor, Thomas, Thornton, Walker, Wallace, Williams, Wimberly, and Wynne, plus many more.