This letter from Professor Connerly to the editors of the Birmingham Iron Age newspaper has been transcribed from the Birmingham Iron Age April 16, 1874. Prof. Connerly was thePrincipal of the new Free school in Birmingham, Alabama and was on a trip to acquire desks, books etc. for the new school set to open in April, 1874. The letter provides a glimpse of what train travel was like in 1874.
MESSRS DUVAL & ROBERTS
Appreciating your kind invitation to furnish your readers with a summary account of my recent trip, I am now seated to begin the work.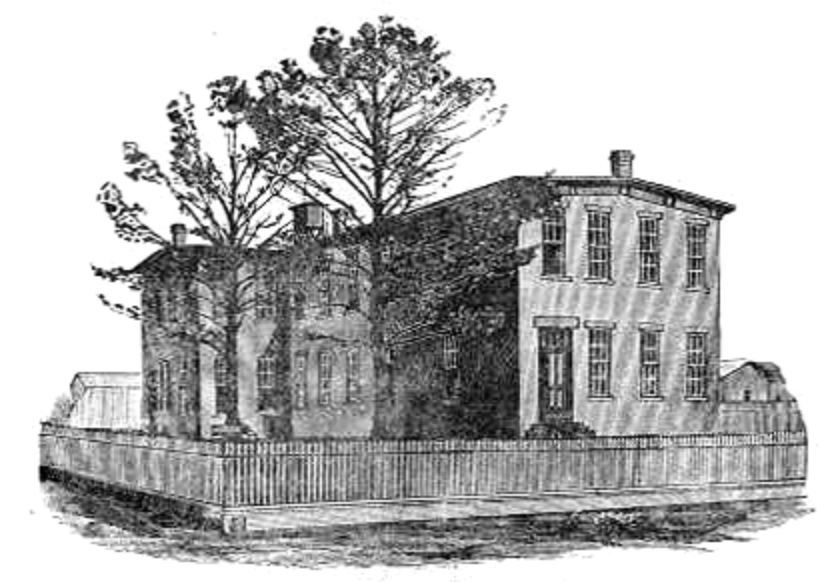 First Birmingham school 1874 (Alabama Department of Archives and History)
I may well remark in the beginning of three letters, that having just recovered from an attack of sickness, I started out "with fear and trembling," increased by the apprehensions of friends, that a begging expedition in these times resembled the work of a madman.
Having long since learned to trust more in God than in man, and having a proper estimate of the power of one strong will over the minds of others, I set out upon my journey, leaving the "Magic City" on the twenty-third day of March, on the North-bound train of the South & North Rail Road. Moving rapidly off, our train almost in the twinkling of an eye, was soon opposite to a house in the Northern part of the city, whose inmates to me are dearer than all others, and every occupant of which, even down to the four-year-old baby, was waving his handkerchief as a token of good will and prayer for my safety, success and happiness.
Met Mr. Thomas
Receiving a new impetus from these affectionate displays, I soon began to talk and hope for "better times." Finding Mr. Thomas, of the Irondale Works, in the cars, each began to cultivate the other. He was starting for Pennsylvania, and I, for Ohio. The opportunity was here offered me, of learning some things of the practical workings of the Free School system in his native State. Intent thus to learn all I could, of free schools, I neglected no occasion to advance in my pupilage. Whilst my eyes were feasting upon the green fields of wheat and oats, my head was receiving additiotis (?)to forward the Free School of Birmingham.
Town of L'Orient
Arriving by sunset at Blount Springs, I inquired of a bystander as to the location of the town of L'Orient, laid out and named by my old friend, Dr. Constantine. It was pointed out; and if any of my low-country friends still wish to purchase and build summer houses, near the best sulphur water in the whole South, they can have them in the suburbs of the beautiful L'Orient.
Next wishing to secure my berth in the sleeping car, I found on entering, the familiar face of Colonel J. L. Tait, formerly Commissioner of Industrial Resources for the State of Alabama. An Englishman by birth, a scholar by education, a gentleman in blood and association, he is better qualified than any other man in the State to fill the same position again. I trust, when the Convention meets in July next to nominate candidates, that the name of J. L. Tait will be placed on the ticket for the position mentioned.
It had been paid
Reaching Decatur and enjoying a good supper, your correspondent having inquired at the "clerk's desk" for the amount of his bill was promptly answered, "It has been paid;" we were soon seated for a smoke and a talk. Messrs. Thomas and Tait did the former, and I, the latter. Thanking the Providence that brought us three casually together, we retired to our couches, and committing ourselves to God and to sleep, I awoke at early dawn and found myself at Nashville, the beautiful "City of Rocks."
Breakfasting and going out, I soon met old friends; Rev. Drs. Summers, McFerris and Hargrove.
I was sorry to find among some of the great scholars of Nashville a strong but silent opposition to free schools. It is so here in Alabama; it has been so elsewhere; yet thank God the free school system still moves on, growing in power, increasing in strength, and grandly disseminating the blessings of education and refinement over the minds and hearts of almost millions of young people, more than half of whom, without the system, would go through life ignorant, vicious and degraded. Let the opponents of the system remember that free schools cost far less than jails, penitentiaries and prisons.
Taking my letters of introduction to Prof. S. Y. Caldwell, the superintendent of the city schools—who, by the way, was born in Shelby County, Alabama— he soon extended to me an invitation to visit the schools of the city, promising to accompany me.
Early next morning, my old pupil, the Rev. Robert Kennon Hargrove, D.D.—now in charge of the largest Methodist church in the South—I went to one of the free schools, numbering about nine hundred pupils. About three hundred study in a hall, all watched and controlled by a Principal, who does nothing else than regulate the pupils of that room, only occasionally hearing recitations.
Each Principal opens the exercises every morning, with singing and prayer. It was delightful to see the "little folks" singing with so much melody and devotion. Order, method and fidelity characterize the entire establishment.
I went from the Primary Department to the High School; and everywhere the grand and successful features of the system showed themselves. My head was edified, my heart was cheered, and my very soul was delighted to witness such scenes.
Publicly acknowledging myself indebted to Prof. Caldwell for his uncommon courtesies and kindness, I retired from his domains a better teacher and a wiser man.
That I may not overtax your patience, I reserve the other items for my next.
Yours, etc.,
D. C. B. Connerly
April 15, 1874
Discover genealogy and novels by Donna R. Causey
includes the following stories
The Yazoo land fraud
Daily life as an Alabama pioneer
The capture and arrest of Vice-president Aaron Burr
The early life of William Barrett Travis, hero of the Alamo
Description of Native Americans of early Alabama including the visit by Tecumseh
Treaties and building the first roads in Alabama