In the year 1861, when America was beginning the struggle over Civil War issues, a little town, named Utopia, was started about three miles northeast of the present site of Ariton in Dale County, Alabama is today.
Lake in Ariton, Alabama (tulia.com)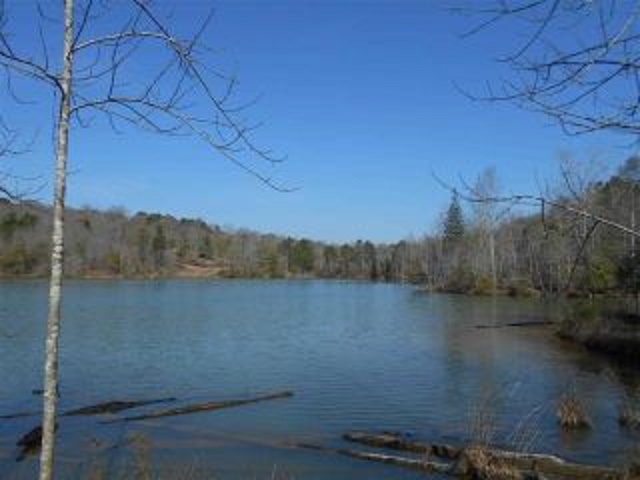 Later named Bethel
It was later renamed Bethel. There were two stores in this Community, owned and operated by Zack Andrews and Jim McNab.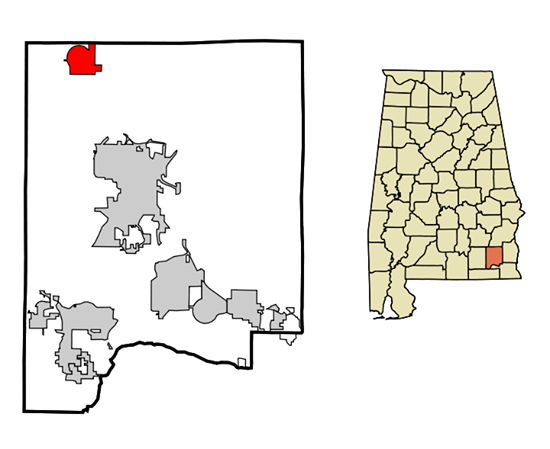 Post Office was in Andrew's
The post office was in Andrew's, who served as the postmaster. He also owned a bar room and retailed his whiskey for $2 per gallon.
There were also two gins. One was located on what is now known as Barr Hill. It was owned by Henry Holmes. The other gin, sometimes called Justice's Mill, was owned by Jim Sammons. A few years later in this same community, Westley Sammons operated a rice mill. The people raised rice and carried it to this mill to be thrashed and cleaned.
Marker is near Ariton, Alabama, in Dale County by Sandra Hughes (Historical Marker Database)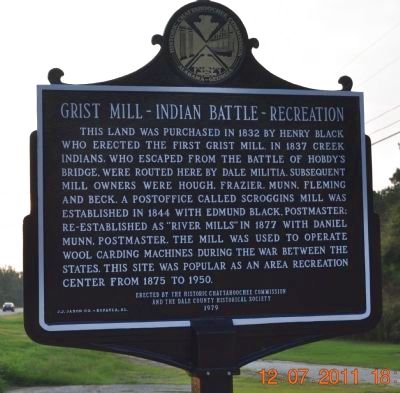 The school was on the old Gillis place, later owned by C. E. Sutton Miss Cullie Searcrey,  (Mrs. Ed Phillips), of Ozark, was the first teacher. They had two churches, Bethel and Bethlehem. Bethel was organized first, and later divided and Bethlehem was organized. The old church,was called "Old Site Methodist, and the new church was called "Congregational Methodist."
Central of Georgia arrived in 1888
In 1888 the first railroad, Central of Georgia, was completed through this country from Eufaula to Ozark. On this railroad, August 28, 1888 the first railroad construction car came into Dale county. The first passenger train on this track ran in November 1888.
In January, 1845, there was a place eight miles southwest of Utopia called Scroggins' Mill. Edmund Black was the first postmaster there. This name was changed to Rocky Head July 1, 1855. Some of the early land owners in this vicinity were; Nathan Bush, who came in on November 17, 1851, Willam G. Bush, May 10, 1853. Peter Hough and Joseph Hough also had land in the township, the former entering his claim on July 29, 1852, and the latter on July 22, 1853.
Other original land owners were Gregory Anderson, O. C. Doster, Thomas J. Logan, Simean Sasser, John Merrick, and Thomas J. Frasier. As the place was known as Scroggins' Mill in 1845, we must assume that one Mr. Scroggins originally lived there. In later years, Dan Munn ran a wheat where Beck's Mill is now located.
Utopia Dean Station or Deanville
During the last quarter of the nineteenth century, about midway between Rocky Head and Utopia Dean Station, sometimes called Deanville sprang up. It had several stores.
Some of the owners were Weed, Williams S. and W. A. Smith. on June 2, 1889, The Southern Star carried the following notice: "Why not establish a post office at Deanville? It is one of the most booming and growing stations on the Eufaula and Ozark road and the people are loud in their call for it, and must have it."
On February 12, 1890 a report from Dean's Station said they had four business houses and Mr. R. A. Clements from Geneva county was soon to enter business. Professor H. H. Kemp, from Ozark was teaching a flourishing school. The report also boasted of the fact that the farmers around there were well to-do men, prospering in the occupation.
About a year later The Southern Star received a letter from Dean's Station reporting a school by Professor Keaton of Coffee County in Dean and Barnes warehouse. Three Miles above Dean's Station, Miss Cullie Searcy had a splendid school. Later in the same year another observer reported good crops, good business, and some talk of a store at the depot on Alabama Midland Railroad.
Some thought "Ara" or Hill City, as the new site was called, would hurt trade in Charlton, as it was then called, but the report stated that the Coffee County Farm-ers Alliance was to build a warehouse there. According to this observer there were at least fifty wagons in Charlton every day from Coffee county and some from Elba.
Dean's Station renamed Charlton
In 1889 Dean's Station Was rechristened Charlton, in honor of one Mr. Charlton, who worked on the railroad, A depot was built where it now stands. At about the same time a drug store was erected. A Baptist church and a one room school building were also erected. One teacher that taught here was Professor Frank Monk, later of Bob Jone's 'College. A warehouse was built and Mr. S. S.
Jones was employed to weigh cotton. He started September 8, 1890 and received $20 a month, which amount was later raised to $50. Some of the doctors at Charlton were: Glover, Cowart, Reynolds, and Blackshear. Dr. Blackshear now lives in Panama City Florida.
Masonic Lodge established
A Masonic Lodge was installed as evidenced, by the following report in The Southern Star, July 4, 1894: "At Charlton, last Friday, June 29, 1894, Was a day long to be remembered by those who were so fortunate as to have been present. The occasion being the public installation of Masonic officers of Charlton Lodge. The following Lodges were represented: Brundidge, Ozark, Skipperville, Clopton, Louisville, Victoria, and Haw Ridge. The large crowd of about 1500 persons were highly entertained for quite awhile by the able and instructive address or Hon. H. C. Armstrong, of Montgomery.
As usual the good people of Charlton and vicinity had cared for the inner man and filled a table two hundred feet long with the rarest delicacies and substantials of life which was not by half consumed. It always affords us much pleasure to share the hospitality of these good people."
In 1890 the Alabama Midland Railroad, now known as the Atlantic Coast Line, came through this section about one mile west of Charlton. On May 24, 1890 the first passenger train ran this track. Here another village, Ariosta, was started. It was so called for Ariosta Wiley, who worked on this railroad.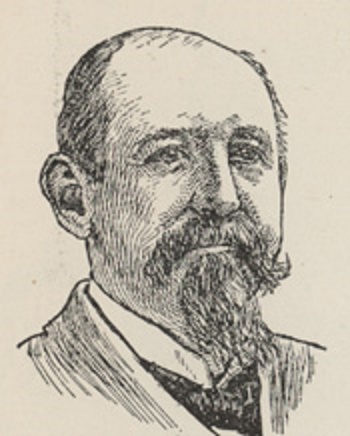 Ariosta grew and soon several stores, a warehouse, a doctor's office, a Masonic lodge, and an open saloon were added. They also had a one room school house. Dr.  J. J. Doster, was at the head of the Department of Education of the University of Alabama, taught his first school here.
Ariosta and Charlton were rival towns
Both towns, Ariosta and Charlton, indicated their jealously of each other by remaining separate communities for more than a decade. Neither was very successful and finally decided to combine their efforts and resources and work together Committee men were chosen to make the plans for combining the towns.
A committee of three from each town located the place, bought the land, and laid it off in blocks. Oscar Barrfield, S. S, Jones, and Will Jacobs were the committee men from Charlton. From Ariosta, George Bray, Jim Barnes, and William Weed were chosen. About three and one half acres of land were bought from Mrs. Jim Dean for about $87 and Mr. Jim Barnes gave one acre. The blocks were laid off as follows:
Tomlin's Filling Station to D. B. Richardson's store;
Covington's Shoe Shop to Mrs. Fannie Paulks;
Paulk building to Leroys Shop;
Baker's Service Station to the corner opposite the Paulk building.
The lots in each block were 40 feet wide and 120 feet deep. The lots ranged in prices from $30 to $10.00. There were four men who wanted the first lot in block one. They drew straws to see, who would get it and Oscar Barrfield drew the lucky straw. W.F. Jacobs drew the second lot. S. S. Jones the third and G. W. Bray lot four. S. S. Jones was appointed Notary Public to sell land and make deeds.
Public Well Dug
Following the custom of the day they started digging the public well April 10,1905. It was located in the middle of what is now the Bee Line Highway, and the geographical center of present day Ariton.
As soon as water was obtained they employed L. D. Overtree to build some, stores. George Bray's store was completed June 13, 1905, and S. S. Jones was finished June 15, 1905. There was a gin put up next to Leroy's Shop and the warehouses were moved from Ariosta and Charlton.
New Town named from three letters of each
The people in the new town wanted it named Union City, but in view of the fact that another town in the state bore the same name, the post office department rejected this suggestion. Finally it was decided to take the first three letters of Ariosta and the last three of Charlton and name the new village Ariton.
The post office was started as soon as the towns were United. The first postmistress was Mrs. Clara Strain and the first mail carrier was Charlie Deloney.
In 1908 the Ariton Banking Company was organized and was located where the Sinclair Service station now is. Calvin Windham was president and, Jeff Trawick was vice president.
The Peoples Bank began business in 1911 and was situated in the present post office building. A few years later the banks combined and on February 6, 1925 this bank was declared a bankrupt.
Institutions of the older communities gradually combined or were rebuilt in the new town. The Masonic lodges merged in 1906. In 1912 the present Methodist church was built. The Universalist church was erected in 1913 and the Baptist church in 1914.
New Jail built and Called the Calaboose
The first jail was built at Charlton and after the towns united it was moved to Ariton and was called the calaboose. The first school was located where Milton Leroy now lives and after a lapse of several years a three room building with an auditorium upstairs was built on the site of the present building.
The school grew so that within a few years two rooms had to be added to the building. In the year 1921. T. H. Robertson the principal of the school at that time organized the Parent-Teachers Association,to let them teach in the churches.  A later building was erected in 1924 and '25 and a few years ago a three room wooden building was built for the first three grades.
S. S. Jones was mayor when the towns came together. Joe Dean was marshall and Daniel McFadden and Jeff Dean were councilmen. When Ariton had its first election George Bray was elected Mayor.
First House Built in New Town
Harvey Jones built the first house in Ariton. It was later occupied by Tillman Jones.
During the years 1913 and '14 a paper, The Ariton Advertiser, was published by W. C. Barr. Items from this paper reveal interesting facts about Ariton history.
Dr. Patten owned the first car in Ariton. On February 3, 1914, the Advertiser reported a trip to Covington County by Dr. J.H. Patten, J.E. Fountain, R.H. Norris, W.P. Whitehead and Homer Dean "in an automobile."
During the earlier period of Ariton history the mail was the only method of official communication. It was carried from Ozark to Troy one day and came back the next. It was carried from Ozark to Clayton the same way. The telephone came into this country about 1904.The first radio around Ariton was owned by Ed Blocker.
The Advertiser, May 20, 1914, reported the installation of a gas-light on an iron post opposite the post office. It had a high candle power and burned for 72 hours. If it proved to be successful two others were to be added.
On February 24, 1914, a gun club was formed, E.K. Windham was elected president. Dr. Patten was Secretary and Treasurer and J. E. Fountain, field manager. The shooting took place on the property of Harper Weed, back of the school building.
Ariton was self sufficient
Like most rural American communities of the late nineteenth century, Ariton was very largely self sufficient. Its citizens advocated and practiced a live-at-home philosophy. Most of life's necessities were produced and consumed at home.
Contacts with the outside world were rather limited. Before railroads came to the community, occasional trips by wagon for supplies were made by the leading farmers and businessmen of the region.
Such trips usually took place in the fall and spring when cotton was carried to Troy, Eufaula, or Montgomery, and sufficient supplies purchased to do until the next trip. Only those things that could not be produced at home were brought from these distant points. Many citizens grew wheat and carried it to nearby Munn's Mill to be made into flour. Others grew rice, and had it thrashed and cleaned at Sammon's Mill.
Carding and spinning was a common scene in many homes and some individuals grew sheep and carried the wool to Killebrew's Mill in Newton, where the famous "Killebrew Jeans" were made. Gradually, however, times changed and Ariton accepted the customs, modes and manners of the machine age.
Similar to other small rural communities, Ariton has played its role in the development of the American pattern of life. As wars have been fought, it has furnished its quota of men and money.
Its cemeteries are dotted with the graves of those who saw service in the war Between the States and the Spanish American War, and one encounters Veterans' of the World War today as they go about their daily tasks.
The Veterans Memorial Bridge bridge in Ariton is now a pedestrian bridge (wikipedia.org)
In 1979, the Historic Chattahoochee Commission and the Dale County Historical Society erected a historic marker by the north side of the bridge. The text reads:
"This reinforced concrete river bridge, thought to be the first in Alabama, was erected over Pea River in 1920-21 at a cost of $92, 108.97. It was dedicated on August 3, 1921, as a memorial to the 57 men from Dale County who lost their lives in World War I.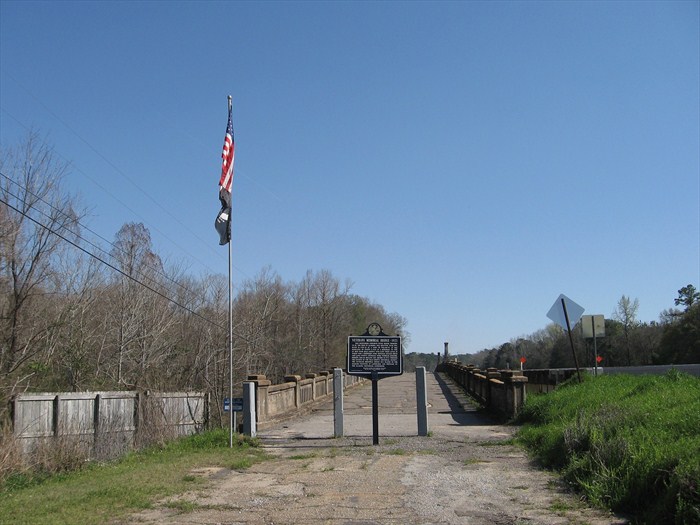 The closest community on the map is Ariton, but the bridge is about midway between Brundige and Ozark, on U. S. Highway 231. The bridge is on the east side of the highway, by the northbound lane. (waymarking.com)
One citizen alone subscribed Ariton's quota of $30.000 in Liberty Bonds to "make the world safe for democracy."
Three quarters of a century have passed since the first pioneers began settling this region. Many storms have been weathered by its citizens and today Ariton, with its seven hundred inhabitants, (1939) continues its struggle for existence and occasionally, even now, boasts that its people are "well-to-do, and prospering in their occupations."
Note: In April 2014, the citizens of Ariton  completed a book on the town's history entitled, Ariton: Where Two Railroads Collided, with Photographs and memories of many of its early citizens.
Anyone who would like to purchase a copy of the book, send in an order to Ronnie Danner, P.O. Box 244, Ariton, AL 36311. Please make checks out to Ariton History.
SOURCES
HISTORY OF ARITON (The Southern Star, Thursday, Dec. 21, 1939, Page 8) By Annie Retha Commander
Encyclopedia of Alabama
WTVY news
Some stories include:
The true story of the first Mardi Gras in America and where it took place
The Mississippi Bubble Burst – how it affected the settlers
Did you know that many people devoted to the Crown settled in Alabama –
Sophia McGillivray- what she did when she was nine months pregnant
Alabama had its first Interstate in the early days of settlement