In the 1930s and 1940s, bus travel was the common way to travel to school, around town and to other parts of the country. Advertisements and the streamlined design of buses in the 40s added to the appeal. Bus riding hit its peak during World War II when car production nearly ceased and gasoline was rationed. (Continued below ad)
The photographs below from the Alabama Department of Archives and History and Birmingham Public Library take us back in time. What is the longest trip you ever took by bus?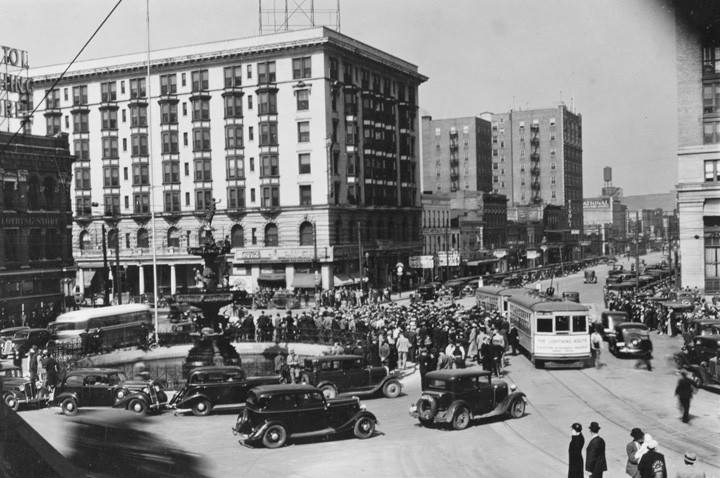 Copy photograph of the last streetcar ride in downtown Montgomery, Alabama, taken just before the city switched to bus service March 8, 1936 by photographer John E. Scott, Montgomery, Alabama Q81754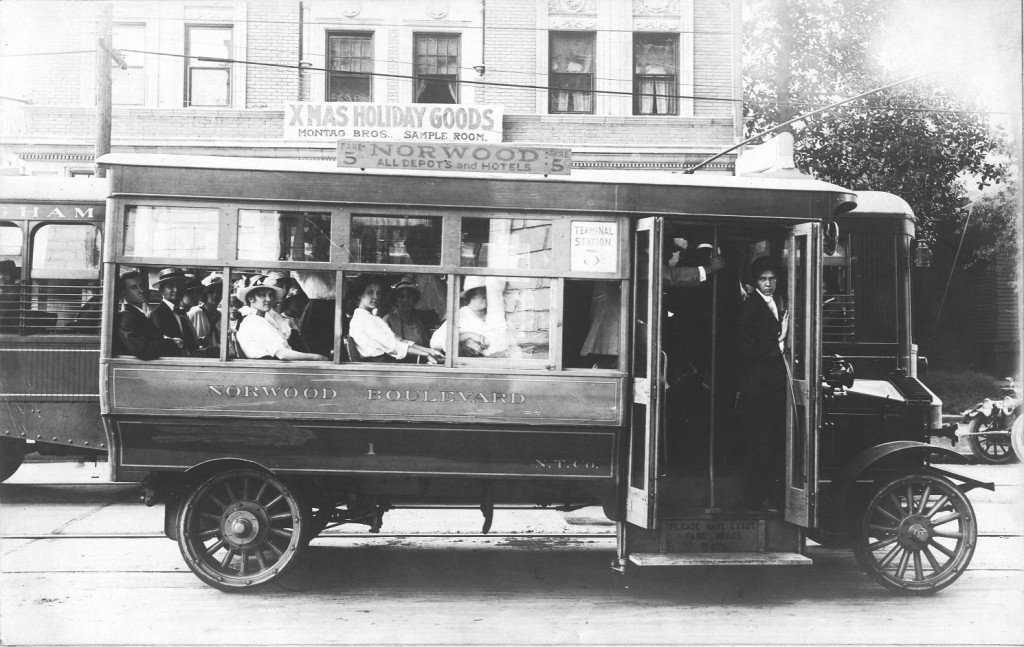 Norwood Boulevard bus of the Norwood Transportation Company, Birmingham, Alabama ca. 1910 (Birmingham Public Library)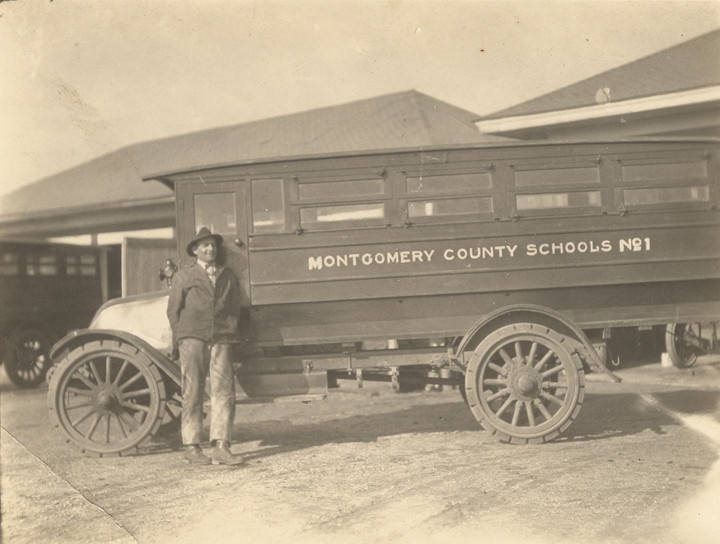 Man standing in front of a Montgomery County school bus in Montgomery, Alabama Picture caption: "Bus #1 was completing seven years of hard running and is still working a fine record" ca. 1920 Q3875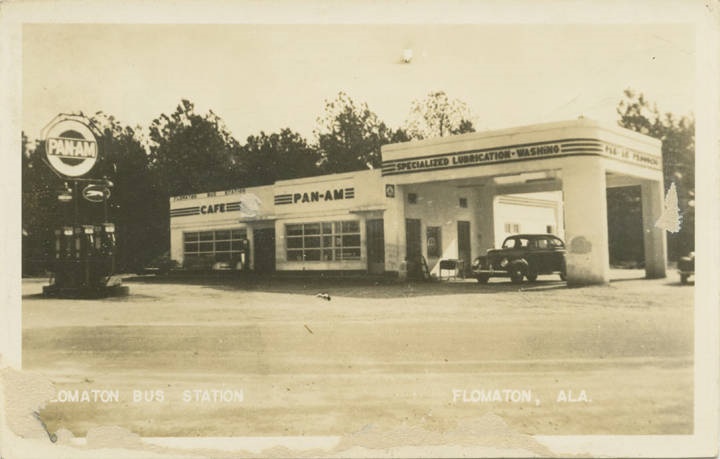 Flomaton Bus Station, Flomaton, Ala postcard ca. 1940-1949 Q70488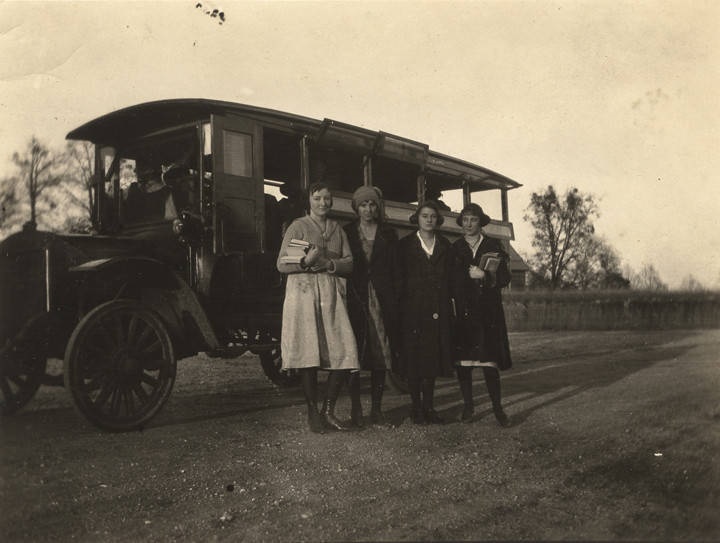 Getting off the bus at their house twelve miles from Ramer High School where they go every day – four female students in Montgomery County, Alabama standing by a school bus ca. 1920 Q3898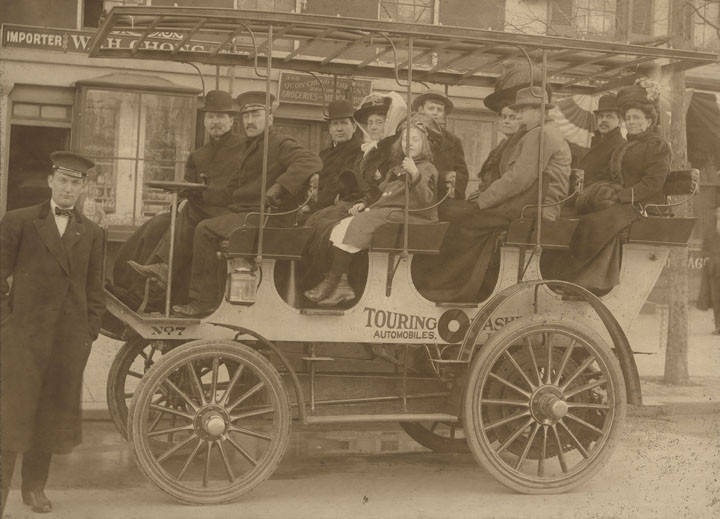 Passengers on a small bus in downtown Evergreen, Alabama ca. 1890-1909 from Frank Leslie Riley photographs Q8540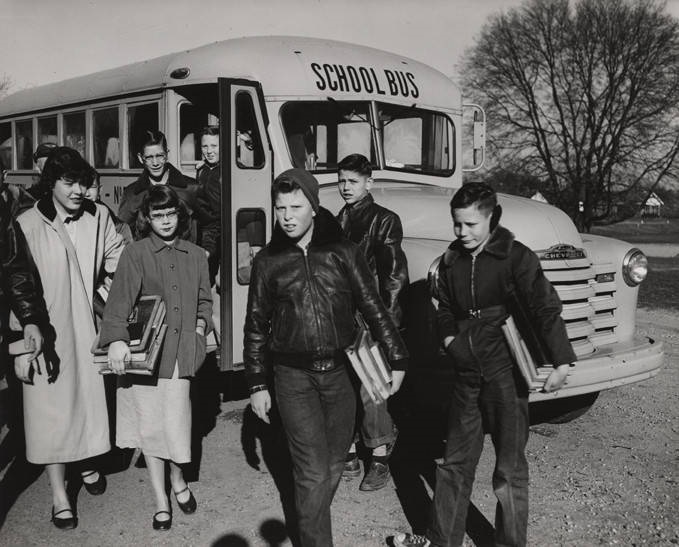 Students getting off a school bus in Alabama Pierce Laurens photographer, Montgomery, Alabama ca. 1940-1959 Q40553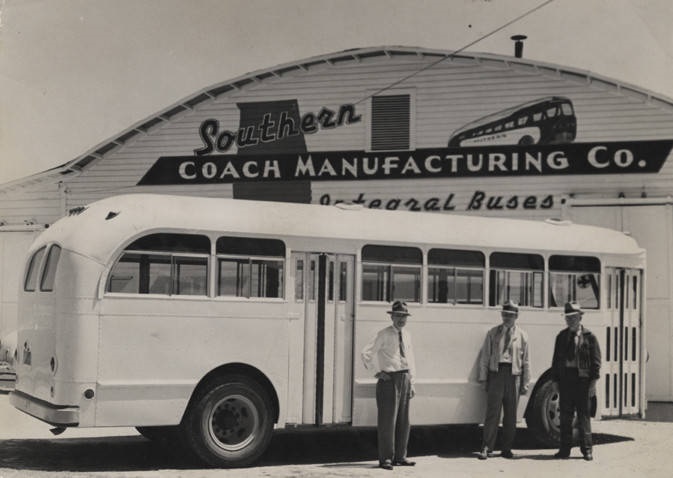 Three men standing in front of a bus built by (and parked at) the Southern Coach Manufacturing Company in Evergreen, Alabama photographer Clayton Albert, Birmingham, Alabama ca. 1940-1949 Q36704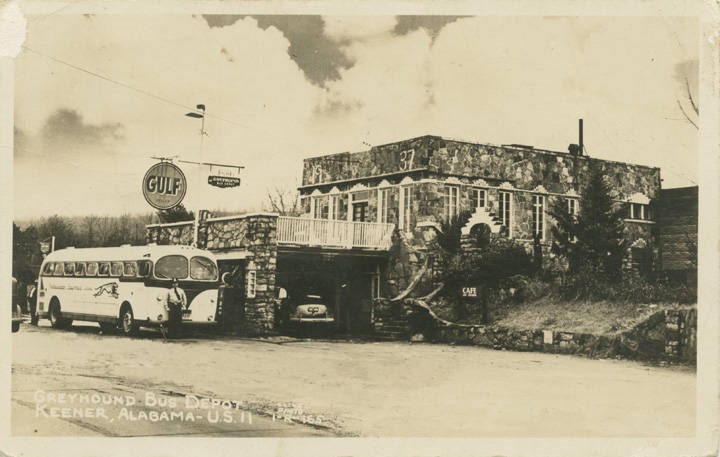 Greyhound Bus Depot, Keener, Alabama – U.S. 11 – the postmark date on the back of the postcard is June 2, 1946 Q70394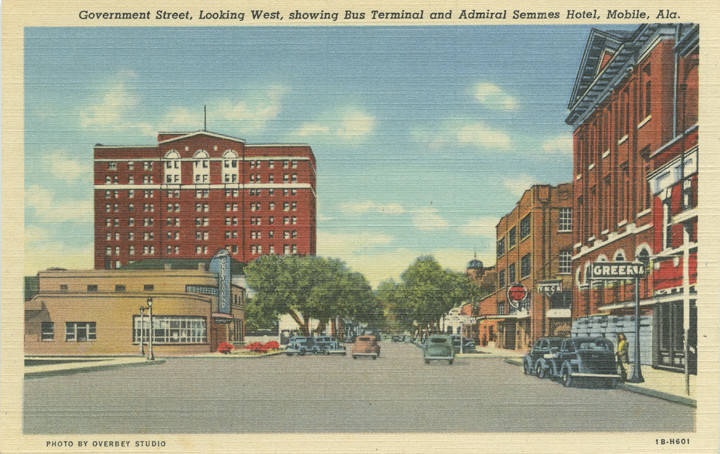 Government Street, Looking West, Showing Bus Terminal and Admiral Semmes Hotel, Mobile, Ala postcard ca. 1930-1949 – Q54813 – Admiral Semmes Hotel and Bus Terminal are both new in the picture and modern buildings faced Government Street which was a part of the old Spanish Trail. Both buildings are located two blocks of the entrance of Bankhead Tunnel, which passes under Mobile River.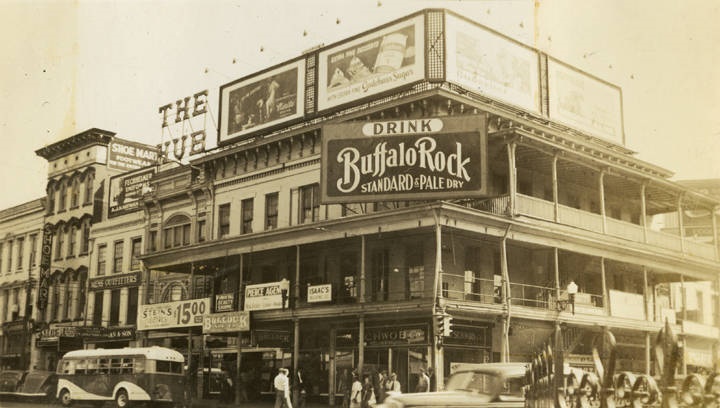 Winter Building at the corner of Dexter Avenue and Court Street in Montgomery, Alabama with bus October 1938 from William P. Screws family scrapbooks Q49291 Several businesses are visible, including Shoe Mart, A. J. Kaufman & Son, The Hub, Stein's Clothes, Murray Hill Beauty Shoppe, Bullock Shoe Co., Pierce Agency, Isaac's Tailoring Co., and The Schwob Co.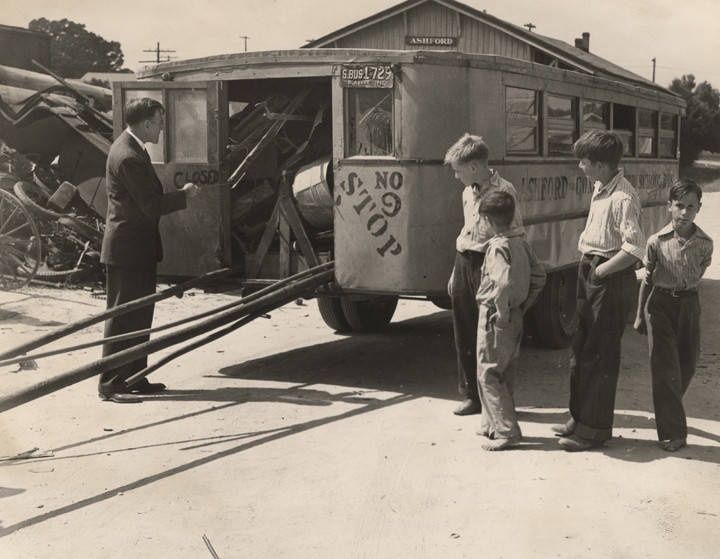 School bus in Ashford, Alabama, loaded with scrap metal ca. 1941-1945. The metal was collected for a salvage drive during WW II Q7772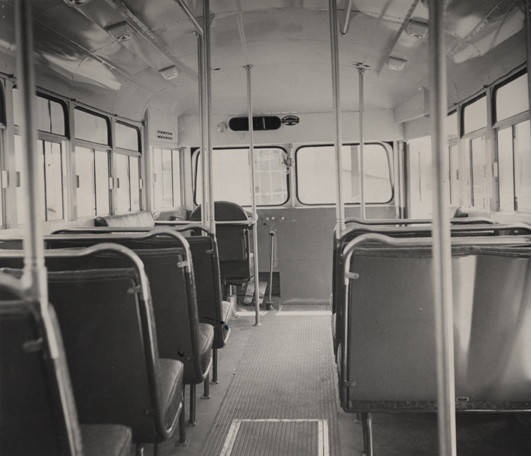 Interior of a bus (facing front) built by the Southern Coach Manufacturing Company in Evergreen, Alabama. ca. 1940-1949 photographer Clayton Albert, Birmingham, Alabama Q36707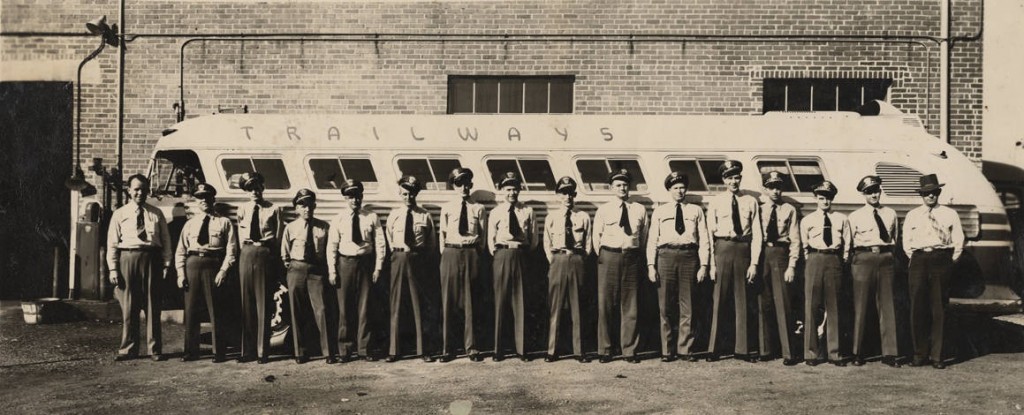 Drivers standing in front of a Trailways bus at a station, probably in Anniston, Alabama. ca. 1950-1959 by Anniston Studio, Anniston, Alabama Q55912 Left to right: Joe Johnston, A. L. Kircus, Barbers, Rudolph R. Givens, Pressley, Roy Webb, L. L. O. Kelly, Schropshire, Jack Cosper, H. D. Pesnell, V. M. Baker, Watson, A. L. McDaniel, R. H. Hester, and Robert Bridges