[This is the transcription of a letter written in 1885 back to a newspaper in Alabama that tells the location and names of some Alabamians who moved to Texas and describes life in Texas at the time.]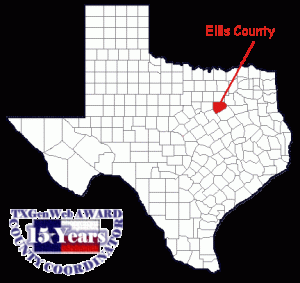 LETTER FROM TEXAS, FROM J.P. COOPER
Waxahatchie Tex., June 12, 1885
Editor of Republican,
I am originally from Calhoun county and have a great many old friends there who no doubt would like to hear from me in my far away Texas home.
I left Calhoun on the 1st day of Sept. 1868 and paid it a visit in 1869; spent several years in Mississippi and was water-bound one year in Arkansas; then came to this, Ellis County (Texas) the 21st of May 1875 and have spent most of the time here since. I have done almost all kinds of labor, plow, hoe, pick cotton, chop cord wood, maul rails, for three years.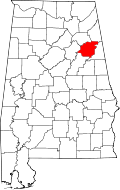 Moved to Ellis County, Texas
I have since that time done business in a small way and held offices; first Constable and Deputy Sheriff; was next elected Justice of the Peace, held that office till I resigned; was last fall elected District Clerk of Ellis county, which office I now hold.
Ellis county is indeed a fine farming country, with as good society as anywhere. our county voted in prohibition the 6th of last Sept. and now we have no Saloons. Crime is lessening. We have good schools. Public schools will last this year 11 months; scholastic age 8 to 16 years; has fine school buildings in almost every school community. Ellis county ranks in wealth and popular 6th in the state.
Several from Calhoun County, Alabama moved to Ellis County, Texas
I find a great many Alabamians here, several from Calhoun county. Now and then I meet an old soldier who was with us during the late unpleasantness. I belonged to the 30th Alabama Regiment, Co. E and lost my arm at Resaca, Georgia the 15th day of May 1864. The company was Capt. McBee's old company. I learn with sadness that the captain passed away some years ago. Sam Kelly afterwards commanded the company. I would say to the old soldiers who were at Resaca that I attended the soldier's reunion last summer at Dallas and met two comrades who belonged to Pettus' (my) Brigade there. I met a great many noted persons, both blue and grey. We will have another reunion at Fort Worth in August t his year. I met a few of the celebrated 10th Alabama here. Capt. Roger Williams, who once commanded a company in that retiment, (sic) lives in my county.
Profit on products good
Now, I wish to speak of our products and in doing so I will try to deal fairly with facts and figures though they may seem somewhat large. We make of corn 35 to 60 bushes per acre and cotton half to one bale, often a bale. Wheat is rather an uncertain crop here, from 8 to 20 bushes. Oats is the most certain of the small grain crops, from 40 to 100 bushels per acre. One hundred bushes of oats is no unusual occurrence.
Vegetables do well here on sandy soil and fruits of almost every description except apple does well as in Alabama, only trees do not last as long as there. In fact I find that our county fills with the more enterprising, the county is made to produce everything that I find elsewhere.
Land is very high here, owing to the fact of Ellis county's reputation abroad. She has had a large emigration every year for a great many years. Lands are worth in the raw state from $5. to $10., improved land worth $15. to $30. according to improvement.
Population of over 22,000 in 1880
I see a letter in the Republican from a man at Groesbeck. They have a good county as well. As to our population, I cannot tell exactly now, but in 1880 at which time we took census, it was over 22,000. Our voting population at last Fall election was nearly five thousand. Our county is very quiet just now; our jail contains 6 criminals, mostly for misdemeanors; 2 murder cases on our docket; one man sent to the penintentiary (sic) in February term of court.
Mr. Editor, I will wind up my remarks for fear I worry your patience. Should you find space in the dear old Republican you may publish my letter and I will cheerfully answer any questions from my old friends who may wish to more of Texas and Ellis county. Respectfully, J.P. Cooper
—————————–
Additional Research on J. P. Cooper yields the following:
From 1880 Precinict 4, Ellis County, Texas census:
J. P. Cooper
age 32
birthplace South Carolina
Precinct 4, Ellis, Texas
white
Male
Married
wife – A. E. Cooper
Father's birthplace – South Carolina
Mother's birthplace – South Carolina
Occupation – Constable Pre. #4
Household Members
J. P. Cooper 32
A. E. Cooper 28
Meta V. Cooper 8
Joseph B. Cooper 5
Willie A Cooper 2
Find A Grave Memorial# 19513143 # 54475009
SOURCES
Saturday, JUNE 20, 1885 THE JACKSONVILLE REPUBLICAN, Calhoun County, Alabama
1880 Ellis County, Texas U S. census
Find A Grave Memorial# 19513143 # 54475009
When you purchase

books by Donna R. Causey online

– you are helping keeping this website FREE!
Some stories include:
The true story of the first Mardi Gras in America and where it took place
The Mississippi Bubble Burst – how it affected the settlers
Did you know that many people devoted to the Crown settled in Alabama –
Sophia McGillivray- what she did when she was nine months pregnant
Alabama had its first Interstate in the early days of settlement