During the 1930s Great Depression era, many writers were employed to interview people around the United States, so their experiences and life history could be recorded The program was named the U.S. Work Projects Administration, Federal Writers' Project and it gave employment to historians, teachers, writers, librarians, and other white-collar workers. This is a transcribed excerpt from an interview by Marie Reese with Mary Gilchrist Powell from Lowndes County, Alabama from 1939. Note: Spelling and grammar mistakes have been transcribed from the original)
Life of Mary Gilchrist Powell, WPA Supervisor
(ex) Welfare Worker – Teacher -Writer – Musician
Lowndesboro, Alabama
Interviewed by
Marie Reese
March 20, 1939
Lowndesboro, Lowndes County, Alabama
Part I
LIVED IN AN ANTE-BELLUM HOME
Mary Gilchrist Powell – WPA Supervisor, Welfare Worker, Teacher, Writer, Musician, was born 27 years ago at Lowndesboro, Alabama. The home in which she passed the earliest years of her childhood was one of much educational interest and importance in the small village and throughout the county. The Douglas home was one of the foremost that was built when the blue blooded settlers pioneered from the Palmetto States.
They brought with them the culture and educational influence and when this home was built the traditional one-room school house was built on the lawn nearby. Under this shelter Civil war veterans were taught on the knees of those teachers who were among the first educators in the Black Belt.
As time passed another generation and still another generation were taught their A, B, C's under this "one-room school" roof on College Street. A little story has been passed down the years as to the unique punishment the ante-bellum teacher who instructed the three generations gave her naughty pupils. The story goes that when the rules were broken she would set the small mischief makers in line and wash their mouths out with quinine, and when the offense required more punishment they were tied with strings to certain benches for that purpose.
CONTINUED AS EDUCATIONAL CENTER
The historic home with the little school house adjacent passed into the hands of the parents of the little golden haired girl – Mary Gilchrist – and "history repeated itself" as it was destined to continue to be an educational center. It was here the present WPA worker Mary Gilchrist Powell was taught her letters and began her education.
Mrs. Powell, her mother, brushed out the ante-bellum school room and opened up a kindergarten school for the smaller children of the town. The little ones were taught using the Atlanta Georgia (Kindergarten) method and under Mrs. Powell who had a superior training and experience in her vocation. Mary Gilchrist made marvelous progress as a beginner. She received three years training in this school which enabled her to enter Jr. High School at Lowndesboro one year ahead of her age.
Miss Powell is the daughter of Lindsay James and Lucille (Skinner) Powell of Lowndesboro, Alabama.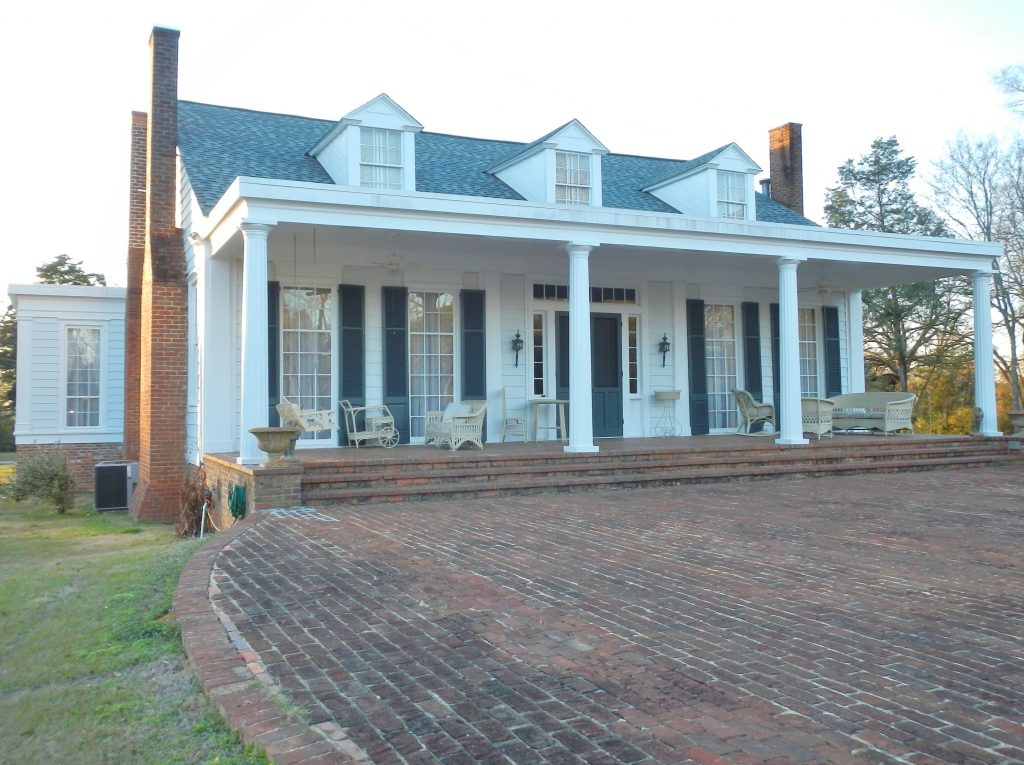 This is Marengo, the ante-bellum house (mentioned in the story above) in 2012 in Lowndesboro, Lowndes County, Alabama that was owned by Powell family. The house was first built in Autauga County, then taken apart and moved across the Alabama River and rebuilt in Lowndes County around 1854. It was being used as a Town Hall in 2012. Click to see more about Marengo  (Photo submitted to Wikipedia by Rivers Langley; SaveRivers)  
(This transcribed story continues soon with Part II)
Some stories include:
The true story of the first Mardi Gras in America and where it took place
The Mississippi Bubble Burst – how it affected the settlers
Did you know that many people devoted to the Crown settled in Alabama –
Sophia McGillivray- what she did when she was nine months pregnant
Alabama had its first Interstate in the early days of settlement