In 1817, John Woods, a Cherokee Indian, built a stone house just northeast of the park. He was granted 640 acres that included Russell Cave as payment for his Revolutionary War service to the Americans. James Doran moved into the house and acquired the land. Doran later sold the land to Thomas Russell. The land remained in the Russell family until 1928, when Oscar Ridley bought the land.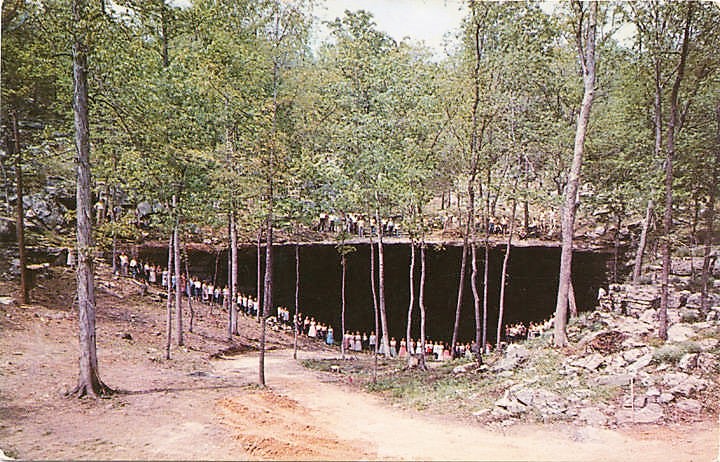 Russell Cave National Monument, Bridgeport, Alabama ca. 1958 (Alabama Department of Archives and History)
Oscar Ridley owned Russell Cave from 1928 until 1958. The National Geographic Society recognized the significance of the site and purchased the site in 1958 and donated it to the American people. Russell Cave National Monument was established by presidential proclamation on May 11, 1961. This is an unedited interview with Oscar Ridley by a WPA Alabama writer's project interviewer in 1938 about a lost silver mine in the area.
Oscar Ridley and the silver mine
Dorans Cove
December 19, 1938
by
J. Sue Williams 
WPA Alabama writer
Jackson County, Alabama
Oscar and Mary Ridley are the father and mother of thirteen children, nine of whom are living and four dead. They are all married and away from home except one boy who is finishing school this year.
Mr. Ridley's farm and home are one of the most picturesque and interesting places in Jackson County, Having been an Indian reservation at an early date and belonging to Captain Woods an Indian chief, the original reservation contained 640 acres. This he gave to James Doran, an early white settler, to care for him the remaining part of his life.
Conflicting statements as to date
We have different statements as to the date when James Doran came to the cove, according to Kennamer's History of Jackson County, he came here in 1815, but Mr. Ridley says he has always heard it was back in 1777 when the old store house was built and says that on one of the plastered walls in the house when he bought it was written "Andrew Jackson, May 15, 1813. As Jackson was the Indian commissioner, it is generally known that he drew up the agreement between Woods and Doran and that this writing was the date the agreement was drawn up.
Walls two feet thick
Mr. Ridley says since he has been on the place, he found Woods' grave. The old stone house, according to George Cluck, an old settler 85 years old, was built by a stonemason by the name of Ballard. The house is built of limestone blocks and consists of five rooms and large basement.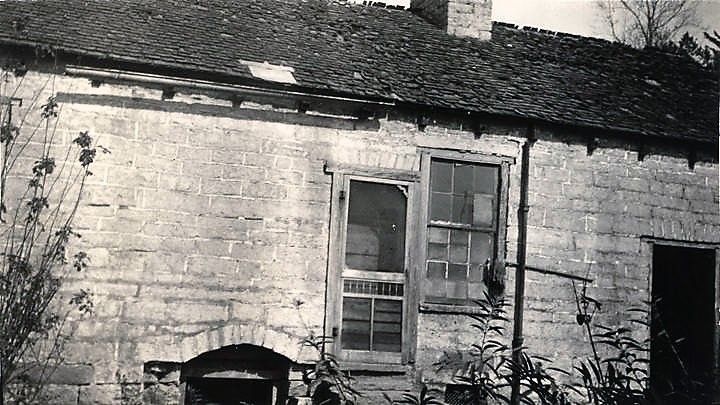 Old Indian stone house on the Ridley place in Jackson County, Alabama. ca. 1938 (WPA, Alabama Department of Archives and History)
The walls of this house are two feet thick and after more than one hundred years the house looks like it would be standing for many years.
This stone house was originally plastered throughout but Mr. Ridley has ceiled it since he bought it. It has a large stone fireplace and one mantel in the house measures 5 ½ feet. The rooms are used for kitchen, dining room, bedroom, storage room and bath. Have not run water into the house yet. In addition to the storehouse, there are six rooms of the wooden structure, including living room and bedrooms. The entire house is furnished exceptionally nice for a country home.
Spring with fish comes out of the mountain
About 75 yards east of the house a big spring comes out of the mountain through a cave and sometimes when there is an extra heavy rain in that section, fish come out of the cave into the spring branch. Some of them are large enough to eat. No one has ever been able to tell where they come from.
Near the mouth of this spring is a large spring house two stories high built of round red cedar logs. The water from the spring passes through the lower story of the building and is used for milk, butter, eggs and any kind of vegetables they wish to keep cool. The upper story was originally a cider mill and press.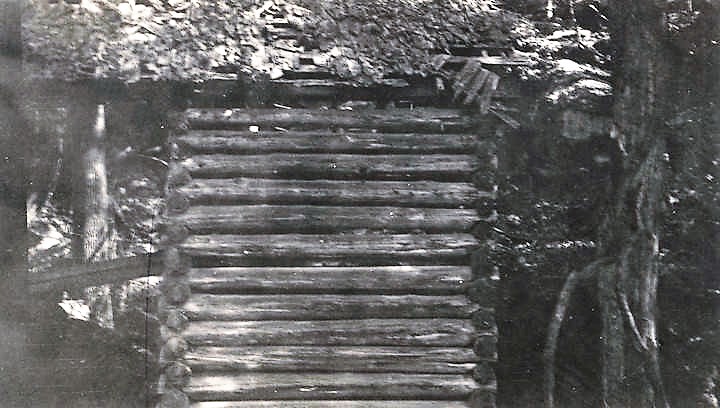 Two story log spring house on the Ridley place in Jackson County, Alabama, ca. 1938 (WPA, Alabama Department of Archives and History)
Old buildings and grist mill
Another very old building is a large log smokehouse with the meat block and salting troughs made from large logs hollowed out and placed around the side of the building. These have been in use far back as anyone can remember.
They have a grist mill on the place and grind meal for themselves and people in the cove. They also grow wheat and grind the wheat into flour. They own 600 acres of the original 640 acres of the Woods. The reservation part of this being in mountain land, he only has about 190 acres in cultivation. They raise more hay than anything else. The land is
The land is very poor form having been cultivated for so many years. He says he isn't allowed to grow cotton because there has not been any grown on it in so long a time. However, he did get a permit to grow ten acres, but he says that his back is too old to pick cotton and that it would cost too much to keep anyone to pick it.
He raises about 50 or 60 head of cattle, only has four or five hogs and they are not large enough to kill. They milk four cows and have their own chickens.
Taught school for twelve years
He laughingly tells that for thirty-five years he went around and worked from place to place and he got afraid he would lose his wife because she was so young looking and he had lied and stole enough to buy this place and that he has never made any money since and that all he has is a good drink of water.
He taught school for twelve years. They have been on this place for ten years.
He grew 70 bushels of Irish potatoes from a 100-pound sack of Bourbon potatoes on a garden spot that he said had been used since the time of Adam and Eve.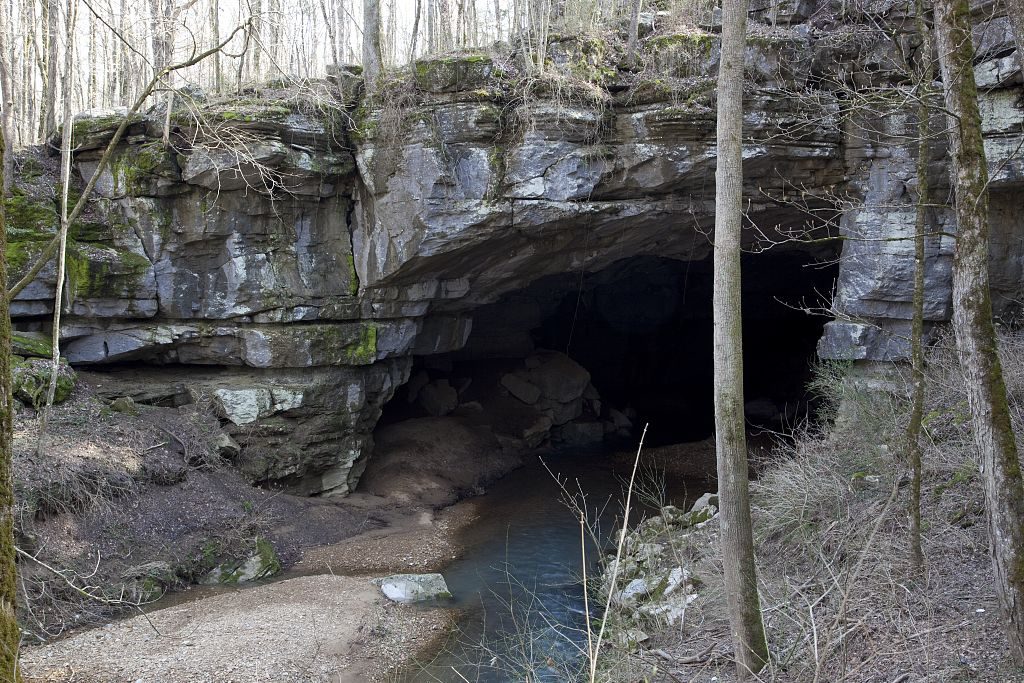 Russell Cave National Monument is a U.S. National Monument near Bridgeport in northeastern Alabama 2010 (Carol Highsmith, Library of Congress)
Mountain is made of caves
On this place is located the Russell cave, the odd, part of the cave being the water runs into the cave instead of out. The opening is 100 acres and twenty feet high at entrance to the cave. In the front part of the cave is found a large amount of small ferns which stay green the year around. It is possible to go back into the cave three miles. The cave branches out in all directions.
The whole mountain you might say, is hollow and made up of caves. The soil in this cave is large percent lime. Mr. Ridley has had it analyzed. It getting part of it out to go in his soil he dug about four feet and found many bone needles with perfect eyes and pieces of Indian pottery of different kinds. He says he thinks he will use this cave to winter his cattle in.
Legends of a lost silver mine
For more than one hundred years there have been stories and legends told by both white men and Indians about a lost silver mine in the vicinity of this Russell Cave. One thing added strength to their belief, was a man by the name of Freeman, who lived in that community about fifty years ago and who was an expert counterfeiter, it taking an expert to distinguish his counterfeit coins from those minted by the U. S. government. He was shrewd, close-mouthed and very mysterious in his transactions, never taking any of his neighbors into his confidence. It is believed by many of the old citizens that he procured his supply of silver somewhere in this vicinity. He disappeared very mysteriously and has never been heard of by any of his neighbors. Some said he went west but that was only neighbor's guess work.
In 1875 a Cherokee Indian chief by the name of Mooney came back here from an Indian reservation. He was aged and blind. He soon made the acquaintance of four or five of the leading landowners and business men of the community and asked that they assist him in locating the lost Indian silver mine, showing them some old yellowed by age, Indian weigh bills of maps with figures and marks that none of the white men could read. He promised them great riches when the treasure or ore mine was rediscovered.
Never heard from again
He could not get around without assistance. The citizens procured some kind of litter and placed a chair on it and carried him from place to place with his divining rod he was supposed to relocate the mine with. He spoke very little English and directed them by grunts and pointing out the places he wished to be carried. The search ended after ten or fifteen days and the old Indian chief departed and was never heard of again. But still, the natives firmly believe "thar is silver in them thar hills."