SNOWBOUND AT CHRISTMAS
by
Inez McCollum
When my brother and I were young children, getting to our grandparents in the winter time could be a very precarious situation. We would travel on a mountain road from Piedmont, AL into Cleburne County. This was before the road was black-topped. Many times during the winter it was one big, red clay mud pile! The road was narrow, barely wide enough to allow oncoming cars to pass. There were drop-offs at the shoulder and no guard rails! I remember how nervous we would be as we climbed those slippery hills. Thank goodness Dad was an able driver and knew how to follow the ruts.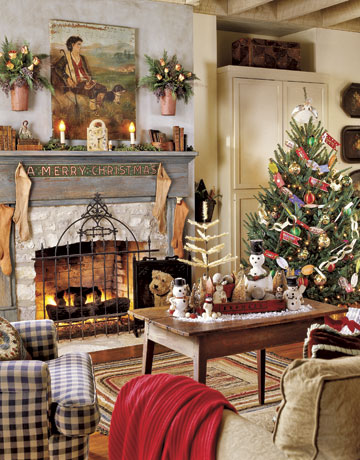 Once during the Christmas Holidays, we went to visit the grandparents and it snowed while we were there. This must have caused much anxiety for my parents because they had not brought the gifts for my brother and me. Imagine, Santa's visit being spoiled by a whiteout! I vaguely remember my Dad leaving the warmth of my grandparents' home for the drive to the Gadsden area where we lived. I imagine Mother and Daddy were concerned about taking my brother and me out in that weather; so Dad went alone.
Mother anxiously watched the time waiting for Daddy to return. There were no telephones and cell phones definitely did not exist. Today, there would be several phone calls as the trip progressed. My brother and I were so young that we did not question what was going on. We just knew something mysterious was in the air.
Finally, my hero, Daddy, made it back to Grandma and Grandpa's home. Guess what–Santa had already been to our house; so the car was loaded with toys for my brother and me!
I wish you a very blessed and safe Christmas. I also hope you can feel the magic of the season in the air!
Check out all Alabama Pioneers books
New Historical Series on Colonial America
Shop Amazon Gift Cards – Instant Delivery or Free One-Day Shipping
Bestselling novel

RIBBON OF LOVE: 2nd edition – A Novel of Colonial America (Tapestry of Love Book 1)

is the story of a first family in colonial America who fled to America to escape religious persecution, and eventually migrated to Alabama before it became a state –