This transcription of a news article was published in the April 18, 1866, edition of the Union Springs' Times, Bullock County, Alabama. It reveals the conditions Alabamians faced at the end of the War Between the States
Starvation in Alabama
Great destitution prevails in Marshall county in this State! Grant famine stalks there; and starvation stares the people in the face In a published appeal to the citizens of Nashville for aid for his suffering people, Honorable Louis Wyeth, Judge of Probate, says, "three persons have already died from absolute want, and hundreds, many hundreds, must perish unless quick relief is provided. In a population of less than ten thousand, there are two thousand, one hundred and eighty persons, women, children, and infirm men, without any means of support."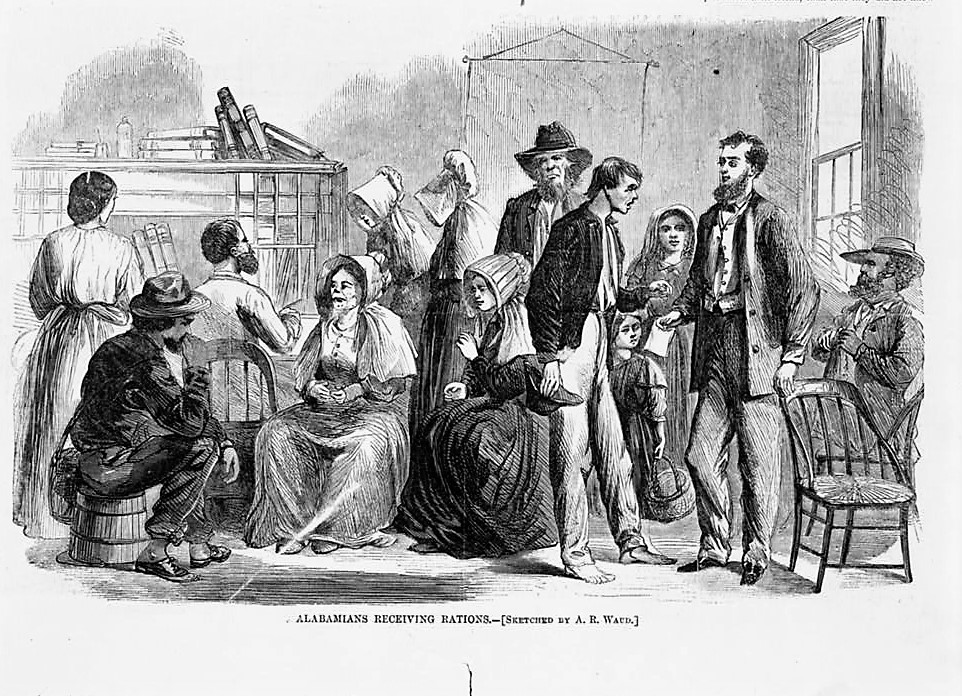 Alabamians receiving rations / sketched by A.R. Waud, artist (Library of Congress)
Marshall is not solitary in her distress. Unfortunately, a large number of other counties are almost in as great want. Many of them, remote from depots, are unable to obtain even a limited supply of rations each month. We trust Commissioner Cruikshank, aided by the Freedmen's Bureau, will be able so to distribute the rations furnished by the government as to prevent actual starvation. Success attend Governor Patton in his efforts to negotiate the $500,000 bonds authorized by the Legislature for the relief of the destitute of the State. Relief from this source may come too late. Will not those more highly favored heed this cry of want, and of their abundance send relief to these suffering people.
We suggest to the ministers of Union Springs that on next Sabbath, they bring this matter to the attention of their respective congregations and that they open subscriptions, through which the charitably disposed may give these sufferers help, either food or the money to buy it.
Faith and Courage: 2nd edition -A Novel of Colonial America 

In this action-packed novel, George Willson witnesses the execution of King Charles II and is forced to leave the woman he loves to witch hunters in 17th century England as he flees to his sister, Mary, and her husband Ambrose Dixons home in Colonial American. Ridden with guilt over difficult decisions he made to survive, George Willson and the Dixon's embrace the Quaker faith which further creates problems for their existence in the New World.