During the 1930s, Great Depression era, many writers were employed to interview people around the United States, so their experiences and life history could be recorded The program was named the U.S. Work Projects Administration, Federal Writers' Project and it gave employment for historians, teachers, writers, librarians, and other white-collar workers. This is a transcribed story by one of the writers Mary A. Poole.
COINCIDENTS AND SUPERSCRIPTIONS
Story of Rain in Mobile, Alabama
compiled by
Mary A. Poole
Week of Nov. 6, 1936
In the 80's in Mobile, there was an organization known as the "German Relief Association", and affiliated with it was a band of athletes, members of the Mobile Turnervereine. These later performed all kind of feats in Callisthenics, among which were men of unusual skill on the bars and in jumping and tumbling.
On May 1st the German Relief gave a picnic and it was a standing joke, that Mobile would have rain when the German Relief had their picnic. However, they held to their date of May 1st even though it usually meant not only one but sometimes two postponements. One year, it was an extra dry spring season, and a Mr. Homer, a farmer living on Old Shell Road about three miles from the city, wrote to the German Relief asking them to have their picnic earlier, so the Mobile farmers could have the badly needed rain for their crops, promising them $100.00 if they produced the rain.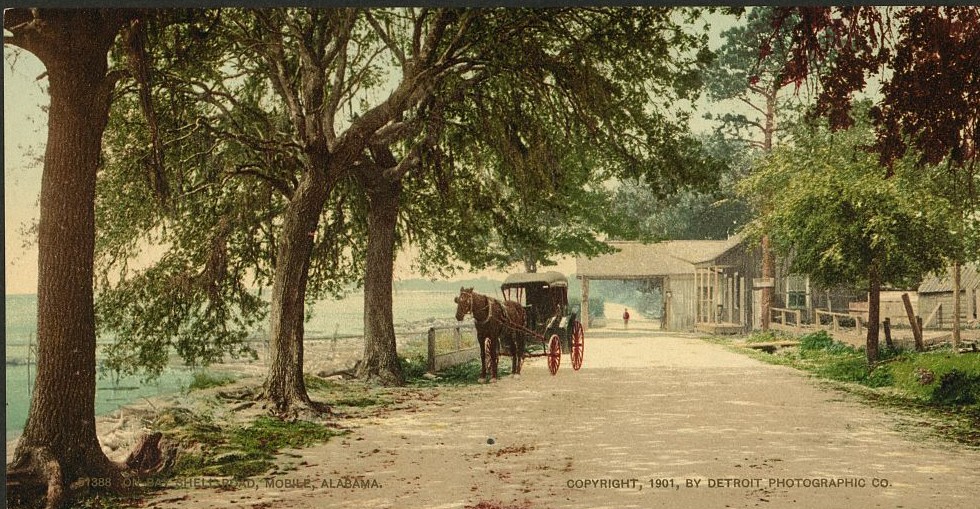 On bay, shell road – Mobile, Alabama – 1901 – Detroit Publishing Co. (Library of Congress)
They agreed, arranged for picnic, and it rained a regular downpour. At first, it was all taken as a joke, but the Association held Homer to his agreement, however, he paid cheerfully saying it was one of his best investments as his crops and those of his neighbors profited by it.
ALABAMA FOOTPRINTS Confrontation: Lost & Forgotten Stories

 

is a collection of lost and forgotten stories that reveals why and how the confrontation between the Native American population and settlers developed into the Creek-Indian War as well as stories of the bravery and heroism of participants from both sides.
Some stores include:
Tecumseh Causes Earthquake
Terrified Settlers Abandon Farms
Survivor Stories From Fort Mims Massacre
Hillabee Massacre
Threat of Starvation Men Turn To Mutiny
Red Eagle After The War